Mapping Software for Business
Learn more about your customers, sales teams, and business by mapping your data. Maptive is designed to take your location and customer data and turn it into a beautiful interactive map that's easy to understand. Create your map in just a few minutes and start uncovering new insights about your business.
Start a 10-day risk free trial (No Credit Card Required!)
Map Your Business Data to Discover New Opportunities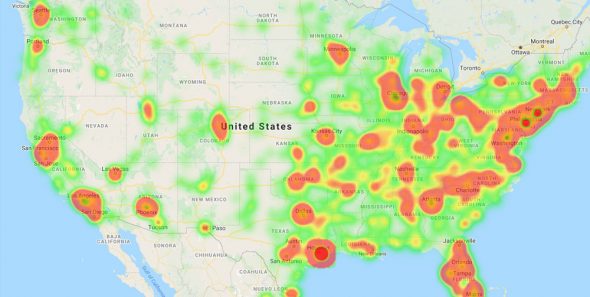 Most business data has a geographic component, so if you're not using a mapping application as part of your business intelligence suite you could be missing out on valuable information.
Your location-based information might be sales data tied to a store, potential leads, or the locations of your suppliers. So, how do you make the most of this information?
Visualize your data using Maptive's business mapping software. Plot important data points on a map to unlock important trends and new opportunities that were previously hiding in your spreadsheet. Data visualization makes it easy to share your findings with your team members and create more effective business plans.
What Can I Use Business Mapping Software For?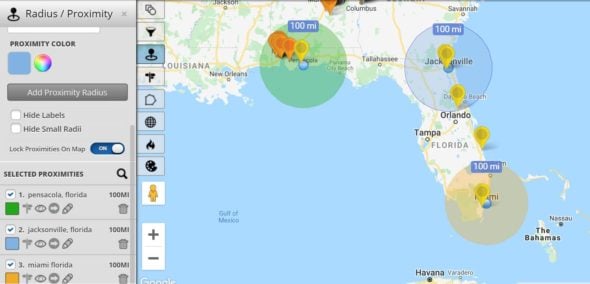 With Maptive you will:
Map Businesses: Plot the location of your own stores and offices, or identify the locations of your competitors. Use the radius tool to define your service areas and identify regions you could expand into.

Optimize Routes: Import your data with your current and prospects and clients to optimize the routes by your sales reps.

Group Data into Geographic Areas: Use the boundary tool to add territories to your map based states, counties, zip codes/postal codes, and more. Or take advantage of the territory drawing tool to create your own custom territories. Easily analyze sales data and customer locations within your territories to compare and assess each region with heat maps and other comparison tools.

Create More Effective Presentations: Save images of your maps to use in Microsoft Powerpoint presentations or marketing tools.

Access Your Maps Anywhere: Maptive's cloud-based technology means you can access your maps on your mobile device anywhere and anytime you need them.
Create Business Maps in 3 Easy Steps
Step 1: Sign up for a Maptive free trial account. Try Maptive for free and explore the many mapping tools we have to offer.
Step 2: Upload or input your data. You can upload Excel spreadsheet data, a Google sheet, copy and paste your data into Maptive, or enter it manually.
Step 3: Select "Create Map" to view your map. Your location data will now be plotted on a beautiful interactive map. Maptive is cloud-based, meaning you can log in from wherever you are and view it any time.
What Kinds of Businesses Use Maptive?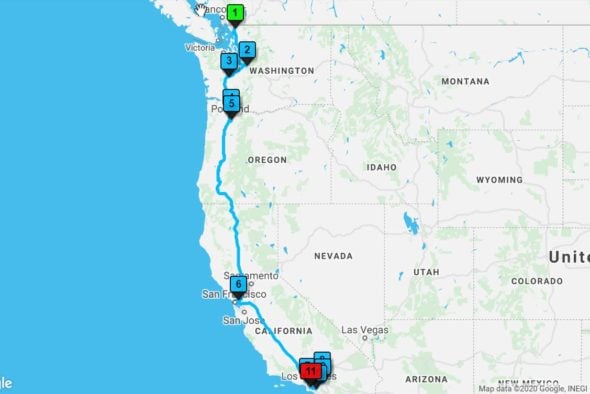 Maptive can be used by all varieties of businesses, from small businesses to enterprise-level corporations. And, our customers represent a wide range of users who all have different use cases for the many key features included in Maptive's software. Here are a few common uses:
1. Sales Mapping: Maptive helps sales representatives create and manage sales territories, analyze customers with demographic data, and calculate the most efficient route between sales meetings. A useful tool for managers and field teams, Maptive supports multiple types of business users within sales organizations.
2. Supply Chain Mapping: Narrow down target areas of your supply chain and identify weak points by visualizing all locations involved in manufacturing, sales, and delivery on a map. Calculate drive time between locations and quickly optimize routes. Maptive is the best option for deep analysis and eventual improvement of internal logistics for both large and small companies.
3. Commercial Real Estate: Site selection is no longer a daunting task with Maptive's radius tool and Google Places integration. Pair your own business data with our strong Google Maps integration to identify nearby competitors and find the best locations for franchise expansion or new real estate.
Maptive will become your company's new favorite online tool. Sign up for our free trial today or learn more about our plans for individuals and teams here.
Start mapping now!
Just follow these simple steps:
Double Click Then Copy & Paste Or
Drag And Drop Your Data Here
Important: Remember to include column headers in your data set. (like the example)
Date Security: Your data is transferred using encrypted https