Create and Publish Interactive Maps In Minutes
With just a few steps our interactive mapping software allows you to take up to 100,000 address and turn them into an interactive map. Once your interactive map has been created Maptive provides hundreds of tools and settings to help you customize your map however you want. You can also decide how you want to share your map. Maps can be shared privately with specific individuals, published publicly to the web, or embedded within a webpage or blog using simple HTML code.
How to Create an Interactive Map
Sign up for a free trial.
Click "Create My First Map".
Name Your Map and click "Continue".
Upload your Excel data that contains location information or start with a blank map.
Identify the columns in your spreadsheet that contain location data.
Start using your Interactive Map!!
What can I do with Interactive Mapping Software?
Maptive provides hundreds of tools and features that let you customize your interactive map. By simply changing a couple settings you can completely change how your data is viewed and how you interact with it. Below is just a sampling of what is possible. If you have a specific need feel free to view all our features or ask us a question using the button at the bottom right hand corner of the screen.
Interacting with your Map.

Maptive provides all of the features you would expect from a modern mapping application. You can move the map by simply dragging it or double click to zoom. You can also click on map markers and show all the data associated with it in a small popup bubble.

Filter the Data on Your Map . By creating filters and groups on your data you can make your map more interactive. This processes creates a clickable key that allow people you share the map with to select only the data that they need. Learn more about the Filter Tool
Store Locator and directions.

Adding a location finder tool to your interactive map allows users to use their own location to find the locations in your data that are closest to them. They can then choose to get directions from their location to the closest location.

The Power of Google Maps.

Maptive uses Google Maps which means that we can give you all reliability and feature that you are use to. Many other interactive software companies use mapping programs which are often not as up to date as Google Maps
Start Mapping Now
No Credit Card Required
Testimonials
What our customers say about us:
As our data visualization partners, Maptive has become an integral part of our operations—from Logistics to Project Tracking to Scheduling. (You guys rock!)

Maptive is essential to how we understand the global distribution of our leaders, helping us to reduce unnecessary travel time, costs and our impact on the environment.

The Hallelujah Chorus played in my head when I discovered Maptive—everything we wished for when we started our path.

True insight into our data is vital to our success—and Maptive gives us exactly that.

I have used several mapping tools, and Maptive is by far the most user-friendly and most comprehensive tool available.

Maptive helps us drastically with compliance, marketing and itinerary planning.
Create Interactive Maps
People are seeking more from their data visualization. They no longer want to create a picture to look at, but rather desire a tool they can actively use to gain greater insight into their information. Our interactive map software allows you to take raw data and easily transform it into a responsive tool for analysis and presentation. Employ our maps as an integral part of your team's daily operations, impress your clients with your professional visual content, or use our interactive mapping tools to gain insight into your spreadsheet data.
The beauty of our interactive map software is that it takes you away from the limitation of static visualization and into the realm of dynamic action. This is the world we live in now, one where clients have come to expect a conversation rather than an information sheet, a dialogue rather than a monologue. Our maps are living, breathing entities that will keep providing you with insight, as long as you provide them with data.
Our interactive map software is cloud-based. You're correct — that does mean you can access it from any device, from anywhere in the world. As traditional office setups start to get replaced with more informal work settings, the need to find ways to connect yourself to the people you work with has become more pressing. Many software companies have responded to this call in highly ingenuitive ways. Our answer comes in the form of interactive mapping.
Maptive works in the following ways:
As a node point for engagement with your collaborators
As a means of sharing the insights you have garnered with a group of people
As a way to gain those insights in the first place
As a conduit for identifying opportunities
As the ideal next step to Google Maps, and powered with the same capabilities
This is where the curve of data visualization is heading, and if you'd like to get ahead of it, the time is now.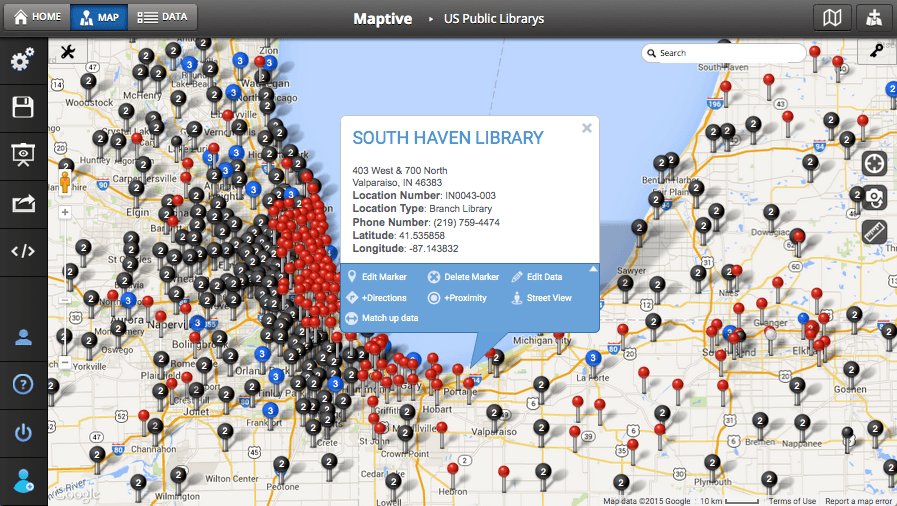 Why not sign up for our free trial? Get to know our software yourself and you'll see just how much it wants to interact with you. (We promise it is very friendly. The only thing it'll bite is your old ways of doing things.)
How To Make An Interactive Map:
Ready? Let's get started.
In short:
Create a Maptive Account.
Input your location data.
Let Maptive do the work of creating your unique map.
Play around with all the toys we have on offer.
Share, embed or print your map so that the rest of the world can see the beauty you have created.
Once you sign up for your free trial, you'll be given the opportunity to create your first map — and this is where the fun starts.
"But how do I get my large reams of data onto the Maptive platform?"
"I've never made a map before, let alone an interactive one. Where do I begin?"
"Is learning how to use the platform going to take up hours of time I can't afford to lose right now?"
We hear you, and are about to wow you with responses that will not only put your mind at ease, but will have you racing towards you next big idea. Here's the lowdown.
Uploading location data onto our interactive data website is simple. If you have already inputted it into an excel spreadsheet, you can load your document right onto our site in a few clicks. Alternatively, you have the option of inputting data in our DATA view, or placing it straight into our MAP screen. Whichever way you choose, you'll be able to take advantage of our user-friendly interface to ensure that your map is made in less time than it takes Gary in Sales to moan about how he can never seem to identify the trends in the company's data.
Our interactive mapping platform is highly intuitive. The learning curve is so gradual that its gradient is almost imperceptible. You do not have to have any advanced technical ability to get your map up and running, nor to tackle any of its features. While our maps look impossibly professional, they are more than possible to easily create.
What you do with your interactive map software is up to you. We wrote you this little limerick as an appetizer or, as we like to call it, a mappetizer.
Filter, group, heat map, splice.
Drink from your map's wise advice.
Optimize directions.
Make new connections.

Locate on any device.
Got it? Now for the next stop. Look at how powerful this interactive map software really is!
The Power Of Interactive Google Map Capabilities:
You know all of those fun interactive travel map features that you've come to love on Google Maps? Guess what? They are available with our interactive map software.
You are aware of all the old favorites — you can zoom in and out, focus on specific areas of your map, get directions, change views, log your home and office space, find yourself when you are lost… (Don't be ashamed, it happens to the best of us!)
We've taken all that is available to you on Google Maps and exploded the possibilities. Our aim is for you to achieve interactive data visualization excellence by simply clicking a few buttons. We would like to invite you to visit our tool box to see just how impressive our features are.
Here are just some of the features you can use to give your maps superior powers of interactivity.
Use our filtering tools. Not everyone needs the same information. By grouping and filtering your data, you can ensure that only the relevant sets of eyes interact with the data meant for them.
Optimize your directions. If you're looking for the fastest way to journey between multiple locations, our interactive travel map will optimize your route for you in a flash. Whether you want your sales team to be more efficient, or are going on a trip to all of your bucket list destinations, the tool will take all the guesswork out of getting to where you need to be going.
Locate your store. While we hope that you're able to find your own business, your customers may not be able to do so as easily. Why not add a store finder tool to your unique map? Embed this interactive map on your website and you've made it as effortless as possible for your customers to find you. Barring the smell of baking cakes, nothing will lead them to you as easily.
Watch as the epiphanies fire at you! Even for the nerdiest of data geeks, it can be hard to find insights within large reams of information. Interactive mapping allows you to quickly see things that would otherwise be hidden from you.

Heat maps show you areas density.
The drive time polygon illustrates driving distances to and from selected destinations
The territory drawing tool allows you to incorporate the information already part of Google Maps to delineate specific areas of your location data. For more information on our interactive map software tools, head here!

Export data from your map as a spreadsheet. Aha! Your map helped you figure out that all of your competitors' stores lie within a specific area. Now it's time to export that data as a spreadsheet to put it to maximum use.
Marvel at the sheer beauty of your creations. Alright, alright. We told you these maps were interactive, but every now and again, you can take a moment to sit back and just appreciate what you have created. Our maps are simply beautiful. Your customers will see it, your team will be happier for it, and you will feel an immense pride in the work that you share with the world.
Finally, we believe that your interactive map should truly be your own. We've made our maps completely customizable so that when you look at your map, you know for sure it has your stamp on it. From the specific view you choose, to uploading your own marker images, to playing around with the color and shape of the borders that enclose your data, your interactive travel map will be distinctly yours.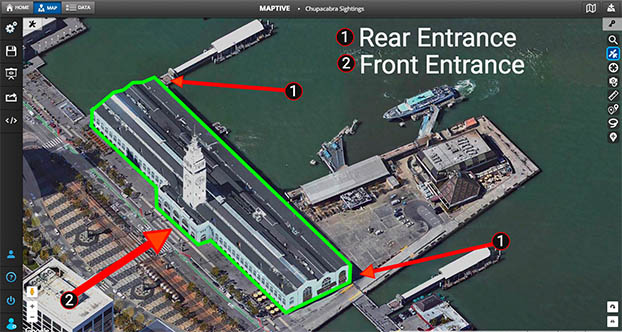 Create Interactive Map Presentations Today:
We know — you're just itching to get started on your first interactive map. The truth is, our maps can't wait to start their conversation with you either. Let's be honest, your data is the reason they even exist.
Data does not have to look like rows and rows of unfathomable figures and unintelligible words. If configured in the right way, your relationship with your data can be a conversation. Not only will this help you better understand the secrets hidden behind the surface, but it will also create the ideal presentation tools for you to share internally, or for the purposes of enticing or retaining customers. Our interactive map software is the perfect synthesis of aesthetics and analysis.
Yes, you have just found your software soulmate. We can't wait to see what you do together.
Start mapping now!
Just follow these simple steps:
---
Copy & Paste OR Drag & Drop
your data set here.
OR you can Upload My File
Important: Remember to include column headers in your data set. (like the example)

Double Click then Copy & Paste
OR
Drag and drop
your data here
Date Security: Your data is transferred using encrypted https