What Maptive Can Do For Your Business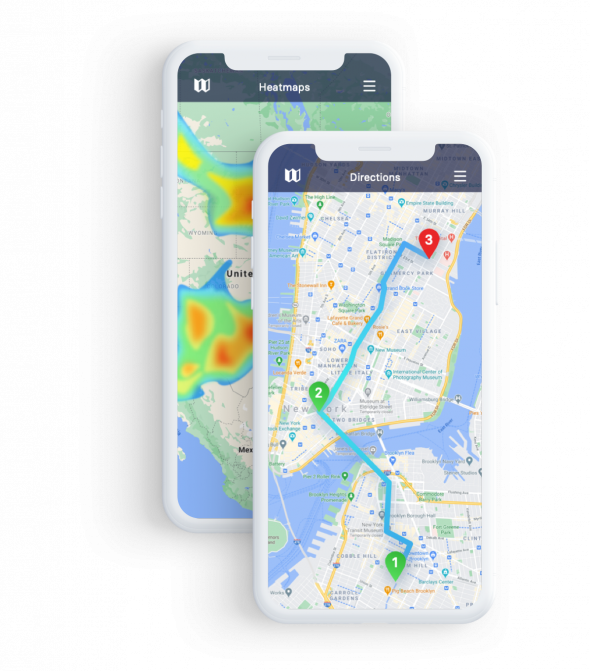 Make sense of your data and make the right decisions
Extracting meaning from a massive spreadsheet can be like finding a needle in a haystack. Visualizing data on a map is the best way to gain insight, recognize opportunities, and identify problems that would otherwise be lost in an unwieldy data set. With Maptive, transform raw location data into a beautiful, customized Google map in only a matter of seconds. Mapping tools can be cumbersome, complicated, or expensive to use, but our elegant software was designed to make mapping simple and fast for everyone—no matter their skill level.
Learn Who Your Customers Are
Help Your Employees Be Successful
Understand Your Supply Chain
Grow Your Business
About Our Company
Take some time to learn more about the people behind the Maptive software
---
We're a dedicated group of mapping nerds who want nothing more than to bring you a solid and painless mapping experience.
We started as a custom map shop in the summer of 2010 with our friends at Batchgeo. Since then we've been quietly perfecting our mapping solution to become the on-demand service we are today.
We are licensed with Google Maps for Business. With this partnership, we're able to offer speed, accuracy, global coverage, and an ever-growing suite of customization tools.
We love working with all types of businesses and organizations—no matter the industry or the size. Many of our customers map globally and reside in countries such as the USA, Canada, Britain, Germany, France, Denmark, Australia, New Zealand, Brazil, Sweden, and Ireland.
We're constantly working to improve our product. We have big plans for giving you more insight in this next year, including deeper analytics, more marker options, heat maps, and drawing tools.
Giving Back
We're here to provide you with a solid and painless mapping experience—one that doesn't leave you with empty pockets
---
A lot of mapping tools are expensive. At Maptive, our goal has always been to create an easily accessible, powerful mapping product that can be used by everyone—not just the "big guys." Maptive Free was created to answer the many requests of those who need a quality mapping solution, but whose needs or budgets don't justify the purchase of Maptive Plus.
Do-gooders of many sorts (non-profits, academia, students, NGO's and open-source contributors) can purchase Maptive Plus at a 30% discount. Just include a short blurb on how you make the world a better place when signing up!
Start Mapping Now
Get started now and see what Maptive can do for your business.
You can learn a lot about your customers, your teams, and your business by taking the time to map data. Don't wait any longer to see what Maptive can do for you. Sign up now, start mapping, and gain the insight you need to make the right decisions for your business or organization!
Map Now