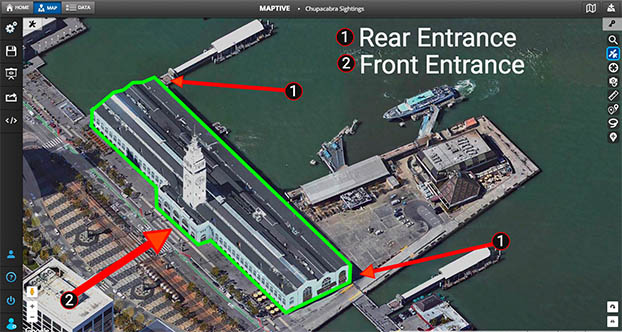 The Map Drawing Tool makes it easy to draw on a Google map. This tool provides 12 features, and hundreds of options that allow you to customize your map however you want. With these features you can create a map in a couple minutes that contains all the drawing that you need. When you combine the map drawing tool with Maptive's full suite of mapping software the drawing tool becomes even more powerful.
What can I draw with the Map Drawing tool?
Draw a simple circle
Number locations to create a map key.
Draw a Line between different point on the map.
Place a rectangle to show where a building is.
Draw a polygon.
Use the arrow tool to show points of interest.
Add several types of text label to make the map easy to navigate.
Drop a marker with one of a hundred different icons.
Upload a custom image to the map.
Within each of the features of the drawing tool there are multiple ways that you can customize the shapes you draw on the map. You can adjust the color, and thickness of the outside lines. You can change the color, and opacity of the inside of a rectangle, polygon, or other shape. On the text features you can change the size of the font and the color of the text and background. You can also change the icon that appears within each marker. Maptive is always adding more features. If we do not have what you need please let us know and we will do our best to add it in the future. To try our Mapping software click the button below.
Drawing Tool
Have you ever thought, "Wow, it would be so great if I could just draw directly onto Google Maps?" Luckily, we had the very same thought. That's why we bring you map drawing tools that will forever change the way you interact with digital mapping software. Our comprehensive suite of easy-to-use features will allow you to add all those little details to your maps that you've always wanted to add. In seconds, you can create maps that even the most geographically-challenged individuals can follow with ease.
Google Maps Drawing Tools
Our map drawing feature is a treasure chest of tools that gives you a range of options to draw on Google Maps. We'll run you through the gamut: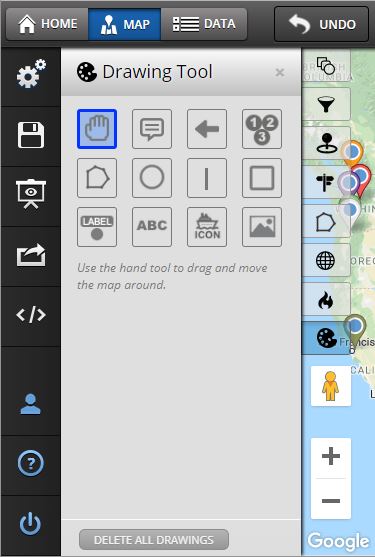 The hand tool — This is the tool that will quite literally give you a hand when it comes to creating expert digital maps. You can use the hand tool to manipulate the view of your map. Move it left and right, and up and down, by dragging the hand in the direction you want it to go. (We won't mind if you use it to indulge childhood fantasies of being the ruler of the whole world. You look down on your minions. It's yours to do with as you wish.)
The callout — Let's give a shout-out to all those who have already used callouts as a map drawing tool. Who doesn't love giving their data visualizations a voice? All you have to do is click on the map to draw a callout. You will then be able to enter text into your bubble. Maptive allows you to amplify your voice across a large area with this easy map drawing tool. But wait just a moment — it wouldn't be Maptive if we didn't make it completely customizable. Yes, the way your callouts look and feel are entirely up to you. You can decide whether you want them to scale with your map zoom or stay a fixed size. Then you can add your personal flair to them by adjusting:

Border Radius
Stroke Opacity
Fill Opacity
Stroke Weight
Font Size
You can even change the colors of your stroke, fill and font colors from the full pallet of color options.
The arrow — You'd be amazed at how many people are now finding the right building since the inception of this gem of a tool. That's right, as one of the most sought after Google Map drawing tools, the arrow points out where exactly it is that you want to lead people. It's the "X" in "X Marks the Spot". You can modify the following elements of any of the arrows you create using the tool:

Triangles Size
Stroke Opacity
Fill Opacity
Triangle Stroke Weight
Line Stroke Weight
Stroke and fill color
Yes, that is an arrow to the turn-off to our offices. So glad you noticed.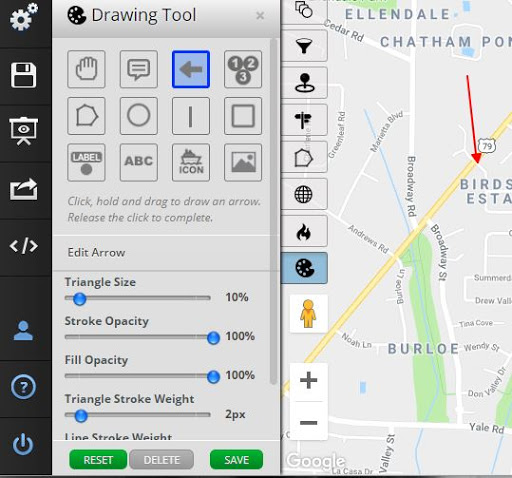 The number drawer — Choose this option to draw a number anywhere on the map. Of course, we've maximized it for efficiency so simply click again to draw the next consecutive number. Just imagine how useful this can be when creating a key for different locations on the same map. You can choose which number you start with, and are able to adjust all elements, such as radius opacity, stroke weight, font size and color.
The polygon illustrator — Select the polygon tool to start demarcating a specific area anywhere on your map. Whether you would like to illustrate a particular zone for a presentation, indicate a no-go territory, or remember a particular location to revisit at a later stage, the potential uses of this easy map drawing tool are endless.
The circle maker — Gone are the days when you had to print out your map and place it on your lap, find a thick red pen, use it to circle a spot on your map, realize that the pen has seeped through the paper and onto your new pants, cry a little on the inside at what the day insists on throwing at you… Now you can draw on Google Maps with ease and efficiency, without your map ever having to leave the screen. Like the other map drawing features, the circle maker is completely customizable in terms of opacity, stroke weight and color.
The polyline creator — Sometimes it really is as simple as going from A to B, and all you have to do is illustrate this journey. That's where the polyline creator comes in. Once you have selected this map drawing tool, click anywhere on the map to start drawing.
The rectangle wrangler — You can't fit a square peg in a round hole, but with our easy map drawing tools, you can draw a square shape over a circle — if that's what you wish to do. If that's not what you want to do, we're certain you'll find numerous uses for our rectangle function. It's adaptable to your needs. Click and drag your mouse to draw your square or rectangle and then play around with the opacity, color and stroke weight.
The label writer — While others may look at you suspiciously if you start renaming countries, you are welcome to use the label making for a variety of other map drawing functions, from navigation assistance to marketing presentations. You can change the font and dot size and color, as well as the background color of each label.
The Text Producer — Yes, this is your chance to scribble. Imagine our map drawing platform as the digital equivalent to a map stuck to a whiteboard, and littered with pins. This tool is your chance to brainstorm. Whether you're trying to solve the case of the other sock that always goes missing, or want to jot down an area of potential opportunity, think of this tool like the pen in your top pocket (except this one doesn't leak.)
The Icon Adder — And when words fail you, talk in pictures. Add icons to your map from our extensive library, quickly and easily. In a flash, you will have given your audience all the information they need to know, or simply created a reminder of service, transport systems, or places of interest for information.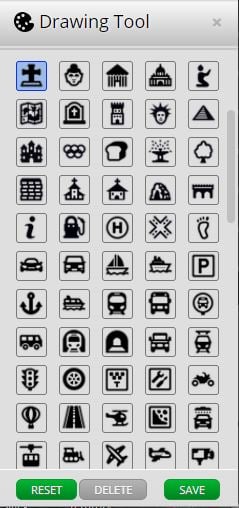 The Image Uploader and Displayer — If you want to get really fancy, why not use an image of your own as part of your selection of Google Map drawing tools? You can choose a previously uploaded image from your library or upload a brand new one. You have the option to show the borders of the image or leave them to run free. Once you've chosen your picture, click on the place on the map where you want to display it, and you're ready to view your totally unique Maptive creation.
Ready to start using your Google Maps drawing tools?
Get your map drawing software today!
Sign up for a free trial of Maptive today, and start creating. But be warned — once you get acquainted with what our map drawing tools are able to do, you will never look at Google Maps the same way again.