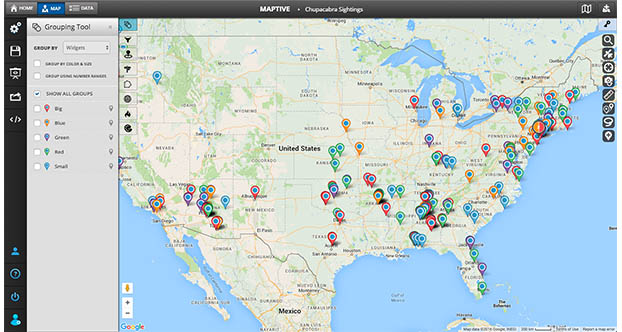 The marker grouping tool allows you to change the coloring of markers on your map based on a column within your data. Coloring markers lets you visually distinguish different groups within the data you load into Maptive. The grouping tool allows you to change the color of the markers based on unique text or numeric values. You can take this one step further by selecting both a text column and numeric column. If you do this you can color the markers based on the text group and change the size of the marker based on numeric ranges that you can set.
Customize Map Markers. The marker grouping tool allows you to select the style, and color of each group that you define in your data. You can even upload a custom marker and use that to represent a group. Using this feature you could load the logo of each type of business in you data and it would be clear at a glance where all of that companies locations are. Find out more.
View one group of markers at a time. Grouping your data gives you the power to filter the markers on your map quickly. By clicking on all the marker groups that you want to see you can create a custom map that just shows the locations you need to see now. You can take this one step further using the Filter Tool
Identify trends in data quickly. Groups appear live on your map as soon as you create them, which can be incredibly beneficial during times when you need to quickly identify opportunities or areas of your business that require your attention.
Access the grouping tool in 1-click. Grouping your data can be done quickly and conveniently right from within your map. There's no need to make any changes to your spreadsheet data in order to identify trends. The process is simple: click into the Grouping Tool, create your groups, click done, and view your grouped data in real-time in your map.