With Maptive's Radius and Proximity Tool, You Can: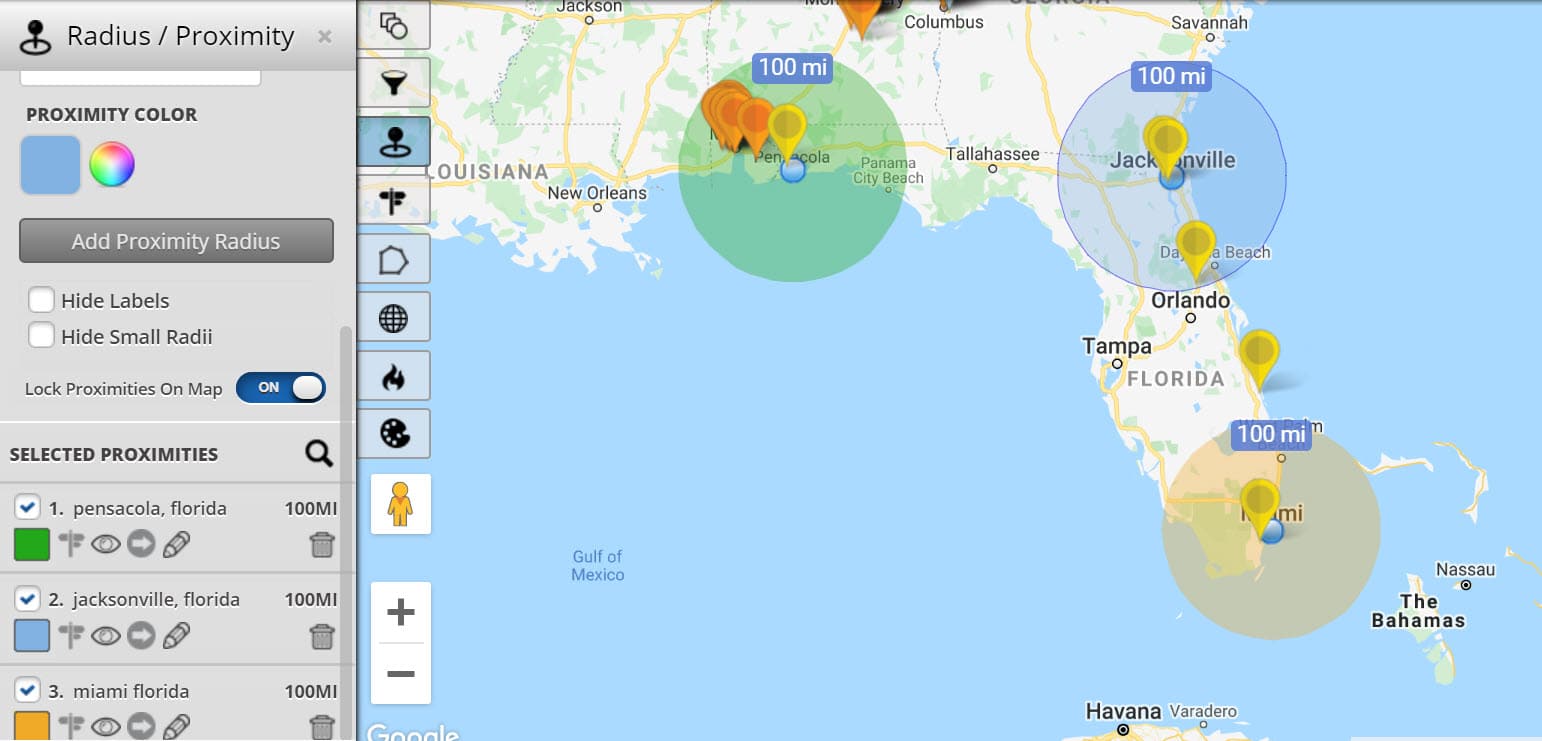 Build a radius around a specific location in seconds.
Choose your starting point marker, set your proximity distance, customize as needed, and you're done!
Adjust the distance and color of your radius
.
Use the proximity tool to adjust the distance you set in real-time. Select a color for your radius so that it's easy to find on your map.
Customize your information.
Customize the popup that appears within the circle. This is useful when creating multiple radii where you must identify or categorize the location data.
Export locations.
Easily export your data to an XLS or CSV file.
Save the radii you set.
Maptive lets you save your radii to the cloud, so you and your team can work on them whenever you want. This is particularly useful for data sets that are permanent, like the zip codes for your offices or stores or the addresses of your warehouses. 

Add radii around points of data.
Use the drive time radius map tool in conjunction with other tools in Maptive. For example, use the grouping tool to group your data by state and add a radius to all the locations in one state with just one click.
Use the radius tool to determine franchising opportunities.
Quickly decipher if there's an overlap between you and your competition to decide where to open new locations. No more complicated calculations that have the potential for mistakes. In a few seconds, the picture will emerge before your eyes so you can make informed choices.
Add multiple radii around a specific type of marker.
Make your radius map as in-depth as you like by placing multiple radii around a single marker. Set one for 100 miles to map out the space between you and your competition. Set another for 50 miles to decide if you're too close to another of your stores.
Export locations inside a radius.
Export data from within a specific radius to a spreadsheet. No copy-pasting or tirelessly jotting down your findings.