With Maptive, you can easily create interactive dot maps from your location data in no time. The process is simple: just upload your data, decide how you want your map to look, then hit the "Map Now" and your customized Google map will be created within a matter of minutes. Once created, you can decide whether you want to add further customization or details to your map, how you want certain information to be displayed, and how you want to share your new customized Google pin map. From there, you can use our powerful analytics tools to gain more insight and make sense of the location data you uploaded.
Why people choose Maptive over other options:
Elegant software that's easy to use
Nothing to download or install to get started
All the customization you could possibly need
Testimonials
What our customers say about us:
As our data visualization partners, Maptive has become an integral part of our operations—from Logistics to Project Tracking to Scheduling. (You guys rock!)

Maptive is essential to how we understand the global distribution of our leaders, helping us to reduce unnecessary travel time, costs and our impact on the environment.

The Hallelujah Chorus played in my head when I discovered Maptive—everything we wished for when we started our path.

True insight into our data is vital to our success—and Maptive gives us exactly that.

I have used several mapping tools, and Maptive is by far the most user-friendly and most comprehensive tool available.

Maptive helps us drastically with compliance, marketing and itinerary planning.
How To Create a Dot Distribution Map
Pinpoint is a beautiful word. It means "to find out […] the exact position in space or time of something," or "to discover or describe the exact facts about something." Guess what? When you create distribution map visualizations with Maptive, we allow your pins to point you in all possible ways.
With Maptive, you can easily drop pins on a map to illuminate your path, both geographically and conceptually. Whether you are looking to shed light on an unwieldy data set, determine hot spots in data, or compare data over different time frames, we will provide you with all the tools you need to easily create a dot distribution map.
Neither the locations you seek nor the insights you are after will remain buried in a fog of obscurity. When you create dot map masterpieces using our cloud-based software, you'll be amazed at how clarity sets in. As your picture emerges, you will have the opportunity to create actionable insights for your business, marketing department, research project or personal adventures. Imagine how useful this could be as a tool for voter polling, a means of mapping out migratory patterns of particular species or as a way to identify deserts longing for the oasis that is your company? The possibilities are truly endless.
The best part is, our software is so intuitive that even the tech-adverse can easily find their way around. Want to know how it works? We're happy to tell you, but be warned — when you create dot distribution map magic with us, you will find it difficult to slot back into your previous life without it. You cannot unsee this.
Ready? Let's go.
Make Your Own Dot Density Map: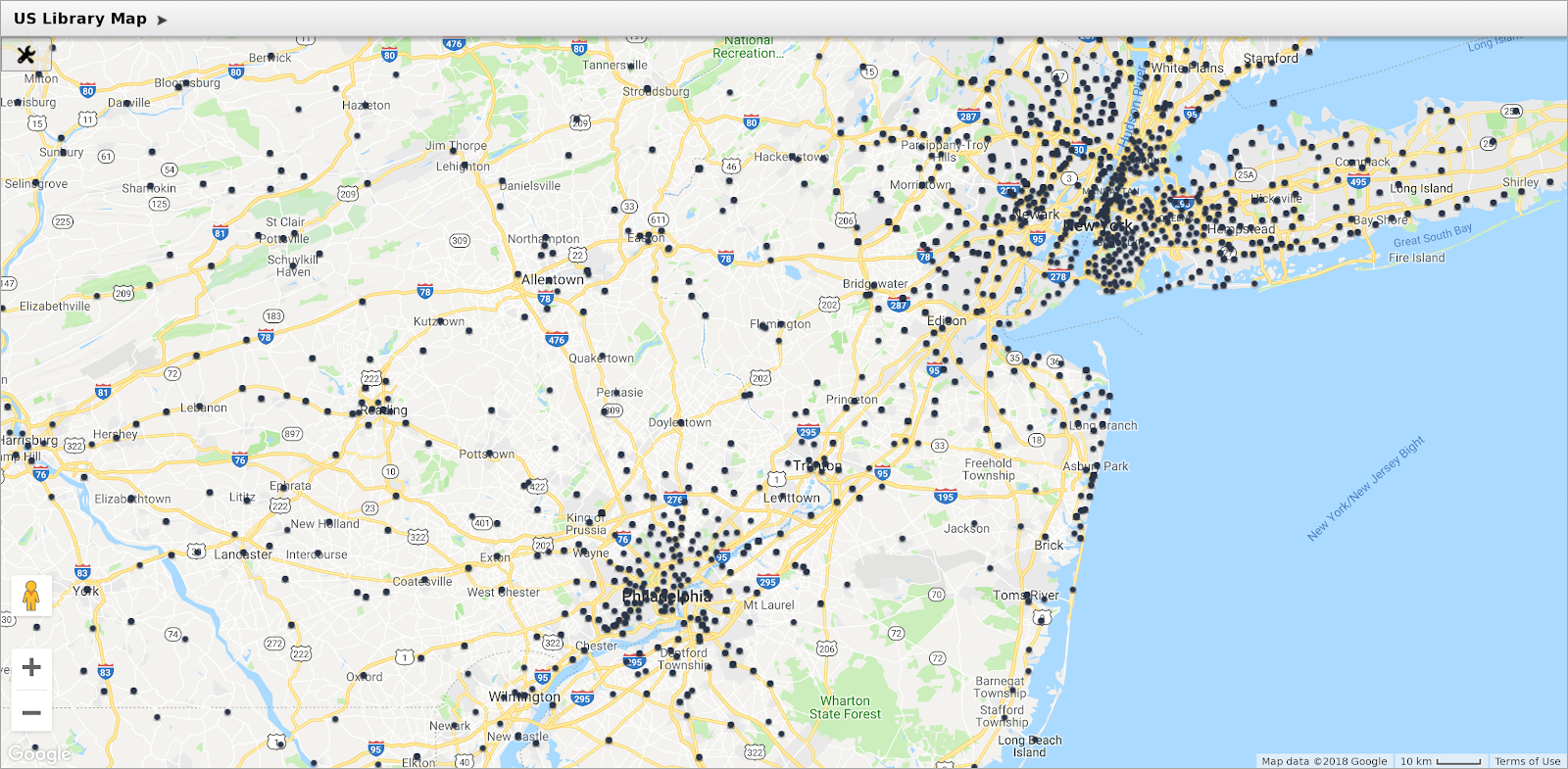 Here's how Maptive allows you to create dot map visualizations within a matter of minutes:
Sign up for our free trial.
Upload your location data in the form of an existing excel spreadsheet, or directly onto our platform. You have the option to input your data location by location, or dumping all you've got in one go.
Select: CREATE MAP, and you're off to the races. (And this time you'll know where to find them without stopping for directions so many times.)
Look at all these beautiful pins!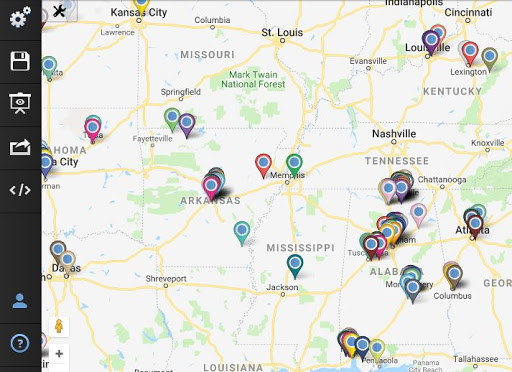 It doesn't take long to see how easy it is to identify how evenly the pins are distributed. Open spaces stand out so much that you can almost see the tumbleweed rolling down the streets; saturation points are quickly apparent, and lone rangers stick out like sore thumbs.
But Maptive is not only a tool for basic plotting. Its capabilities extend far beyond simply being able to put pins on a map.
Once you've created your dot visualization map, you can take it to the next level. Below are two beautiful dot distribution maps containing the same data. But here's the kicker: the second map separates the data into different libraries and denotes them with different colors.
Isn't that amazing?
Our dot distribution maps allow you to not only map one type of data. You can also see multiple types of data at the same time. And if you want to compare multiple years of data on the same map, it's only a few clicks away!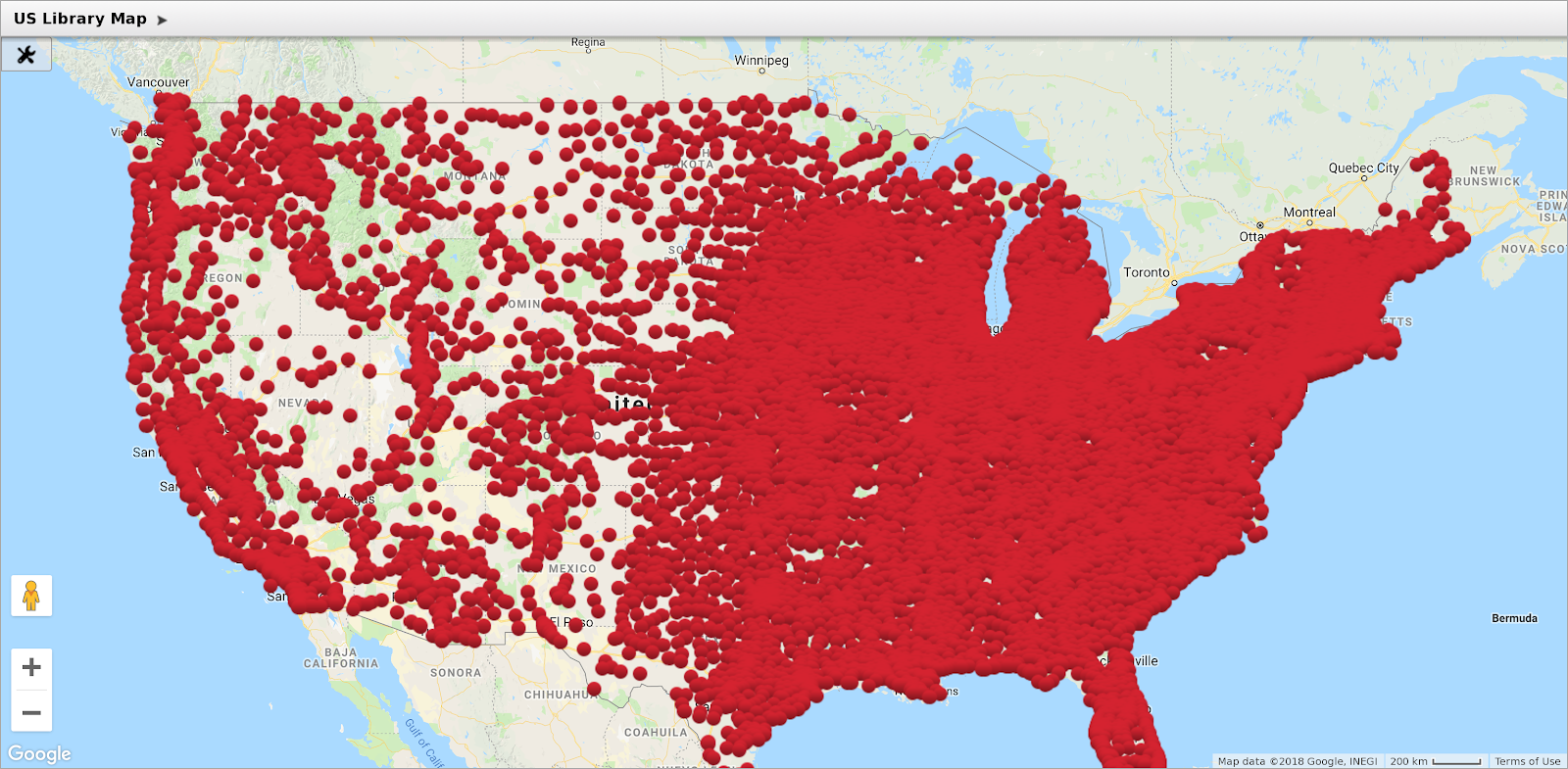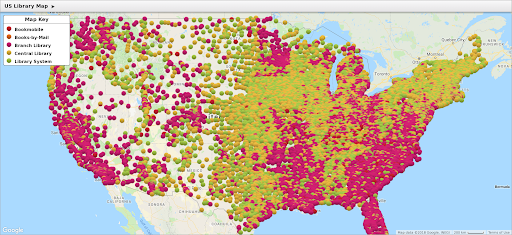 Once you've got your map up and running, it's time for our analytics tools to really kick into gear. Demarcate particular areas with our boundary tool, effortlessly work out travelling times with our drive time polygon, or get an optimized route between those beautiful little pins you have so lovingly entered into your map.
No matter which tool you use, you're guaranteed to create a work of art. Want to see your data based on zip code? No problem! With our boundary tool, you can create your distribution map in a way that shows the allocation of your statistics at a lower level of granularity than your original dot map.
Or perhaps you would really like to turn up the heat. Really. We have a heat map tool, so you can. Our heat map tool will make a heat map out of your data right before your very eyes.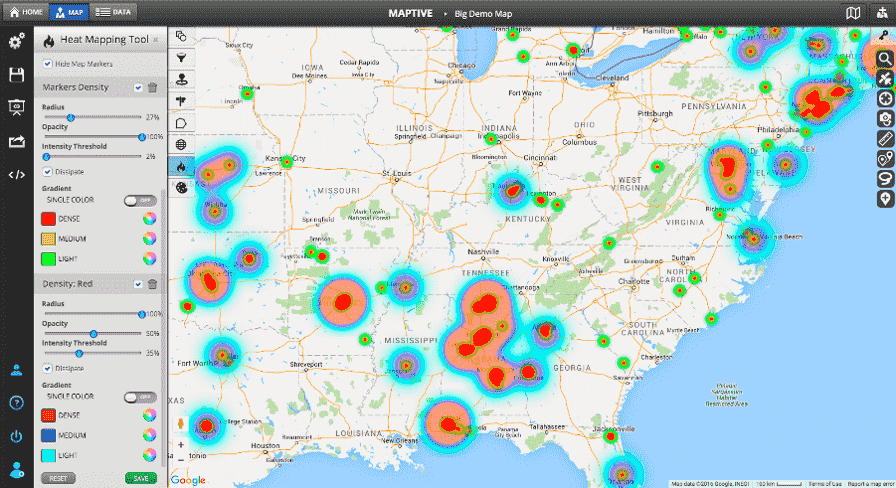 Maptive maps are highly customizable, so you can really make your map your own. Change those simple pins to stars or chicken wings, adjust the opacity, color and threshold density of your heat map, write on your map to point out a key feature. No two Maptive maps look the same.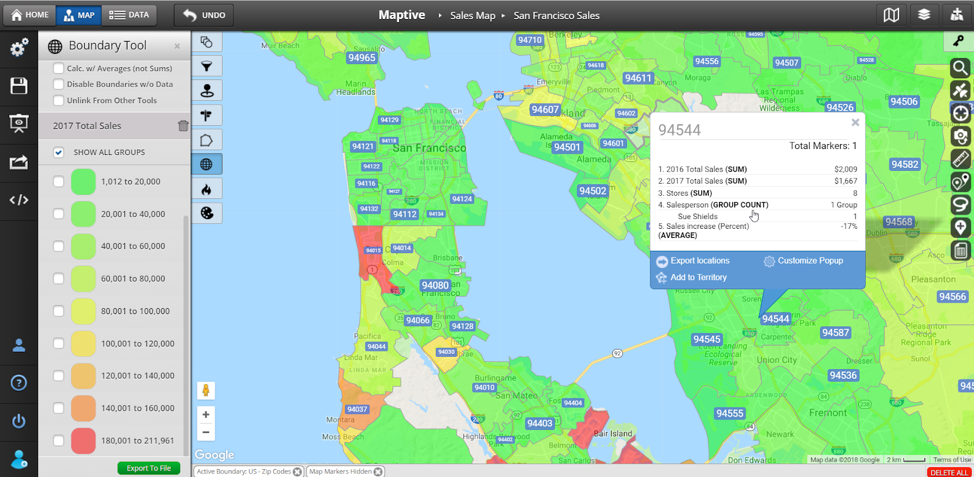 When you create distribution map visualizations with our software, you will not only be able to understand your data in a new way, but you will also want to share it with the world. (I mean look at it, it's so good looking.)
An ideal accompaniment to presentations? Check. Website image? Check. Key feature of your brainstorming board? Check. Check. Check.
What A Dot Distribution Map Can Do For You:
Look, we're not going to judge. If you want to use our maps to map out the places you have "accidentally" run into the ex that you still love, or your favorite spots to have visited with your parrot when he was still alive, by all means, go for it.
If, on the other hand, you would like to use our distribution map creator to gain insights into your business, well, we won't stop you from doing that either. In fact, we encourage it. Your map can become the portal to insight that you have been yearning for. It will allow you to literally see the big picture, rather than waiting for epiphanies to jump out at you from the crossed lines of your populated spreadsheet.
With our easy-to-use but oh-so-sophisticated software, you will be able to discern where areas of density lie, opportunities exist and distinct patterns are formed. Want to know how? Well, we'll answer that with a little tale about a girl called Dotty.
Dotty is a spreadsheet geek. She once asked for the Microsoft Office package for her birthday gift — when she was six years old. While Dotty has always loved data, she sometimes struggles to see the meaning that is lurking behind it. When Dotty opened her business that sold dotty stationery, she needed to know where the competition was. She stared and stared at the location data so beautifully inputted into her spreadsheet tab, "My Competitors." She just couldn't seem to see where the best place was to open her new store.
Enter Maptive.
Dotty quickly uploaded her competitor spreadsheet onto Maptive, pressed "Create Map," and within seconds, she was staring at the distribution of her competitors. You see, Dotty was able to create a U.S. map with pins that allowed her to see what a simple spreadsheet couldn't. Now Dotty uses Maptive in all elements of her business, from marketing and sales, to identifying new opportunities, to telling her new customers how to get to her stores. She really can't remember how she managed without it.
You too can be like Dotty and create a pin map with Maptive today. Here's where you sign up for your free trial.
Start mapping now!
Just follow these simple steps:
---
Copy & Paste OR Drag & Drop
your data set here.
OR you can Upload My File
Important: Remember to include column headers in your data set. (like the example)

Double Click then Copy & Paste
OR
Drag and drop
your data here
Date Security: Your data is transferred using encrypted https