Transform Your Excel Mapping Data Into a Map
A lot of mapping tools are cumbersome, complicated, or expensive to use. Our elegant excel mapping software was designed to make mapping simple and fast for everyone—no matter their skill level. To get started with Maptive simply follow the steps below to create a map from your data. Once complete each row in your spreadsheet will be represented by a marker on the map, and you can start analyzing your data with just a couple clicks.
5 Steps to create a map from Excel data:
Sign up for a free trial.
Click "Create My First Map".
Name Your Map and click "Continue".
Upload your Excel data that contains location information.
Identify the columns in your spreadsheet that contain location data.
Start using your Map!!
What can I do with an Excel Map?
Maptive provides hundreds of tools and features that let you view your spreadsheet data. By looking at your excel mapping data on a map you can find patterns you might otherwise miss if you were just staring at thousands of rows of data in a spreadsheet grid. Below is just a sampling of what is possible. If you have a specific need, feel free to view all our features or ask us a question using the button at the bottom right hand corner of the screen.
Heat Map Excel Data. Generate a heat map based on the geographic location of each row of data. If you want to add a weight to the locations in your spreadsheet, you can select a column such as sales or clients. The resulting heat map with be darker where there are more total sales, and lighter where there are few or none. Learn more
An Alternative to Excel Power map.

Excel Power Map can be a powerful tool. However, it can be complicated and may require you to create an advanced data structure just to get the same information you can get from Maptive out of the box.

Group spreadsheet data on a map. Select a column in your excel data and Maptive will automatically find all of the unique values in that column. We will then place a colored marker on the map for each row in your spreadsheet. Each color will represent one of the unique values from the grouping column. Learn More
Map Excel Data:
Rows and rows of spreadsheet data can be the enemy of insight. Maptive allows you to convert your facts and figures into a clear picture in moments. Our superior mapping platform does all the complex work for you so that you can spend your time interpreting your data rather than organizing it.
All you have to do is upload your spreadsheet, then sit back and relax as we transform it into a magnificent map right before your very eyes.
Rather than sifting through your information for shiny nuggets, have them displayed for you in an easy-to-read format that is highly customizable, intuitive to use, and backed by the robust capabilities of Google Maps.
You'd like to try mapping excel data in Google Maps, you say? What a wonderful coincidence — because we'd like to show you how you can use Maptive to do that very thing. Sign up for a free trial today. Experiment with the many features in our suite. Amaze your family! Impress your friends! (And don't stay up all night playing with your new toy. It'll be there tomorrow, we promise.)
Soon, you will be boasting about your brand new ability to wave Maptive's magic wand over your information to transform it into a cartographic masterpiece. Underneath "Special Skills" on your resume, you will put, "Map excel data to Google Maps." (Our lips are sealed. If anyone asks, we'll say you did it all on your own.)
Upload Spreadsheet to Google Maps:
Spreadsheets are an unparalleled tool to store reams of information — but while they are indispensable to most business, academic, and even leisure operations, lines and lines of raw data can obscure the revelations you seek. Where spreadsheets leave off, Maptive excels (yes, that pun was entirely intended.) When you convert excel mapping data to actual map data, you transform it from storage to presentation, from a vault of statistics to a treasure trove of comprehension.
You may have known that it was possible to map multiple locations from excel or visualize your numerical data on an online map, but the reality of doing so has probably felt beyond your reach. Many map-making platforms have a very steep learning curve, and it's hard to justify the time and energy you have to spend to get them up and running in a way that suits your purposes. Added to this, they can be very expensive. Do you want to spend money on a platform that you're not even sure you will know how to use?
This is why we offer our free trial to you. We want to give you the opportunity to map addresses from excel without the risk. This is so important to us that we do not even ask for your credit card details. We want you to feel secure to experiment without having the pressure of signing up if you are not completely satisfied with what Maptive has to offer.
You can use Maptive's features and tools for a range of purposes, from research for marketing budgets to studying migration patterns, from analyzing sales data to creating professional presentations for your clients and shareholders. If you have numerical and geographical data that you want to easily interpret, display, and share, Maptive should be your first stop.
Got it? Good. Keep reading and we'll show you how.
Map Multiple Locations from Excel:
In just a few steps, we will show you how to create a map using your very own data. Ready? Let's go.
Sign up for our free trial. (Remember when we told you how very free it was? As in, you don't even need to give us your credit card details kind-of-free. Well, we weren't kidding. The risk is lower than a zip-lining course where your feet don't leave the ground.)
Opt to create your first map. Give it a fun name, click "Continue" and you're good to go.
Get your location information into our system to convert excel mapping data to real map marvels.
This is easily accomplished by uploading your existing spreadsheet onto our platform. (As a side note, there are other methods to get your data into our system. Try these two alternative methods to see what best suits you:

Input your data straight into our "Data" view
Go straight to our "Map" view and add information one marker at a time)

Select the columns on your spreadsheet that contain location data.
Congratulations! There you have it — an exquisite map awaiting your personal touch.
Now comes the really fun part…
Make use of the many tools in our suite to customize your map for your purposes.
Share your maps, embed your maps, save your map, keep your maps to yourself because they are too precious to be let out of your sight — it's up to you. One thing you can be sure of is that displaying excel mapping data in Google Maps using our powerful software will reveal hidden gems in your data that will astound you. It's all there, waiting to be found.
Plot Addresses on Google Maps from Excel:
One of the best elements of our platform is that you can form a direct link between it and your own spreadsheet application such as Excel or Google Sheets. There is no need to re-import data that you have so painstakingly collected. It's as if you're pressing a button that says, "Google Maps Excel Import" and voila! Your data appears in our system without any additional slog work from your end.
What's more, the exporting process is as simple as the importing one. Once you have played with your data on the Maptive platform, you can export the raw data of any of the maps you have created right back into excel spreadsheet format. This is a perfect bidirectional relationship.
But why not map excel data right from within excel itself?
You might have heard that it is possible to simply command excel to "Create map in Excel!" and your wish is its command. This is true, and it goes by the name of Excel Power map. Don't get us wrong, we like Excel Power mapping. If you have high-end technical knowledge and time on your hands to climb up the learning curve, it can work for you.
But…
Excel Power Map requires that you be an Excel Whiz. To get it to do what you want it to do, you may be required to build advanced data structures before you get to the point where you are able to use it as a visualization tool.
As you can see, while this may be suitable for some users out there, we provide the alternative to the remainder of the population. If your goal is to be able to use your excel mapping data in Google Maps in a way that is seamless and does not require advanced mental agility, Maptive provides an outstanding alternative. Within a matter of minutes, you can map addresses from excel and begin playing with the various features on offer that will take your map to another level.
Here's the reality — you should be spending more time interpreting your data, implementing your insights, and boosting your bottom line.
Leave the tough technical part to mapping nerds like us.
Yes, we know. You're itching to find out more about how using excel mapping data in Google Maps can change the way you view your information. Come with us as we zoom into some of our favorite features and tools.
Map Zip Codes from Excel:
Maptive's boundary tool maps zip codes for you within seconds. How is this magic possible, you ask? Don't worry. We'll map it out for you.
The boundary tool incorporates a US zip code map that displays the borders of the approximately 43,000 zip codes in the United States. In moments, you can combine your own data with the comprehensive information provided by Maptive.
How you display your data is then up to you. Whether you want to color all or some of the zip code areas in, or simply show the outlines of each region, the boundary tool makes it easy for you to visualize your data in whatever way best suits your purposes.
What's more, we give you the option to include the latest census data on your customized map so that your data is very easy to analyze based on the visualization you have created. You heard that right — you don't have to spend hours inputting the census data. It's all there, waiting for you to use it.
Let's explore what that might look like in action.
The zip code map below displays the median income of people in various areas throughout the United States.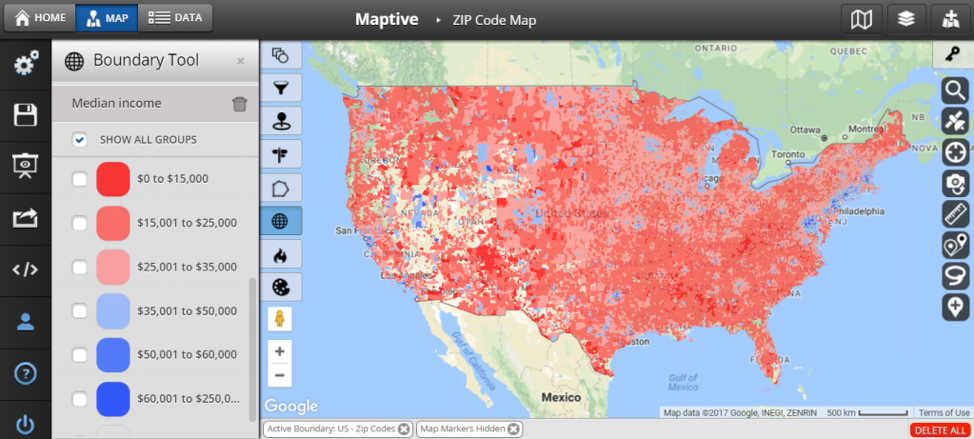 With only a cursory glance, you are able to garner insights that will help propel your project further. Whether you are in real estate or are looking to franchise a store, deciding on new opportunities or attempting to prove to your team why a particular project might not be feasible, our zip code maps will help you uncover insights — and then share them with the relevant people.
What's more, because our maps are so deliciously presentable, they are ideal for presentations or for display on your website. You won't want to keep these artworks to yourself.
But it doesn't end there. Let's take you through a few of our other favorites tools to really whet your mappetite.
Use Our Favorite Tools When You Convert Excel Data To Map Magic:
Look, our tool box is brimming with exciting toys for you to play with. From the moment you pop your excel spreadsheet into our easy-to-use platform, you get a ticket to the mapping funfair.
We have grouping tools and filtering tools, tools that give you multi-location directions and draw radii around selected regions. We can show you distances between central map locations and cluster markers together for supreme readability.
The result? You have all the detail of your excel spreadsheet with all the clarity of an expertly designed map.
We've decided to open up our tool box to show you just two of our favorites.
(Believe us, it was a hard choice. They were all jumping out of the box begging to be selected. If you would like to view our tools in more detail, head here. They can't wait to meet you.)
Without further ado, may we present to you the Heat Map Tool and the Routing / Directions Tool.
Heat Map Tool:
You may have seen a heat map before but had no idea how to create one yourself. Don't worry. You are not alone. They look very impressive — surely you have to have major technical know-how to create your own? Not with Maptive.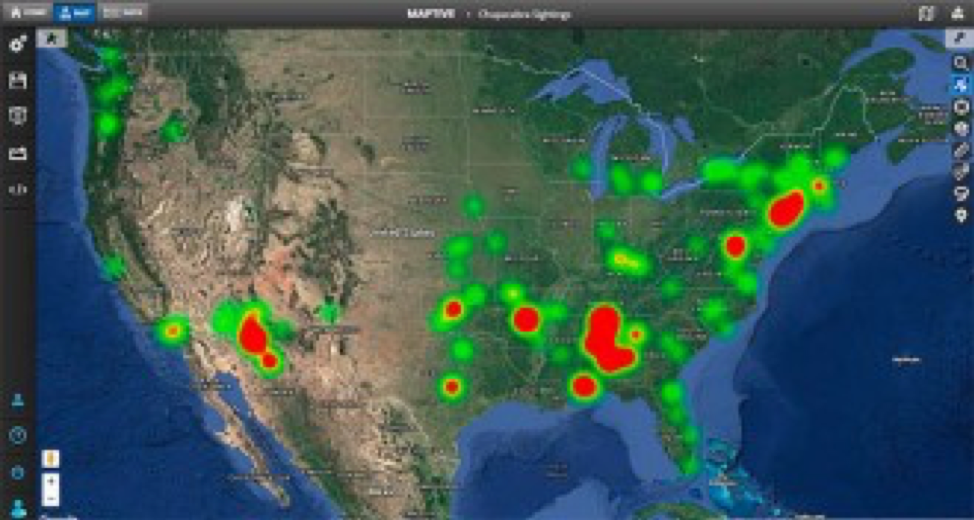 Creating a heat map on our platform is as simple as selecting the style of heat map you prefer, the data you would like to use from the spreadsheet you have uploaded, and then pressing the button that says "Add Heat Map." Easy, isn't it?
Heat maps allow you to quickly identify areas of density on your map, meaning you can easily identify trends and see where new areas of opportunities lie.
Routing / Directions Tool:
Imagine this — you have an excel spreadsheet populated with all the addresses of clients you have to meet on a particular trip. You input your spreadsheet into Maptive and, very quickly, you are able to map street address from excel with very little stress on your part. Maptive does all the work for you.
But it gets better.
Within a few clicks. Maptive creates an optimized route for you that will take you from one location to the next. It's true. Maptive will be your navigational right-hand to take the guesswork out of multi-location trips.
Sign up to start mapping Excel data in Google Maps today!
If you want to start visualizing your spreadsheet data in a way that truly excels, sign up for your free trial and watch as hidden insights reveal themselves to you on your marvellously magnificent Maptive maps.
Reviews of Maptive
---
Start mapping now!
Just follow these simple steps:
---
Copy & Paste OR Drag & Drop
your data set here.
OR you can Upload My File
Important: Remember to include column headers in your data set. (like the example)

Double Click then Copy & Paste
OR
Drag and drop
your data here
Date Security: Your data is transferred using encrypted https