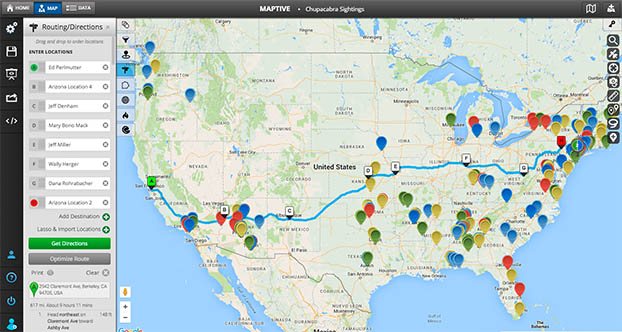 The Route Optimization and Directions Tool boosts productivity and efficiency by allowing you to spend less time painstakingly planning routes from one location to another. Less time spent on tedious tasks means you can finally focus more time and energy on areas that actually impact your success and help you reach your business goals. With this route planning tool, you can quickly view directions and optimize routes to any number of map markers or custom locations in just a matter of seconds.

Plan your route.

Plan a route to any map marker that you've loaded into your map, or any custom location that you manually type into the start or end location window. Getting directions to your location is easy and can be completed in a matter of seconds.



Optimize in 1-click

. Access and use the best possible route available to a location or a series of stops by using the Optimize Route feature. Optimizing your route will instantly give you the best and most efficient way to get from one point on your map to another.



Add multiple stops

. Get directions from point A to point B, or choose to add multiple stops in between. Getting updated route directions that include multiple stops can be done in just a few clicks.

Drag and drop.

Change the order of locations in your route by simply dragging and dropping them in real-time right from within the Directions tool. This can be helpful if you know you want or need to stop at one particular location before you stop at another, despite where locations lie geographically.