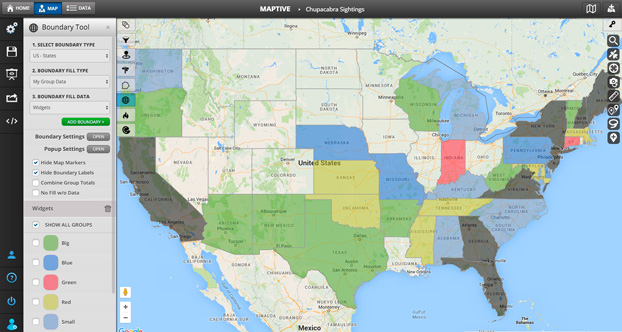 The Boundary Tool allows you to add geographic boundaries to a map which also contains your data. You can then easily associate a column of your data to the individual borders that are on the map. This lets you display your data inside the boundaries on the map with just a few clicks. As an example, if you have sales data from all over the world, you could use the boundary tool to aggregate that data into each country. Then you could shade those countries a different color based on total sales. The end result is a map that can help you better visualize your data and when put into a presentation can help make your point quickly to other decision makers in your business.
What boundaries can I map?
World Countries
State Map (US, AU)
Counties (US, UK)
Congressional Districts (US)
More
What else can I do with the boundary tool?
Map Demographic DataYou can use the US geographic borders to map US census data</span
Adjust boundary size and color

. In Maptive, your boundary width, boundary color, fill color, fill opacity, and number ranges can all be adjusted to your specific needs and preferences.

Edit boundaries at any time.

Once your boundaries have been created, they can be easily edited in real-time right from within your map.
So, what do you get when you cross your data with Maptive's boundary tool? Would you like the quick answer? Insight like you've never had before. Creating a boundary map with your information allows you to quickly organize columns of your own data so as to better understand it through superior data visualization. Now it's not only your therapist recommending that you focus on boundaries — we are too. Turns out, they are also an indispensable tool to help you understand your information.
If you ever wanted to couple your data with Google Maps' city boundaries or state lines, this is where you begin. Can you imagine how good they will look together? What a pair.
Here's how you do it:
Sign up for a free test run of Maptive and our marvelous tool kit.
Upload your spreadsheet data. (Hold on, but isn't that complicated? Surely that's going to take forever. I'm not sure that I have the time.
Calm those little voices in your head. It's as simple as uploading an excel spreadsheet. If you know how to drag and drop a document, you will be able to get your data onto Maptive in a flash.)
Select the boundary tool from the Map Tools Menu on the left hand side of your screen, and within seconds you can have your very own boundary map so that you can better understand your data.
Whether you want to customize a map of the counties in the United Kingdom, the postal codes in Australia, the congressional districts in the United States, or the postal codes in Spain, a boundary map created with Maptive's easy-to-use boundary tool is your ticket to better understanding your location-based data.
Here are some of the ways you can draw boundaries around your data to gain insight into it:
Aggregate a column of your spreadsheet data in a chosen region
Compare territories in a flash
Quickly see concentrations of similar territory types
Customize your boundary map colors to easily understand your information
Create presentations that are easy to share, print and embed. (Seriously. a Maptive boundary map is a beautiful thing to behold. Chances are, you will not want to keep this to yourself.)
Whether you are a researcher or the head of a sales team, a franchiser, a student, a campaign manager, or a real estate agent, a boundary map can easily slot into your daily operations. In fact, it's difficult to think of many workspaces that would not benefit from using this tool.
Just imagine what you will be able to do when you combine your location data and Google Maps with state borders or city lines. Those tireless hours trying to understand your information will evaporate as clarity emerges from the picture you have created.
Ready to learn more about what you can do with a Maptive boundary map? It's time to zoom in.
Generate A Zip Code Boundary Map –
It's the dream of anyone who has ever tried to understand a large set of geographical data. Within a few clicks, your information is no longer a maddening collection of rows and columns, but rather an expertly visualized boundary map that uses all the force of Google Maps to help you see patterns, identify outliers and see what's been hiding in your data all this time.
Once you have loaded your information onto Maptive, the fun really begins. We're going to take you through a step-by-step journey to boundary map success.
Choose the boundary tool from your toolkit. When you select the boundary tool from the toolkit, a screen will appear on the left hand side of your screen.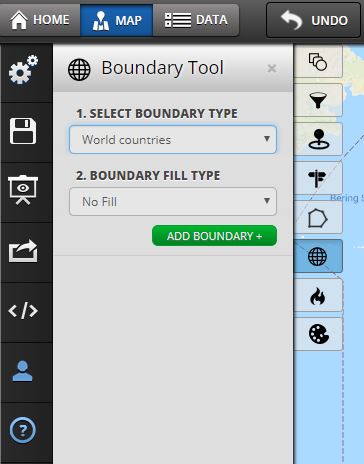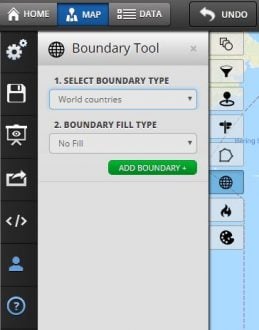 Choose your boundary type. The first drop down menu gives you the option to select what type of boundary you would like to add. You can choose between a wide array of options — world countries, counties, federal or congressional districts, cities, postal codes. Currently our platform includes the following countries' data, with our reach continually expanding:

United States
Canada
Australia
United Kingdom
Germany
Denmark
Argentina
Belgium
Brazil
Chile
Costa Rica
Finland
France
Mexico
Spain
Sweden
Switzerland
Netherlands
For now, we're going to stick to the United States and select US – Zip Codes
Choose your boundary fill type. Now for the next step. From the second drop down menu, select the boundary fill type that you wish to use. You can choose from the following options:

No fill — Yes, we do give the option to stare lovingly at the beautiful borders you have created without the distraction of including a boundary fill.
My numerical data — That's right, this is where that data that you inputted into Maptive gets to be the star of the show. Within moments, the Zip Code boundary type that you have selected can be coupled with a column of your very own numerical data.
Here, we've selected a column of sales data, mapped out by zip code: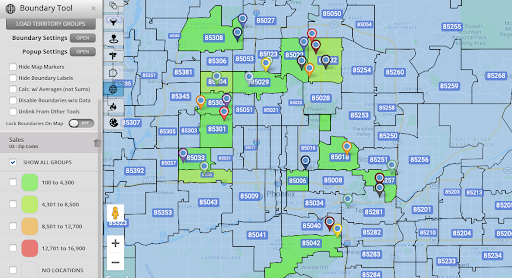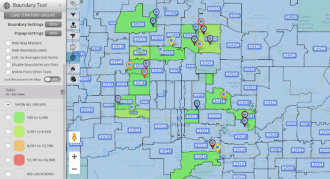 My group / territory data — If you'd like to input anything on your boundary map that is grouped on our platform, this is the option you choose. It could be a column of spreadsheet data or a group you have created through our grouping tool. Both take the unique values from in the spreadsheet. However, with boundaries, you can create territories that are not in the spreadsheet by selecting any number of boundaries and categorizing them. The default color coding helps you quickly understand your data in a way that a spreadsheet never could. (And if you don't like the color or opacity or lines that we have chosen, each boundary map is fully customizable to suit your personal style and purpose.)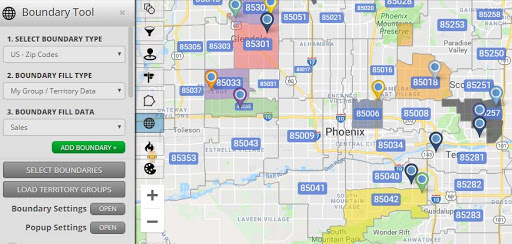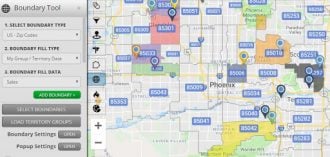 Democratic Census Data— An unbelievably useful tool that has been used in a range of different contexts from business to politics, from research to city planning, choose the Demographic Census Data tool to populate your boundary map. You can then choose which demographic grouping you would like to work with — population, race, housing, age, citizenship status, education level, income, transportation, labor, or gender. With this tool, you can quickly transform Google Maps with country lines, city borders, or even country boundaries, into a catalyst for supreme insight into the populations of specific areas.
Look! In seconds we created a boundary map that shows the population per zip code of a portion of the west coast of the United States.


Now for the really fun part. We're going to take you through how you could use a Maptive boundary map to boost sales in your company.
Customizing A City Boundary Map –
We're going to tell you the story of a failing team. Don't worry — the story gets better for them, but you first have to understand where it all began.
The product idea was infallible, and in certain countries the diet dessert was selling like what it really was — hot cakes. In other areas, however, this was far from the case. A team from Diet with Dessert had been assembled to try to figure out why certain areas were so productive and others were not. To be honest with you, things had not been going so well. They had spreadsheets and spreadsheets of sales data that just didn't seem to have any organization to them. They all had different ideas about how to go about figuring out where the low performing areas were and what they could do about them. (Luckily, they were allowed as many hot cakes as they liked as they conducted their brainstorming sessions, which seemed to temper the mood a bit.)
One day, Cherry, a bright young upstart with a rosy future ahead of her, discovered Maptive. She signed up for a free trial of the program and started to look through its features to see if it could be useful in solving her team's quandary.
It was then that she saw that it was possible to create a boundary map.
She stayed up all night creating a boundary map containing her company's sales data. Just kidding. She created a boundary map in a few minutes by uploading their spreadsheet and pressing a few buttons.
She drew boundaries around the countries of the world. Within each country, she aggregated the sales data — but she didn't stop there. Within a few clicks, she had grouped different regions by high, medium and low sales, and color coded each region. She was quickly able to see a common thread — the hot cakes sold better in English speaking countries. Why was this? She was able to deduce that the company doing their translation was fraudulent. It would seem that the copy they had written was gibberish and no potential customers had any idea what they were selling.
After a good rest — remember, she did not have to stay up all night — she presented her findings to her team the next day in the form of a beautifully presented Maptive boundary map. They applauded. Some of them wept.
Cherry smiled, thanked Maptive silently, and took a bow.
Maptive's boundary map has become an integral part of this team's operations.
You can be like Cherry and sign up for a free trial today. If you're willing to take your understanding of your data to the next level, we'll help you get there.