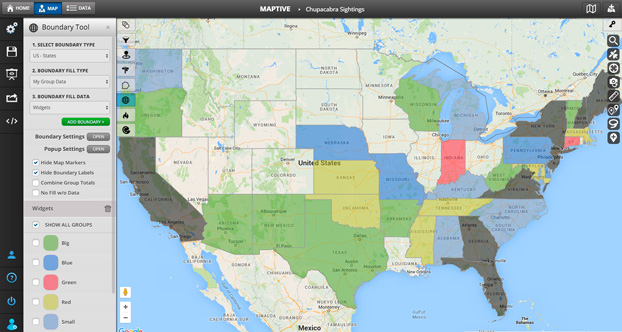 Struggling to find patterns in your data? Maptive's boundary tool takes your location data and maps it within predefined boundaries, like states, zip codes, counties, etc. There are myriad uses for this technology: sales territory mapping, strategic planning, density heat maps, granular data analysis, and more. 
What is a boundary map?
A boundary map is an interactive map that shows boundary lines between different defined areas. For a world map, these areas could be countries: you might create a map with different colored markers in each country. Or for a zoomed-in view, make a zip code map with each zip code shaded to represent population or sales density.
What boundaries can I map?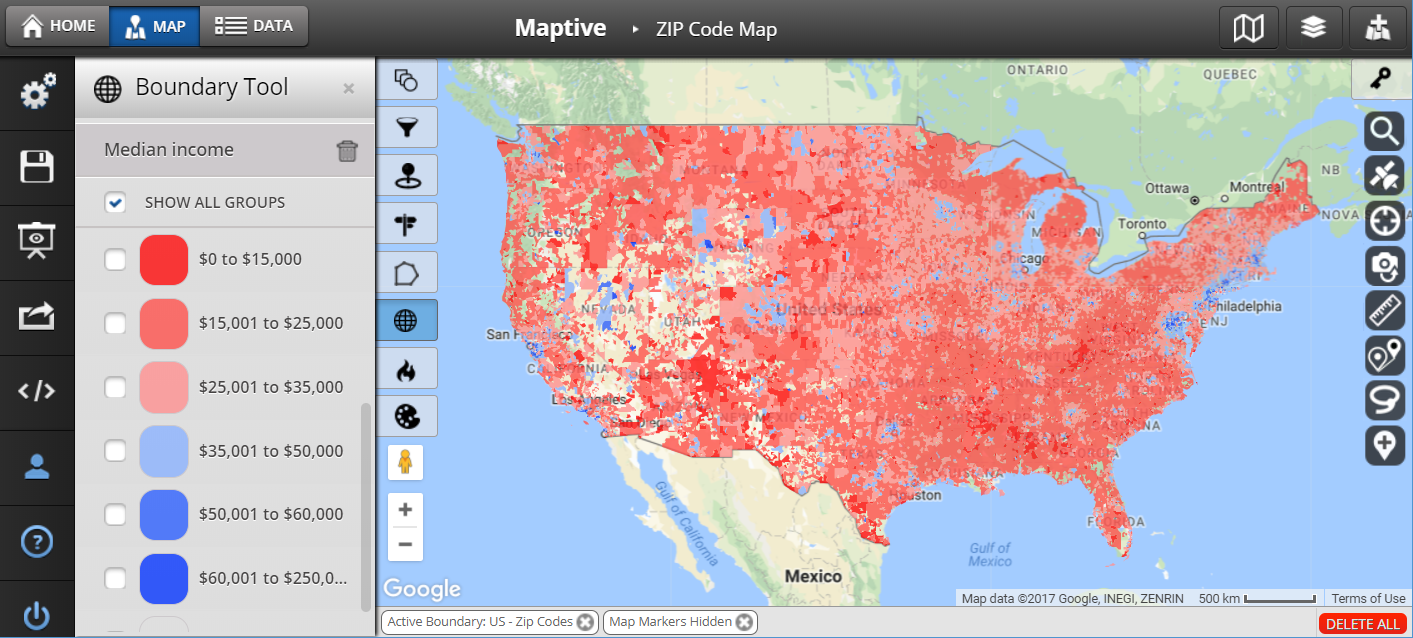 World Countries

ZIP Code Map (US)

Postal Code Map (UK, AU, ES, DK, . . . )

State Map

(US, AU)

Counties (US, UK)

Congressional District Boundaries (US)
What else can I do with the boundary tool?
Map Demographic Data:

Use the US geographic borders to map

US census data

Adjust boundary size and color

. In Maptive, your boundary width, boundary color, fill color, fill opacity, and number ranges can all be adjusted to your specific needs and preferences.

Edit boundaries at any time.

Once your boundaries have been created, they can be easily edited in real-time right from within your map.
Here's how you do it:
Sign up for a free trial of Maptive to get started.

Start with street addresses or other location-based data. Upload your data via an Excel spreadsheet, Google Sheets, or your CRM data. Or copy and paste.

Once your data populate on the Google map, click on the Boundary/Geographic Territory Tool in your toolkit on the left-hand side of your map.

From there, choose the desired boundary type (state, zip code, postal code, etc.) and what kind of fill you would like the boundary to have (if any). There are several boundary fill types:

No Fill
Your Numerical Data: An aggregate of numerical data within a chosen column represented by customizable colored fills in each boundary area.
Your Group/Territory Data: Also an aggregate of your numerical data, but shaded by defined group or territory. This is useful for showing both geographical boundaries and sales territories.
Marker Count/Location Density: Customizable shaded regions based on the density of your markers within boundary lines.
Demographic Census Data (Only available for select boundary types): Fills based on data points pulled from census data (primarily the U.S. Census). This includes population density, age, gender, transportation, education, etc. Also, the census data is automatically populated by Maptive when you choose this option.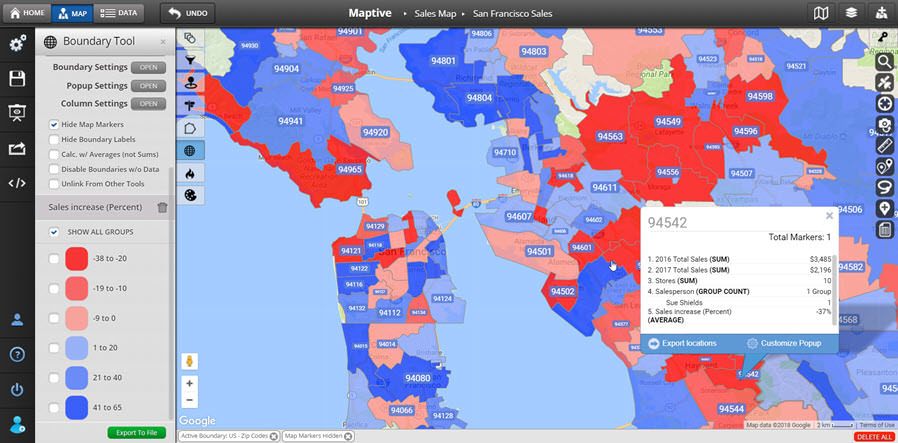 Whether you want to customize a map of the counties in the United Kingdom, the postal codes in Australia, the congressional districts in the United States, or the postal codes in Spain, a boundary map created with Maptive's easy-to-use boundary tool is your ticket to better understanding your location-based data.
How to Use the Boundary Tool
Aggregate a column of your data in a chosen region.

Compare analysis of territories.

Customize your boundary map colors. 

Create maps that are easy to share, print, and embed.
So, whether you are a researcher or the head of a sales team, a franchiser, a high school student, a campaign manager, or a real estate agent, a boundary map can answer additional questions that a standard spreadsheet cannot.
Ready to learn more about what you can do with a Maptive boundary map? It's time to zoom in.