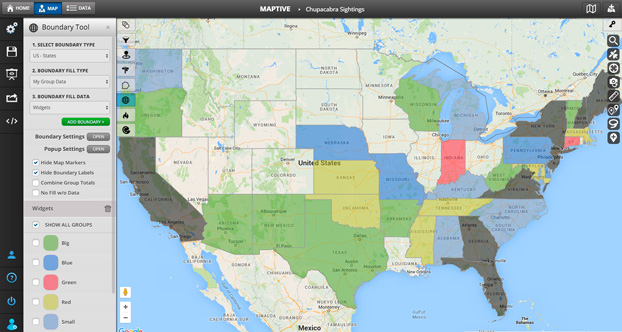 The Boundary Tool allows you to add geographic boundaries to a map which also contains your data. You can then easily associate a column of your data to the individual borders that are on the map. This lets you display your data inside the boundaries on the map with just a few clicks. As an example, if you have sales data from all over the world, you could use the boundary tool to aggregate that data into each country. Then you could shade those countries a different color based on total sales. The end result is a map that can help you better visualize your data and when put into a presentation can help make your point quickly to other decision makers in your business.
What boundaries can I map?
World Countries
State Map (US, AU)
Counties (US, UK)
Congressional Districts (US)
More
What else can I do with the boundary tool?
Map Demographic DataYou can use the US geographic borders to map US census data
Adjust boundary size and color

. In Maptive, your boundary width, boundary color, fill color, fill opacity, and number ranges can all be adjusted to your specific needs and preferences.

Edit boundaries at any time.

Once your boundaries have been created, they can be easily edited in real-time right from within your map.