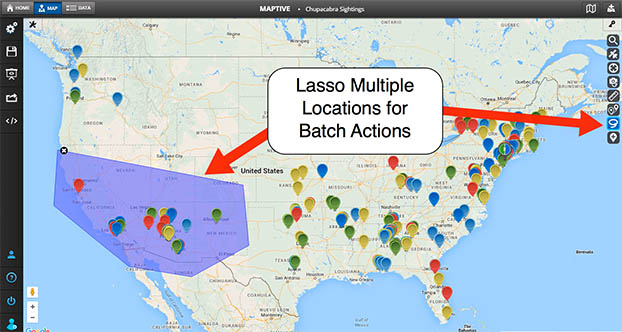 Use the Lasso Tool to select multiple data points and locations at once. Easily make changes to your selected locations and perform batch actions to save time and work on your map more efficiently.
What is the Lasso Tool?
The Lasso Tool allows you to quickly select many different points at the same time to segment your data and access only the most relevant information related to your locations. Utilize this tool to manually draw a "lasso" around your desired markers. Edit data for all the locations at once, get optimized routes, or export the data within the lasso to another file.
What Can I Do with the Lasso Tool?
Utilizing the Lasso Tool makes editing your data quick and easy. With this tool you will:
Edit Data as a Group:

Need to make changes to a large group of accounts or locations? Use the Lasso Tool to select all the markers that need to be edited then perform the changes all at once, rather than changing each one individually.

Optimize Routes: Get an optimized route for all the locations within your lasso in a few easy steps. Re-order your locations or add/delete additional locations from your list to build your ideal route.
Export Locations:

Export data from your lasso area to an XLS or CSV file to share your findings with your team.
Here's How You Do It
Step 1: Sign up for a Maptive free trial account. Try Maptive for free and explore the many mapping tools we have to offer.
Step 2: Upload or input your data. Upload data directly from an existing spreadsheet, copy and paste your data into Maptive, or enter it manually.
Step 3: Select "Create Map" to view your map. Your location data will now be plotted on a beautiful interactive map. Maptive is powered by Google maps and is cloud-based, meaning you can log in from wherever you are and view it any time.
Step 4: Open the Lasso Tool. Select the lasso icon from the toolbar on the right-hand side of the screen to open the Lasso Tool.
Step 5: Draw your lasso. Use your cursor and mouse button to place lasso points around your desired locations. Click the first point to complete the lasso.
Editing Information, Optimizing Routes, and Exporting Data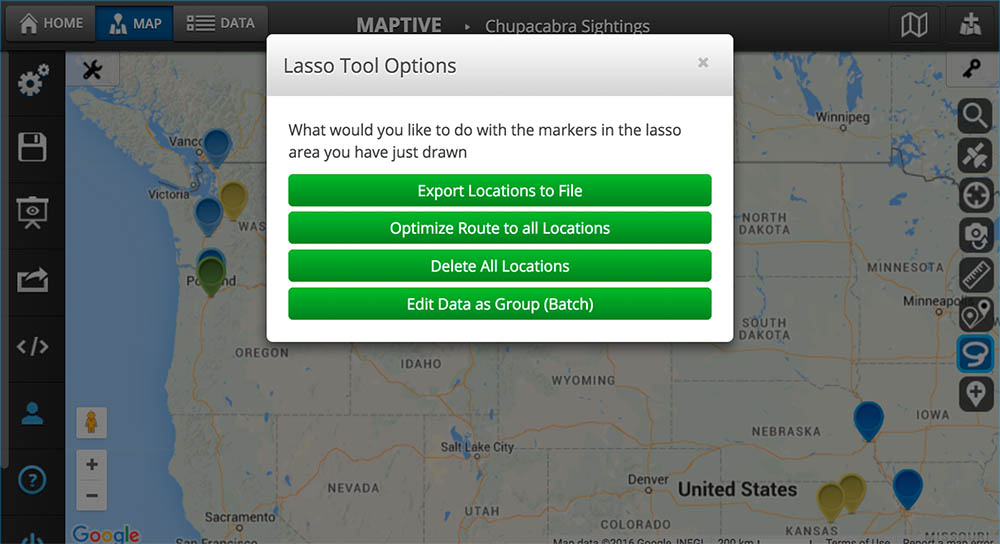 The Lasso Tool gives you five options:
Export Locations to File
Select this option to export the location data within the lasso to a file. Choose your desired file type (XLS, CSV, or TSV), then press "Continue" to download your file.
Optimize Route to All Locations
Enter your current location and then rearrange the other locations in the order you wish to visit them. Click "Add Location" to add a new location, or click the "X" icon next to a location to delete it. Once your locations are arranged how you want, click "Get Directions."
Delete All Locations
Quickly delete multiple locations at once with this option. This action can't be undone, so make sure you've selected the right locations before deleting them.
Edit Data as Group (Batch)
Edit column data for all the locations within the lasso. Adding data to any of the fields in the menu changes that field for all markers within the lasso area. Empty fields are ignored unless you check the box on the right of a field.
Export Contained Geographic Boundaries
Select this option to export any boundaries within the lasso to a file. Choose your boundary type (state, county, zip code, etc.), the boundaries you want to export, and your file type (XLS, CSV, or TSV). You can also decide whether you want to export a list of boundaries, or a list of the locations within those boundaries. Click "Export" to download your file.