Plot Multiple Locations on a Map
Our mapping software makes it easy to display up to a hundred thousand addresses on a map. Upload your location data with specific locations. Maptive regularly works with large data sets and databases, but no matter the size, we'll plot points on your map based on your own data within minutes.
SIGN UP FOR A FREE TRIAL
How many locations can you add on Google Maps?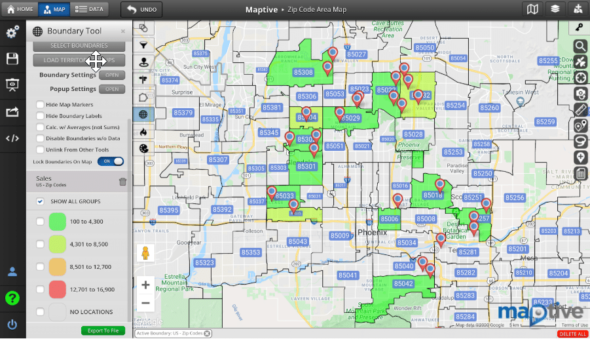 Google Maps has limited capabilities when it comes to mapping multiple locations: Google Maps can only handle 10 locations at a time, which will never be enough for business or research purposes. What if you need to manage hundreds of customers? Or all of the steps in your supply chain? Or research bird migration patterns across continents? 10 locations simply will not do when you need to plot points on a map. 
That's why Maptive is your best option: it is built on Google Maps' platform, so your map will have the same power you've come to expect and love. But, Maptive adds numerous tools and capabilities, the most fundamental of which is the ability to upload your own data and plot up to 100,000 locations at a time on a single map. 
How Can I Customize My Maps?
Maptive provides hundreds of ways to customize your interactive map after you upload your data. From the analysis tools to the design of the markers, nearly every aspect of your map can be customized. 
Find directions between multiple locations: Our route planner and optimizer gives you the most efficient route between up to 25 locations. Google Maps can give you the route between a few different locations, but can they optimize it? Maptive is perfect for sales teams with multiple clients, truck route planning, and delivery routes because we will provide you an optimized route, every time. 

Customize your marker icons: Maptive has over 15 built-in options for marker styles, as well as the option to upload your own for branded or personalized maps. Export your map images to insert in presentations.
Google Maps Reliability: Because we use Google Maps, we can map anything you can find on Google's platform. This means you don't need a full address, so long as you have geographic locations. You could enter a list of cities and states or even just zip codes, and Maptive will be able to find their coordinates and plot them on a custom map.

Store locator: This location finder identifies the address of the location closest to your location or any other points of interest you enter into the tool. Turn this into an embeddable store locator for your website or share with colleagues.
Learn more about Maptive's full set of features here.
How to Plot Points on a Map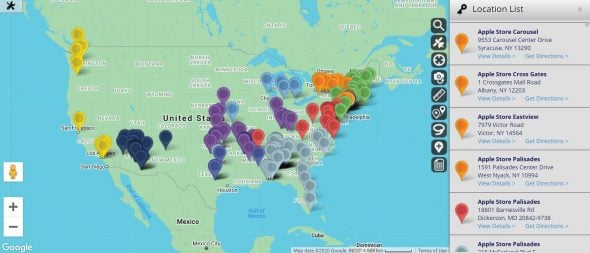 Maptive allows you to plot addresses on a custom Google map in a few simple moves. Yes, that's right. In a matter of moments, you can checkmate your mapping anxieties and conquer your data fears. You get to be the one in control of your information, rather than it getting the better of you.
Are you ready? We'll show you how to create a new map and plot as many locations as you need in Maptive in four simple moves.
Sign up for a free Maptive account

Upload your data via Excel spreadsheet, Google Sheets, your own CRM, or just copy and paste.

In the click of a button, create your first map.

Use our various tools to take your maps to the next level.
Helpful Tips for Mapping Multiple Locations
When you have too many locations on your map, how do you make it readable? With less than 100 locations, this likely won't be an issue. But if your enterprise company needs to plot points on a map to represent its whole supply chain or customer base with nearly 100,000 data points, you will need ways to adjust the look of your map so you don't get just as overwhelmed as you do when analyzing a spreadsheet with 100,000 rows.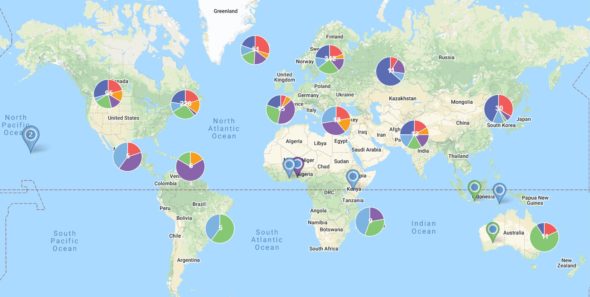 Cluster your pins. Maptive provides options to alter your marker types so that they do not appear individually, but rather as a single larger marker with the sum of the number of markers displayed. This helps when you have very dense sets of pins in specific map locations. Even display your markers as cluster pie charts to convey more information about the data contained within.

Use Maptive's filter tool to segment your data. With location filtering, drill down into your data by adding a filter on any column in your spreadsheet. This will limit the number of addresses on the map and take less time to find the locations that you need.

Build heat maps to display density instead of individual pins. If you'd prefer to see marker, sales, or population density rather than a traditional pin map, Maptive is the platform for you. We offer multiple styles of heat maps to visualize density across a large number of locations.
Are you ready to develop deep insight into your data with customized mapping data visualizations? Sign up for Maptive's free trial and plot points on a map today.
Start mapping now!
Just follow these simple steps:
Double Click Then Copy & Paste Or
Drag And Drop Your Data Here
Important: Remember to include column headers in your data set. (like the example)
Date Security: Your data is transferred using encrypted https