Custom Map Markers
Change the color and style of your map markers to differentiate important data. Choose from a wide selection of marker types, upload your own, or display text above your icons to personalize your map exactly the way you want.
START MAPPING NOW
Easily Create Your Own Custom Marker Icons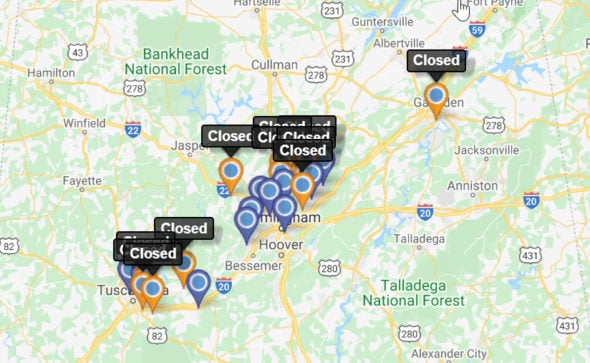 Maptive's custom marker tool gives you three options to customize your pin map icons:
Default Marker Sets: Choose from 16 default marker sets and 30 colors to change the look and feel of your map.
Upload Your Own: Can't find a marker that suits your needs? Upload one of your own images to use as your map icons. This could be a marker you designed yourself, a corporate logo, or simply an image you want to display on your map.
Display Text Labels: Want to provide more information along with your markers? Display text labels that provide data like store locations or the names of your sales reps.
Use the custom marker tool to change an individual marker, a group of markers, or every marker on your map.
Customize Markers Based on Groups

Segment your data into groups based on name, location, territory, business, and more, then assign custom icons to each group. Select different marker types, colors, and logos to differentiate your groups and quickly identify them on your map.
Create Pin Maps in 3 Easy Steps
Sign up for a Maptive free trial account. Try Maptive for free and explore the many mapping tools we have to offer.
Upload or input your data. You can upload data directly from an existing Google or Excel spreadsheet, copy and paste your data into Maptive, or enter it manually.
Select "Create Map" to view your pin map. Your location data will now be plotted on a beautiful interactive map.
What Can I Use Custom Map Markers For?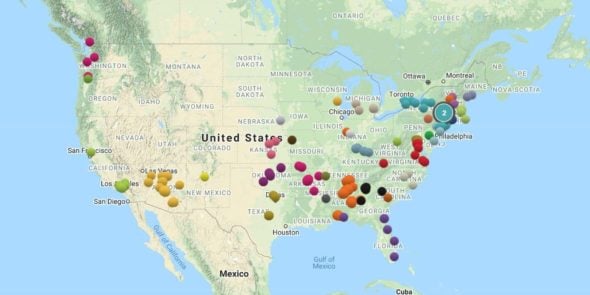 With Maptive's custom marker tool you can:
Indicate the Locations of Your Competitors
Do you have both your own locations and your competitors' locations plotted on your map? Select different marker types, colors, and images for each business to easily tell them apart.
Assign Markers to Different Sales Reps
Want to know which rep is responsible for the sales on your map? Assign each of your reps a unique marker so you know who made what sale.
Assign Markers to Different Products and Services
What if you want to know what type of product or service a customer bought from you? Give each of your offers their own map icon to instantly see what's selling and where.
Create a Map That's Unique to Your Business
Maps are awesome, but a lot of them look the same. Using custom markers is a great way to set yourself apart and create a unique looking map that no one else has.
Interested in creating your own custom maps? Sign up for a free trial with Maptive today.
Start mapping now!
Just follow these simple steps:
Double Click Then Copy & Paste Or
Drag And Drop Your Data Here
Important: Remember to include column headers in your data set. (like the example)
Date Security: Your data is transferred using encrypted https