Inform and Persuade Your Audience With a Professional-Grade Map
The process is simple: paste or upload your data from an existing spreadsheet, decide how you want your map to look, then hit the "Map Now" and your customized Google map will be created within a matter of seconds. Once created, you can decide whether you want to add further customization to your map, how you want certain information to be displayed, and how you want to share your map. Your new professional-grade map can then be incorporated into your presentation and used to paint a picture that better informs and persuades every member of your audience.
Why people choose Maptive over other options:
Elegant software that's easy to use
Nothing to download or install to get started
All the customization you could possibly need

Testimonials
What our customers say about us:
As our data visualization partners, Maptive has become an integral part of our operations—from Logistics to Project Tracking to Scheduling. (You guys rock!)

Maptive is essential to how we understand the global distribution of our leaders, helping us to reduce unnecessary travel time, costs and our impact on the environment.

The Hallelujah Chorus played in my head when I discovered Maptive—everything we wished for when we started our path.

True insight into our data is vital to our success—and Maptive gives us exactly that.

I have used several mapping tools, and Maptive is by far the most user-friendly and most comprehensive tool available.

Maptive helps us drastically with compliance, marketing and itinerary planning.
Create Data Maps for Presentations
Let's be honest — data is often shy. It likes to hide behind number sets and spreadsheet columns, unwilling to boldly come forth to clearly express its meaning. That's where we step in. With our map presentation maker, you will transform that bashful data of yours into a confident communicator. Within minutes, it will be shouting its message from the rooftops.
Creating stunning visual content is no longer the domain of those who have the budgets for expensive developers and designers. Our map presentation software will transform even the most yawn-producing data sets into clearly conceived visual presentations that will get your audience to easily understand your message. Maptive allows you to effortlessly take your map presentation to the next level, and then further.
What's more, your data will be as fancy as it is articulate. You will be able to create a map presentation that will put your competitors to shame. That's right. With minimal exertion, you too can become a cartographical Picasso, a topographical van Gogh, a mapmaking Michelangelo. With Maptive on the planet, there is simply no excuse for substandard map presentation.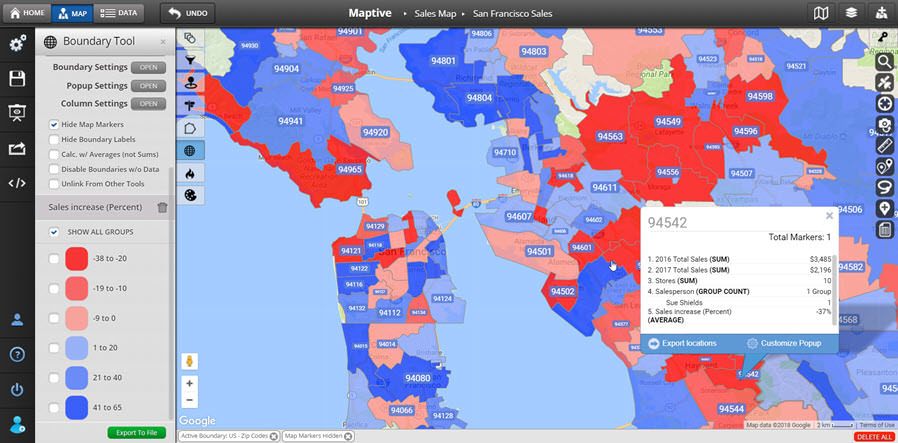 By now, you're no doubt itching to know just how you can make this magic. Come with us as we show you the wonderful world of our map presentation maker, and you will quickly see how it will transform how you do data.
How To Create Map For Presentation Success:
How do we do it? Quite simply, we take care of the technical side of creating gorgeous interactive maps, so that you can focus on all the other items on that ever-expanding To-Do list.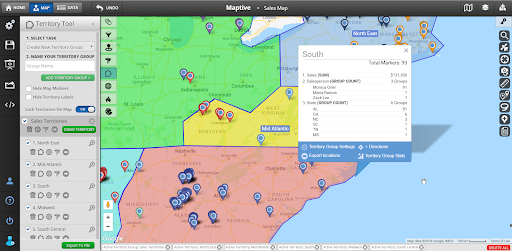 No, you don't need to know any code to make effective use of our software.
No, you don't have to spend hours uploading location data item-by-item (unless you want to, of course)
Yes, we do have unbelievable tools available that will take your map beyond simple pin plotting.
Yes, people will think you hired a specialist that knows the ins and outs of how to present a map.
No, you don't have to tell them that you actually did it all yourself while watching an episode of your favorite series.
If you are ready to see how this works in practice, here's the plan:
Sign up for our free trial today.
Upload your data to create your map presentation in minutes
Share, upload, print, or simply stare at your map for hours on end, admiring its beauty. The choice is yours.
Our map presentation software is cloud-based, meaning anyone in your team can log on from anywhere and manipulate it at will. Powered with the robust capabilities of Google Maps, all our software is lacking at this moment is your input.
Our maps are fully customizable and come with a full set of easy-to-use tools. Use our heat map function to analyze density, our drive time polygon to help your boss better understand where to setup your new shop, or use the border tool to highlight and scrutinize a data set within a specific area.
And then make it your own. You can change colors and opacities, border lines and shading colors, and even the look of the markers on your map. Looking to show the viability of a chain of pet stores across a certain area? Why not turn your markers into little puppy heads? Wanting to track the migration of penguins in the Southern Hemisphere? Yes, you can indeed upload your own little penguin icons. We want your presentations to pop. Our aim is to help your maps achieve optimal punch.
Once you've created your map, it's time to share it with the world. Let's have a look at how.
Free Map Presentation Software:
Once you have used our map presentation software to channel your mapmaking genius, it's time to unleash your master work on the world.
A high quality map presentation can be used to inform or persuade, to enchant or entice, to pinpoint a trend or to show your team why your gut feeling had been right all along. All you have to do is upload your raw data in the form of an excel spreadsheet or input it directly onto our platform, and you're off to the races.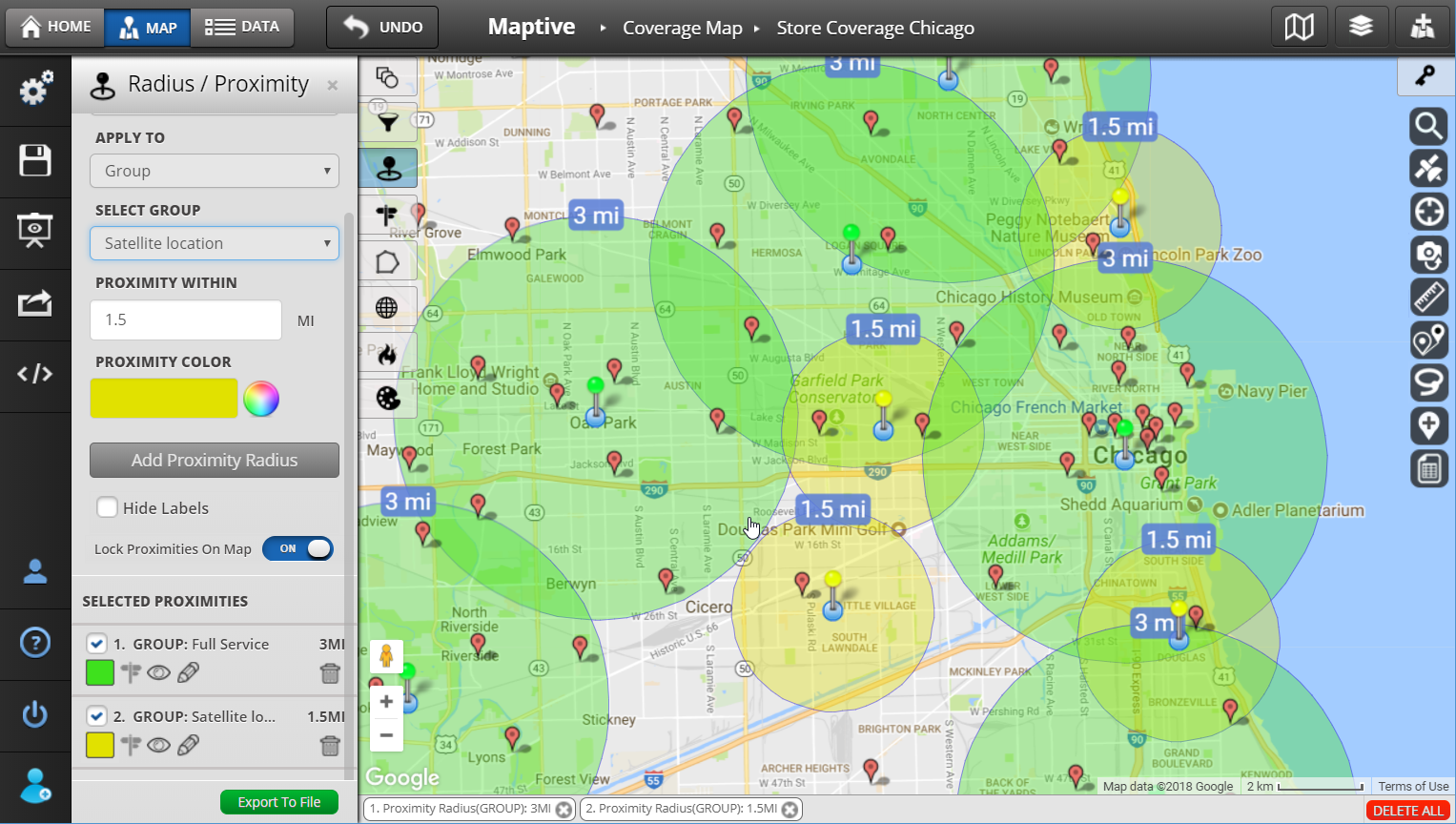 On your blog or website. This may just be the missing piece of the puzzle that you've been waiting to find — that element that will take your site from meh to WOW! You can embed a map to highlight data trends or simply to help guide your customers to your offices. Immediately, your website will explode with professionalism.
In live presentations. Whether you're looking to illustrate trends in sales data, show where opportunities exist or explain population phenomena in certain areas, our maps are a presenter's best friend. (Warning. There may be some oooo's and aaaah's from your audience. Please make sure that you pause long enough to let them in.)
To share information with your team. Whether you have a team of 2 or 200, sharing information efficiently is one of the most important aspects of effective management. You can use our maps to share multiple destinations with your team, as well as optimized routes to get between them. You can zoom in and out, share portions of your map or the whole thing. Whatever the map presentation you have in mind, we've got you covered.
Print out a map for your office wall. Sometimes it's that much easier to see trends when they are staring at you from a wall, life-sized. What's more, a wall-mounted map presentation means that nobody in your office can say they didn't have the information.
Why don't you sign up for our free trial and start playing around? [EMBED LINK]
You'll quickly see just how easy it is to create spectacular map presentations with minimal effort. We live in an age where presentation really matters. Our map presentation software is here to help you create visually appealing representations of your data so that you feel proud to show it off to the world.
Start mapping now!
Just follow these simple steps:
---
Copy & Paste OR Drag & Drop
your data set here.
OR you can Upload My File
Important: Remember to include column headers in your data set. (like the example)

Double Click then Copy & Paste
OR
Drag and drop
your data here
Date Security: Your data is transferred using encrypted https