Maptive Custom Map Maker & Map Generation Software
Your organization is unique. Your maps should be, too. Maptive gives you access to various custom map-making tools to create beautiful data visualizations, perform location intelligence, and deliver superior presentations.
Start Mapping Today
Creating Custom Maps is Easier than Ever Before
Easily upload your own location-based data to generate interactive maps
Use Maptive's tools and features to find hidden opportunities & insights from your data
Solve your business' unique problems. Use Maptive to help optimize sales territories, reduce supply chain, logistics, & transportation costs or help choose a location for a new business.
Customize your map to share insights, communicate clearly, and sell your ideas.
Seamlessly share your professional, presentation-ready map online or in person.
Get The Best Custom Map Maker Features
Organizations of all shapes and sizes—including global enterprises, political campaigns, and local businesses—trust Maptive as the most intuitive and customizable map maker out there.
Maptive gives you the flexibility to meet your organization's unique needs without sacrificing usability: because the best maps look compelling, solve problems, and share insights.
Fully Customizable
Whether you want to tell a story, present findings, or communicate your brand, Maptive gives you the tools to customize your map on your terms.
Style your pins by selecting from a vast library of aesthetically-pleasing markers—or upload your own images to custom-brand your markers.
Alter every variable of your map's appearance: choose from a range of map styles, pick your labels, filter your data, and more. You can even pinpoint landmarks or key locations, highlight roads and routes, and color the land and sea to your liking!
Get complete control of the different variables displayed on your map, show or hide labels, roads, land and water, points of interest, and more.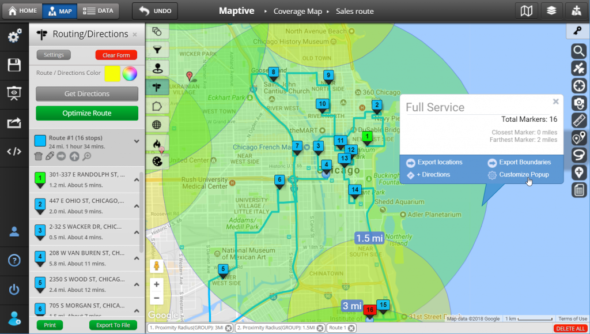 Create Custom Routes
Thanks to the global coverage and reliability of Google Maps—plus it's proprietary Multi-Stop Route Planner and Optimization Tool—Maptive makes it easy to create excellent routes, adapt in real-time, and move smarter.
Have team members on the road? Navigate your custom routes more efficiently with accurate turn-by-turn directions, accessible via the Maptive platform or on mobile with the click of a link.
Maptive offers the option to cluster dense marker areas using pie charts, which show the breakdown of identified categories in your data by Geographic area.

Upload Your Own Images and Brand Assets
Make your map distinctly yours. All it takes is a simple upload of an image to change the way your map looks, feels, and works. Brand your map with your logo, create custom markers, add location photos, and more. add value to your location data with photos of and key players, and more. With Maptive, you're free to shape your map to your organization's identity (and imagination!).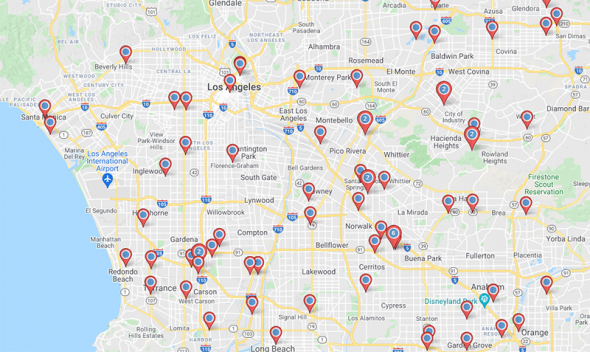 Choose Your Map Positions And Zoom Levels
Extract ideas easier and communicate clearer. Set and save your preferred map positions and zoom levels to always start in the perfect place. Track a specific point over a period of time for in-depth analysis, or create multiple versions of your map with set views for smoother navigation and laser-focused sharing.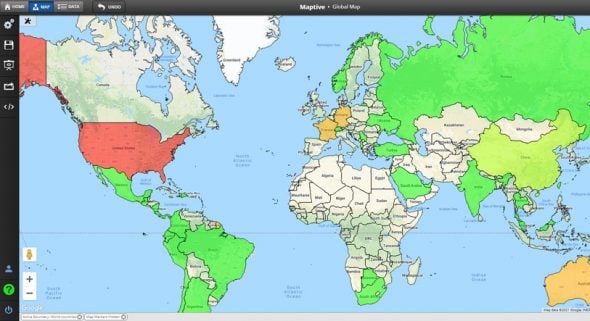 Global Coverage
Maptive includes global coverage, including:

Every Continent: North America, South America, Europe, Africa, Asia, Oceana, and Antarctica
All 50 US States, Plus Territories
All US Counties, Cities & Zip Codes
Single County Maps, Including Canada, the UK, France, Germany, Australia, etc.
Create Custom Areas with Maptive's Polygon Territory Tool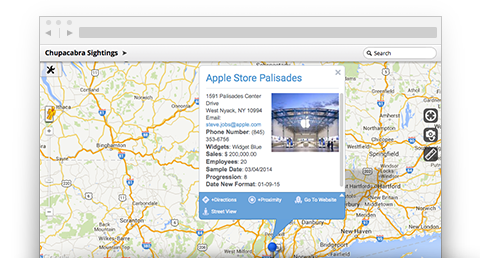 Loads of Sharing Options
With Maptive, you can even choose how to share your map. You can share it privately with password protection, publish it publicly to the web, embed it on a website with HTML, or export it for a PowerPoint presentation or Word doc.
Best of all? Maptive is made with presentations in mind. Get full-resolution, presentation-ready maps with poster size printing up to 2048 x 2048 pixels. Prefer to stay digital? Maptive even offers a built-in presentation mode. Customize the appearance of your shared map. Enable or disable different features depending on your target audience before sharing maps.
Get Started
Upload your data via Excel Spreadsheet, Google Sheets, or copy-and-paste to transform your data into a fully customizable Google map.
Select your preferred map appearance, including satellite views, topographical maps, black and white maps, and more.
Use Maptive's built-in tools, including a route planner, drawing tools, territory tools, grouping & filtering tools, radius/drive time tools, and more to customize your map. Check our features page for a complete list of tools and features.
Customize your Markers: Upload custom images, or choose from over 20+ customizable pin & marker options.
Export & share your maps.
Start Your Free, No Risk, 10 Day Trial
No credit card required. No surprises. Just Results.
START MAPPING NOW