How do I get started with Location Intelligence Software?
After you sign up for a free trial, all you have to do is load a spreadsheet with your data. As long as each row of your data has a geographic component we will be able to map it on a custom Google Map. The geographic portion of the data can be as specific as an address, or as general as a country. You can even load your own latitudes and longitudes if the location of your data is off the grid.
What can I use Location Intelligence for?
Location intelligence can help you find geographic relationships between your data that can be lost when simply looking at it on a spreadsheet. It can help you create visual representations of your raw data that sit on top of custom Google Map. These layers can help you to identify patterns and trends that can help your business efforts.
Site Selection. When your business is looking to expand, selecting the right location can be the difference between success and failure. Using Maptive you can draw a radius around all of your current locations. This allows you to see areas that may currently be under served. You can also look at demographic data about perspective locations to see if the new location closely matches other successful locations in income, age, or ethnicity.
Analyze Customer Data. Mapping your customers gives you a quick and easy way to identify pockets of customer activity. This can be done by looking at the individual customer markers or by creating a heat map of customer locations, or sales. Once you identify these hot spots you can start to make conclusions about why customer adoption is higher in some areas and not others. You may find that there are demographic, marketing, or logistical reasons for high adoption of your product or service. This market analysis can help you make business decisions in the future.
Territory Management.

Maptive provides the ability to create and manage territories across your organization. Territories can be drawn or created based on geographic boundaries like zip codes. Once created you can aggregate data in your spreadsheets into these territories. This allows you to easily compare different territories to make business decisions. Even if you do not have territories in your business you can use geographic boundaries to makes the same comparisons.

Optimizing Transportation. Whether you need to find the fastest route between sales calls, deliveries, or even to pick up kids on a bus route, Maptive's routing tool can find the best route between the locations. This can help you reduce the time and gas spent on transportation.
Try Location Intelligence Software Now
Location Intelligence Software
The jury's in—expert location intelligence is the missing piece of your analytics puzzle. Incorporating geographically-based data into your business strategy will transform the way your company pinpoints opportunities, comprehends trends, handles daily operations and engages with new and existing customers.
You know that effective data analysis is imperative if you want to keep your business afloat, and hopefully thriving. You know too that we live in a world where entrepreneurship and IT have become irreversibly intertwined—but while the importance of gathering intelligence has long been a part of industry discourse, it's only very recently that location intelligence tools have been invited to the party.
The result is that, until recently, the what, how and why of data analysis have been at the center of the conversation. The where, however, has often been left behind.
Why is it so important to engage this dimension of data analytics? The answer is simple—no matter how virtual our lives appear to become, we still very much live in a three-dimensional, tangible reality. If you do not take this very basic fact into consideration by implementing location analytics when both assessing your performance and plotting your way forward, you will fail to see key contributors to how your company is performing.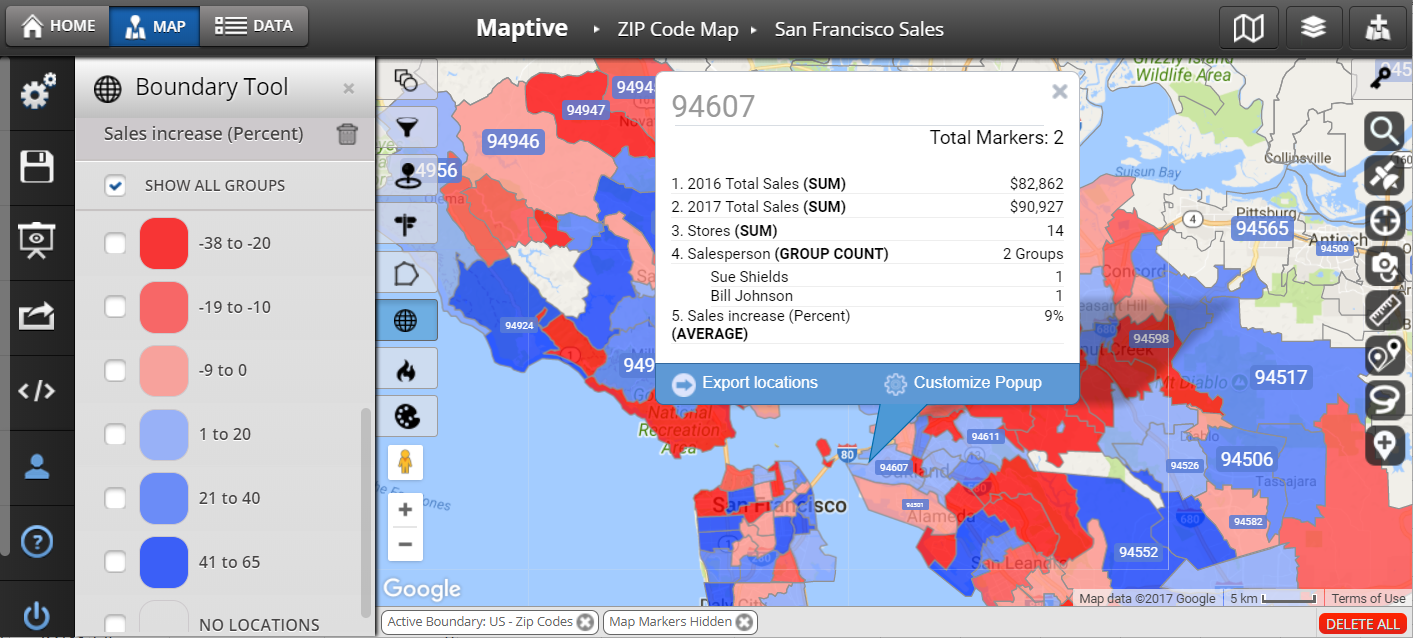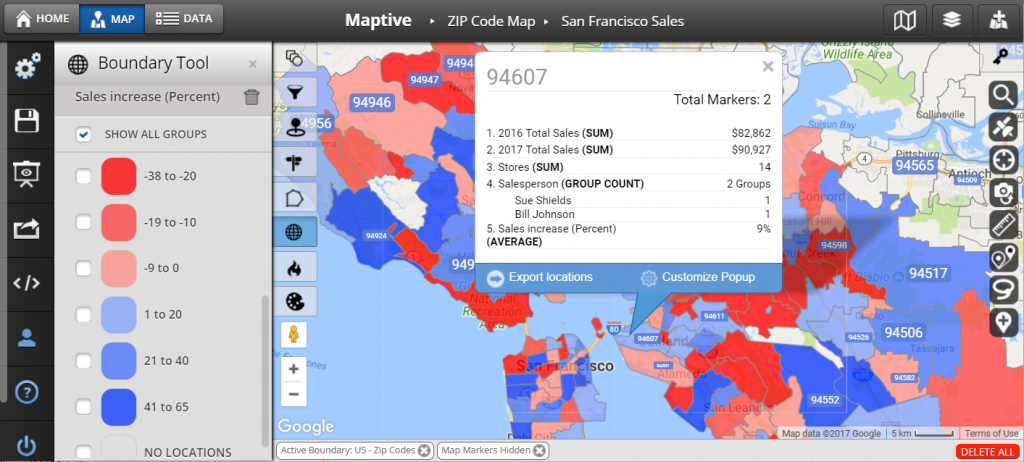 Powered by Google Maps, Maptive's location intelligence tools will take your raw geographical data and easily transform it into comprehensible visualizations that will allow you to:
Identify trends in moments
Recognize ideal sites for single or franchised locations
Manage your existing territories and gain insight into how to expand them
Understand customer data for both existing and desired audiences
Streamline logistics, from staff transportation to production lines
The good news for you as a SME is that business intelligence is no longer the domain of an elite few companies who are able to fork out the bill for basements of complex machinery — it is attainable for all. We have sought to bring you an affordable, user-friendly vehicle that will not be yet another thing that you have to follow on a steep learning curve.
Sound like exactly what you've been searching for? Well, we're in the business of searching-and-finding, so we can understand your glee.
Before we delve into what our toolkit entails, let's hop over to what, exactly, location based analytics are, and how they can catapult your business into a new phase of growth.
Location Analysis Software
At its core, location based analytics are a form of spatial visualization that helps you get your head around voluminous data sets that can otherwise seem unwieldy. The reality is:
Location analytics make your data pop.
The choice is yours:
Wade through scads of spreadsheet information in the hope of finding some sort of relevant insight nugget that can take your business forward.
Take a glance at a geographical representation of your data that will reveal your insights to you — and then help you put them into action.
It's that simple.
Allow us a moment to illustrate:
You may remember a little man called Waldo and his knack for hiding in crowded places?
(Okay, okay. Bear with us. This does have relevance to how location based analytics can transform your business, we promise.)
As we were saying, Waldo. Remember how impossible it was to find him among the throngs of people at a marketplace or at the circus or at the beach?
Think for a moment that your key insights are, well, Waldo. Previously, finding him would have taken the perfect storm of a keen eye and oodles of time.
Enter location analysis tools.
If you had put Maptive to the task of finding Waldo, I'm afraid that little man would not have remained hidden for very long. The general area he was in would have lit up in seconds, followed by big flashing arrows pointing exactly to his stripy sweater, now illuminated in neon.
Your business insights are Waldo, and our location analysis software is your new path directly to him.
But the scope of using location based analytics does not end with identification. It goes further by providing you the opportunity to do something with your findings. From route optimization to exporting spreadsheets of the visuals you have created, location intelligence tools will become indispensable to your operations.
So instead of spending all of your time finding Waldo, why not spend time really getting to know him and seeing how he can help you plot the way forward in your business? He may just turn out to be the hub of your KPI strategy.
So what is in the Maptive toolkit that will help you find Waldo/Geographical-Insights-into-your-company? Turns out, pretty much everything you might need.
If you are curious about what our location analysis tools actually do, stick around because that's the next chapter of this story:
Our Suite Of Location Intelligence Tools
The truth is, our toolkit is expansive. How about we give you the trailer that includes some of our favorites? If you would like to have a look at the full suite, head on over to our Features page and immerse yourself in our location analysis tools.
But for now, please allow us to take you through the highlights package:
Grouping Tool:
The first step in any effective data analysis is grouping the right data sets together. Location analytics is no different. The Grouping Tool allows you to group your data by any column in your spreadsheet, and then get supremely organized. You can decide to only display certain groups, color code particular location types, and customize a map legend that will expand on the visually-presented information. Imagine you could transform columns of spreadsheet data into this in moments: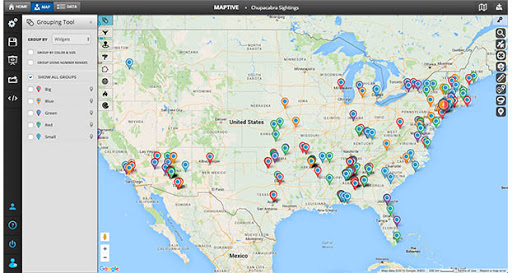 Radius And Proximity Tool:
Ever wanted to run a quick proximity analysis on one or more of your locations to see what lies within a specific distance to a central point? Perhaps you need to know if there is competition too close by, see if you have suppliers in the immediate vicinity or understand how far your employees may have to travel to your offices. The Radius and Proximity Tool is the location analytics feature that will allow you to do all of this. It's location intelligence at its most effective and easy to use, and will no doubt become central to your competitor analysis strategy.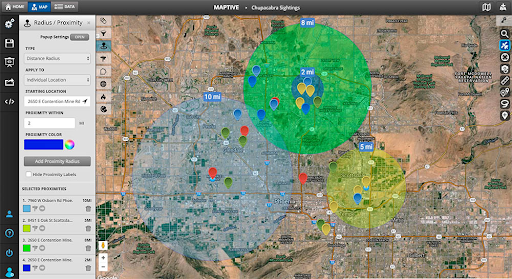 Boundary Tool:
Maps love boundaries. We're guessing you do too. Our boundary tool is one of our location analysis tools that takes the robustness of Google Maps, stirs in your unique information, and produces a beautiful synthesis between the two. You can choose to divide up your map by categories such as countries, counties, cities, zip codes—but it doesn't end there. This location intelligence feature then allows you to populate the boundaries you have drawn with information like census data or one of your own data groups. In seconds, you will have unparalleled insight into the territory you operate in.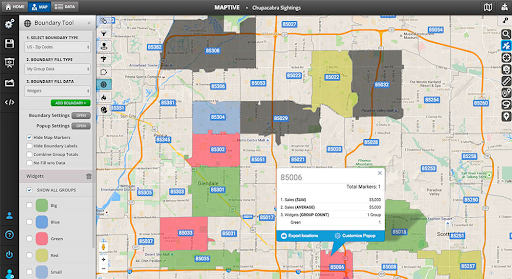 Demographic Mapping Tool:
The demographic mapping tool is an adjunct feature of the boundary tool, and it certainly puts the intelligence in location intelligence software. Particularly if you are trying to understand new markets, you can no longer afford to be without this kind of visualization. This location analytics tool will essentially answer the question central to where you decide to set up shop: who lives where. In moments, you will be able to see where your target market resides—and consequently, where you should place yourself. This location intelligence tool will give you insight into everything from age, median income, race, housing, education, income, and more.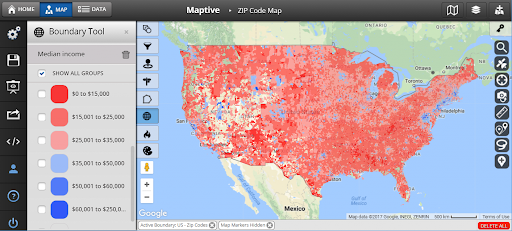 Heat Mapping Tool:
When it comes to location based analytics that are as good looking as they are useful, you can't do much better than a heat map. Heat maps give you a window into areas of high and low density, enabling you to quickly understand where markets are saturated and where opportunities are yet to be uncovered. Aesthetic elements relating to color, opacity and threshold density are yours to play with, meaning you can create a map that makes sense to you. What's more, because they are so attractive, they are an impressive presentation aid. Like all maps you create with Maptive, they are printable, embeddable and downloadable. Your map, your choice.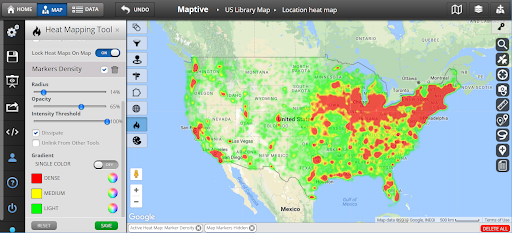 Route Optimization:
Our route optimizer is location intelligence for everyone, from the overly busy to the directionally challenged. Here's how it works. You can input multiple locations (or upload a pre-existing spreadsheet that contains them) and instantly get the most efficient way to travel between them. Particularly effective if you or your team are working out of town, we have taken Google Maps one giant leap forward, allowing you to focus on other elements of your business while we take care of the navigation side of things.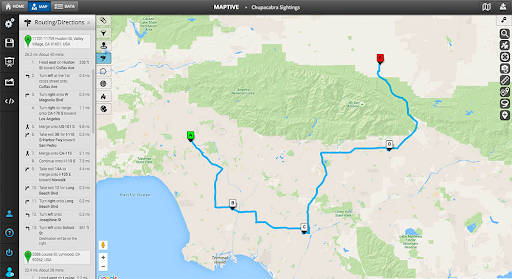 Sign up for your free location analysis software today!
Yes, you heard that right—free. Right here.
Location Intelligence Software is no longer the domain of late 20th Century futuristic fantasies or thriller plots about the inner workings of the CIA. Maptive's mandate is to bring location analysis tools to all spheres of business, regardless of size.
We're glad you've found us. Now it's time to find the insights unique to your business. Finding Waldo is not just for kids. Now, it's also for the adults.
Start mapping now!
Just follow these simple steps:
---
Copy & Paste OR Drag & Drop
your data set here.
OR you can Upload My File
Important: Remember to include column headers in your data set. (like the example)

Double Click then Copy & Paste
OR
Drag and drop
your data here
Date Security: Your data is transferred using encrypted https