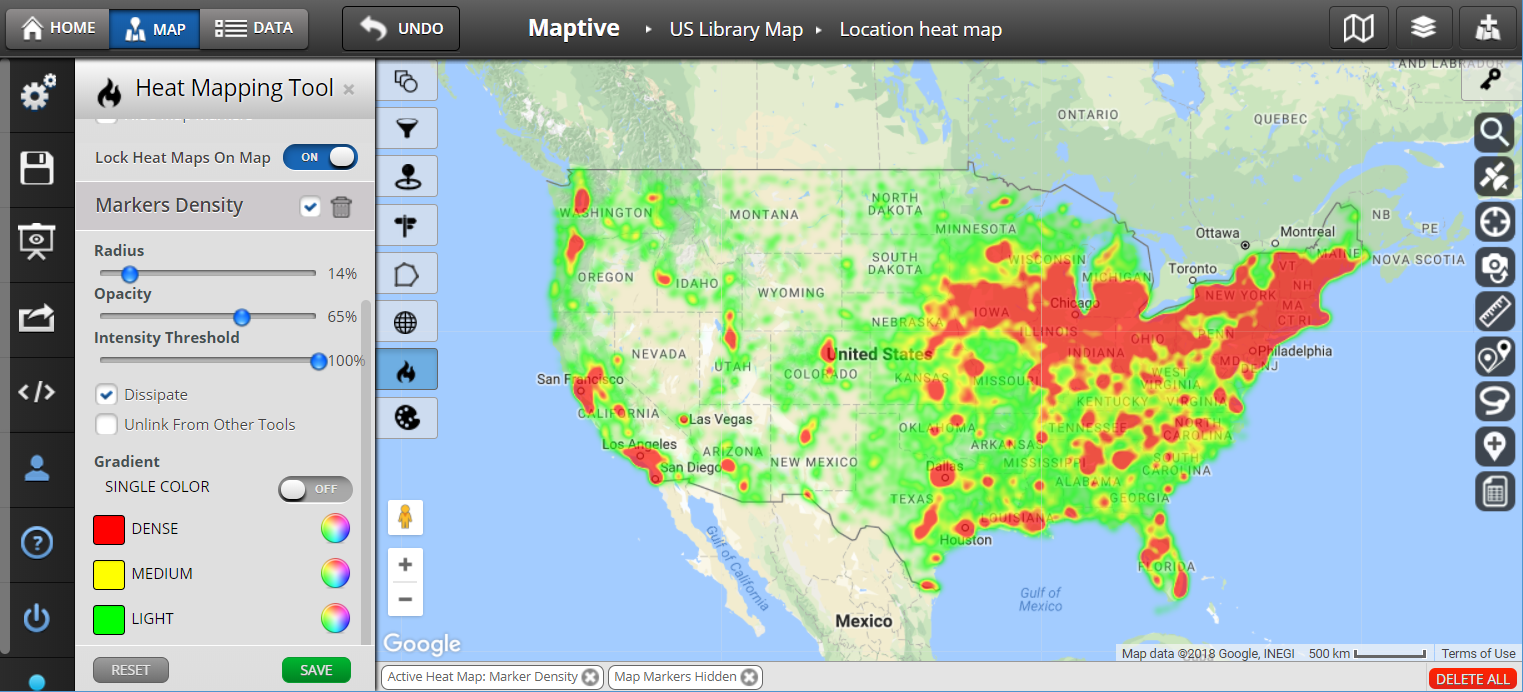 Create A Google Heat Map
The Heat Map Tool makes it easy to visualize and identify trends in your location data on a Google map. You can use our heat mapping software to visualize marker density or numerical data tied to geographic locations. Customize your heat map by adjusting its radius, opacity, intensity threshold, and the gradient colors displayed in your heat map. You can also choose to display just one single color.
What is a heat map?
Heat maps represent the density of data within different areas of a map. Data is aggregated based on its location and given a radius of influence, which you can adjust. As the density of data increases in that area the heat map will display a color indicating higher intensity. The heat map will also have a maximum threshold which will be represented by the highest color on the gradient or the darkest color if you are using a single color.
What can I use a heat map generator for?
Geographic heat maps can help you identify trends in data that would otherwise be hard to see. You can quickly see areas that might already be saturated and other areas where there is still a market opportunity. Learn how to import a geographic heat map from excel.
View Market availability. You can get a very good sense of which customers have access to your stores or products by simply importing a excel spreadsheet of your stores, or stores that sell your product. Then with just a couple clicks you can add a location based heat map to your map. The gradient of the heat map will show what areas of the map are close to your stores and which might be too far for your customers to travel to.
Sales Density. You can combine any number in your spreadsheet with the geographic heat map to weight your locations. If you do this with sales data you can see what areas have the highest sales density. This can help you to focus your marketing budget where it will do the most good. You can use our heat mapping software to create heat map by zip codes to see the demographic data of the areas where you have the most sales.
Access the heat mapping tool in 1-click. Adding heat maps can be done quickly and conveniently right from within your map. Creating a heatmap is simple: click into the Heat Mapping Tool, create your heat maps, add further customization, click done, then view your heat maps in real-time in your map.
Customize the look of your heat maps. Customize how heat maps appear on your map by making changes to the radius, opacity, intensity threshold, and the gradient colors displayed in your heat map. You can also choose to display just one single color.
Our Heat Mapping Tool
Heat maps are a hot topic when it comes to superior data visualization. A geographic heat map generator can transform otherwise unwieldy data sets into a clear picture that quickly allows you to identify points of density and their more barren counterparts.
Marketing departments, sales teams, academic researchers, students and web developers are just some of the people who have found the heat map software an instrumental part of how they identify trends in their information.
What is a heat map generator?
In a nutshell, heat map software takes a two-dimensional map and gives it depth by showing you data density within different areas. It highlights points of high and low concentration and points out regions that lack observable data.
Our heat map maker uses color gradients to indicate areas of lower and higher intensity. You have the option to:
Use multiple colors from our color scale, with different hues representing distinct brackets on a scale from minimum to maximum threshold
Use one color shaded from light to dark to illustrate varying density.
The result? Trends will scream at you, opportunities will beg for your attention, wasted resources will glare at you begging to be used.
For example: The heat mapping image just below demonstrates how you can layer multiple heat maps. The location heat map in red, yellow, green, and the sales of those locations in blue. There are all types of heatmaps out there, our heat map generator can easily highlight where you might have over or under performing clients, stores, etc.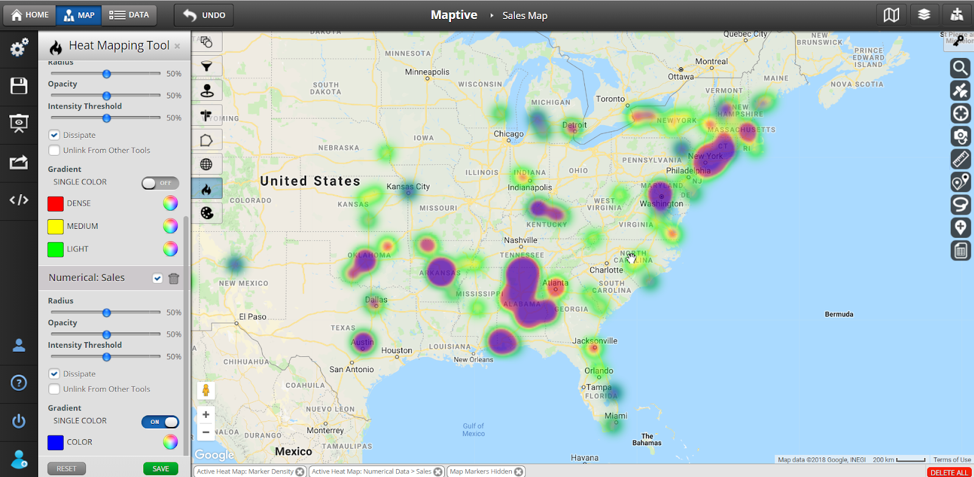 In the next image below you can see that many of our users even heat map zipcodes by shading them with different colors by using our Boundary Tool.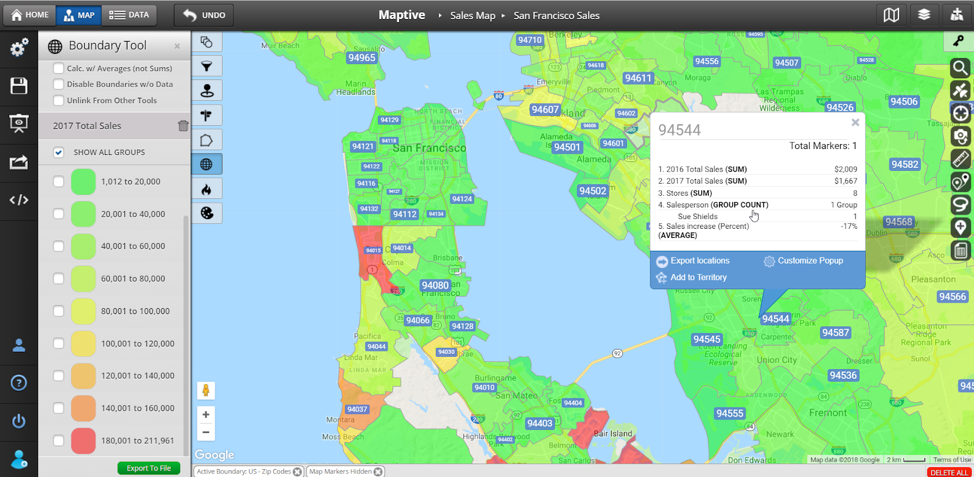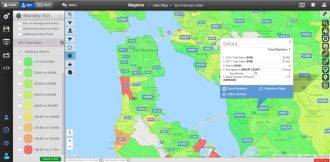 A geographic heat map generator is the new team member you've been waiting to employ — you know, the supremely organized, overly enthusiastic one that can't wait to point out your areas for growth. Any location based numerical data can be mapped out using our online heat map generator. Whether you are a business on the hunt for increased sales or an academic that needs to find patterns in huge swathes of data, our geographic heat map generator will quickly become indispensable to your work.
What's more, by using our heat map creator to create your location heat map series, the world (as seen on your map) is your oyster. Maptive's fully customizable heat mapping tool allows you to play around with all aesthetic features so that you can create a location heat map that is uniquely yours. If your aim is to share your heat map with your customers, share holders, or employees, you'll be more than a little proud when you do so. That's right — your sales metrics never looked this good.
Is our heat mapping software giving you that warm, fuzzy feeling? Yes, we feel it too. That's just our geographic heat map generator talking to you. Hold onto that feeling because we're about to dive into more details about what our online heat map generator will do for you and your work.
Your Google Heat Map Partner:
Powered by the robust capabilities of Google Maps, Maptive allows you to perform various functions that are fully customizable. Here is what you will be able to achieve when you start using our location heat map option.
1. Generate a heat map from an excel spreadsheet
"Excel spreadsheets are so visually appealing," said nobody ever. Imagine you could take the raw data that currently gathers dusts in tabs on your spreadsheets and, within a few minutes, transform it into a Google heat map that will wow the most cynical of viewers. Imagine. And now stop imagining, because this is now a reality. Maptive's geographic heat map generator allows you to do exactly that. You have the choice of uploading a pre-existing excel spreadsheet, or inputting data directly onto our platform.
2. Analyze your data by marker density
In the space of a few clicks, your raw data will be presented to you as a beautiful Google heat map. The default view is to weight each marker on the map equally so that density trends become immediately obvious.
One of the many popular uses for this function is for competitor analysis. In moments, you will be able to see areas of market saturation and spaces of opportunity. Alternatively, use this heat map software to figure out where you have a high number of salespeople and where you can allocate more resources.
The geographic heat map generator can help you understand anything from franchising possibilities to the areas of scarcity of an endangered species. How you use it is limited only by the scope of your work.
3. Plot numerical data using your location heat map
Maptive's heat map software allows you to organize any location-based numerical data you have in your arsenal into an easy-to-interpret picture. You can select the data you wish to see on your map, as well as how much of the corresponding data you want to include in your visualization.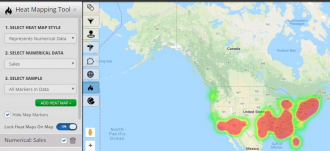 We know — your brain is ticking at double speed like an over-zealous metronome. Imagine using our Google heat map tool to track sales in a particular area? No more laborious calculations, endless post-it notes or wading through rows and rows of numbers for insight.
4. Customize your location heat map
Yes, this is indeed the time when you get to show off your design talents. (Side note: don't be afraid to be experimental. It's almost impossible to make a Maptive location heat map look bad.) You can adjust almost every visual component of your Google heat map — radius, opacity, intensity threshold and gradient colours on display. Whether you want extreme details or the simple clarity of just one color, the look of your map is entirely up to you.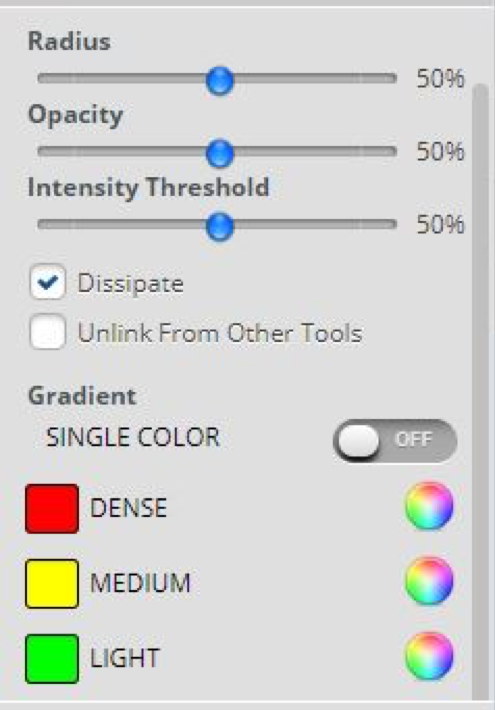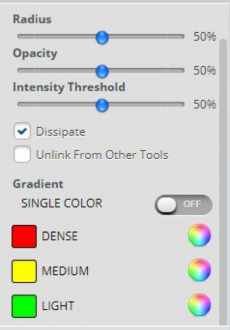 5. Plot Google heat map online
Because our location heat map software is cloud-based, you do not have to worry about storing (or losing) huge swathes of data. You will have access to your heat maps from any device, meaning you can take your maps with you as you move about, embed them onto your site, and give your whole team access to them no matter where they are based. Our professional looking maps will bolster any presentation you have to give and impress new clients and shareholders alike.
How to Make a Heat Map Using our Heat Map Generator
We know — you've warmed to the idea of using our location heat map software to transform how you visualize your data. So let's turn up the heat . Here is your recipe for creating your very own location heat map.
STEP 1: Get your data onto our platform. There are multiple ways to do this. You can upload an excel spreadsheet, input your information in our "Data" view, or add each marker with its corresponding information individually.
STEP 2: Open up our Map Tools Menu on the left hand side of your map. There you will see a sizzling flame. You guessed it — that's the location heat map software. Open it up.
STEP 3: Decide on your Heat Map Style. You have the following options:

Marker Density — In the world of Marker Density, every marker is equal. Yes, just like utopia but for markers.
Numerical Data — By selecting to represent numerical data, you get to decide what data you would like your map based on. You can choose to represent any numerical data you have inputted into our system.

STEP 4: In either heat map style, you get to select your sample set. You can either decide on using all markers on your map, or choose a specific field. If you choose to focus on a particular group, you will have the option of selecting any column in your data for this purpose. Perhaps you would like to view the data within a specific zip code, or only like to view sales data over a certain amount. How you filter your data on your heat map is entirely up to you.
STEP 5: Press the magical "ADD HEAT MAP" button and your glorious visualization will be created right before your eyes. You have the option to hide the markers on the map so that they don't cloud your view.
STEP 6: Customize your map. Change the look, change the colors, change your outlook on your data. Who knew information could be this beautiful?
The more you explore our online map generator, the more ways you will find to align it to your specific purposes. If you want to filter your data by individual salesperson, for example, you will quickly be able to identify areas of high performance and analyze why the numbers fall in the way they do.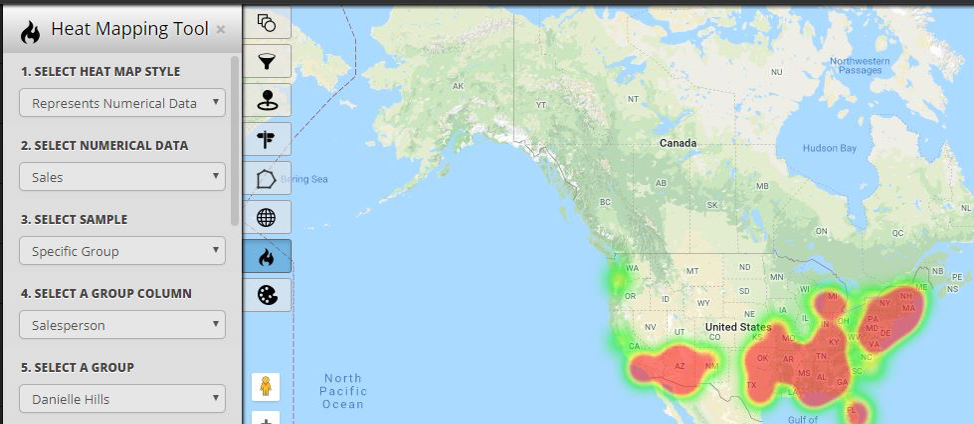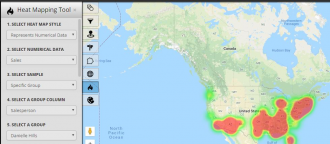 Perhaps you want to compare two salespeople on your team to see if they have geographical areas of overlap, or why one is performing better than another.
You can then use your newfound insights to formulate your marketing budgets and plot your campaign for world domination. This heatmap tool is the way to turn up the heat on your success.
Try our Heat Map Generator today!
If you don't want your data to be a hot mess, it's time to try our location heat map.
And guess what? We offer a free plan for 10 days. You get to play around and find out your own unique ways to use our online heat map generator. You will be astounded at how intuitive our platform is. There is no steep learning curve to battle through, so you can focus on gaining the insights you need rather than figuring out how to access them.
Don't burn yourself out looking for data insights. Sign up for our free heat map generator today.