Create Zip Code Boundary Maps Quickly and Easily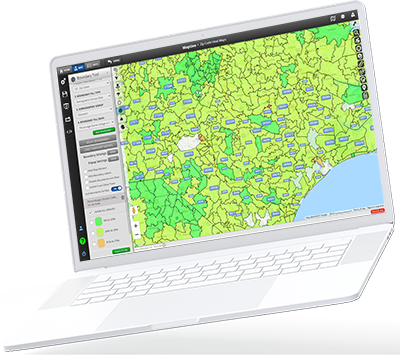 If your business serves the entirety of the United States, you may be serving nearly 42,000 zip codes. That's an incredible amount of data to analyze and turn into a compelling story. So how do you bring it all together and still deliver an outstanding data narrative? 
The answer is simple: you create a zip code heat map using your data. A zip code map outlines the boundaries of each zip code in your data set and helps you see the insights buried deep inside your numbers.
With Maptive's mapping software, you can bring your data to life and create beautiful, custom zip code maps within minutes, without any programming. 
Common metrics like population density and median household income from the US Census are automatically available in Maptive, ready to bolster your proprietary data and develop insights into your consumers.  And the geographic data provided in Maptive is provided by Google Maps, so you know it is the most complete and up-to-date data available.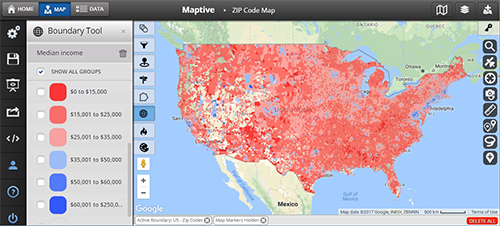 How to Create a Zip Code Map with Maptive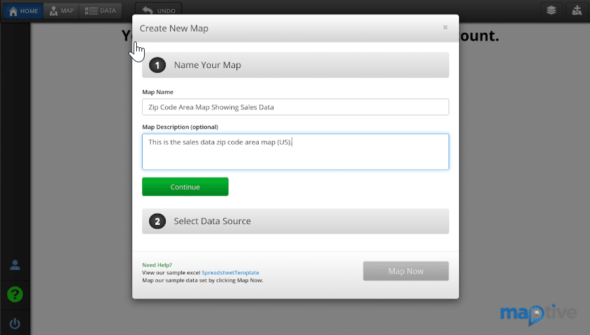 Let's create a zip code heat map showing sales density. While this is a common use case, you can use your own Excel data to map zip codes in any way that suits your needs.
Step #1: Sign up for a free Maptive trial account.
Step #2: Login and click on Create My First Map.
Step #3: Name your map, and add a description. Click Continue.
Step #4: Now, paste your data into the input area or upload your Excel spreadsheet data or import a Google sheet. For this tutorial, we're uploading an Excel spreadsheet with our sales data.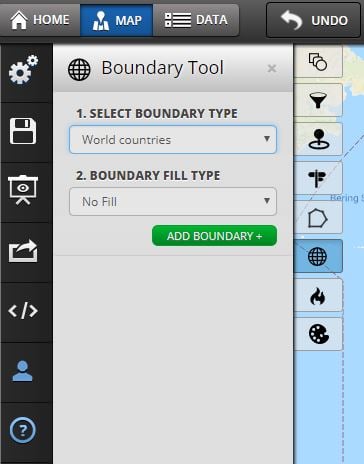 Step #5: There are five sub-steps here. Depending on the Excel data that you want to show inside your zip code boundaries, your choices might differ.
Select the Boundary tool (so that you can draw the zip code boundaries on your map).
Choose US Zip Codes from the SELECT BOUNDARY TYPE field dropdown menu.
Choose My Numerical Data from the BOUNDARY FILL TYPE field dropdown menu.
Choose Sales from BOUNDARY FILL DATA field dropdown menu.
Click Add Boundary.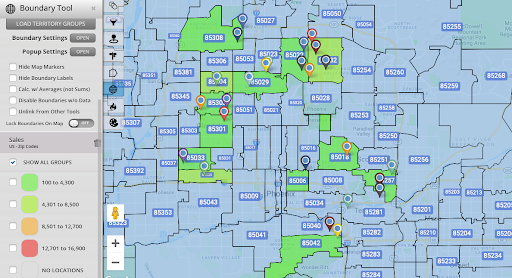 As soon as you're done, the page will show a map with an overlay of zip codes and sales density will be represented by a range of colors. If zip codes are less useful to your business, you can also create a boundary map by city, county, state, or country.  Alternatively, you can create custom territories using Maptive's territory drawing tool or automatic territory creation tool (coming soon).
The map automatically includes customizable info popups for your boundaries. You can see the popup showing statistics such as the zip code's population, its median individual and family income, and the number of locations that fall within it.
Once you have created a map, share it with your team or export it and add it to your presentation. No one has to be a data expert to understand what the data is telling (or showing) when using a map!
Why Are Zip Code Maps Useful?
Maptive's boundary tool allows you to create zip code boundaries populated with our complimentary data sets, such as US demographics and census data.  With US demographics data, such as household income levels, you can fill in the gaps in your own data set to develop strategies for sales, marketing, real estate, and more.
Zip code maps are also used by marketing, sales, and logistics teams to create powerful heat map data visualizations.
For example, if you use zip codes to map the sales territories of your salespeople, they'll know the region they're accountable for, and you can measure performance, study trends, and strategize through maps.
In addition to supporting zip code boundaries, Maptive also lets you draw a host of other geographical boundaries on your maps at the block, county, city, state, and even at the country level.