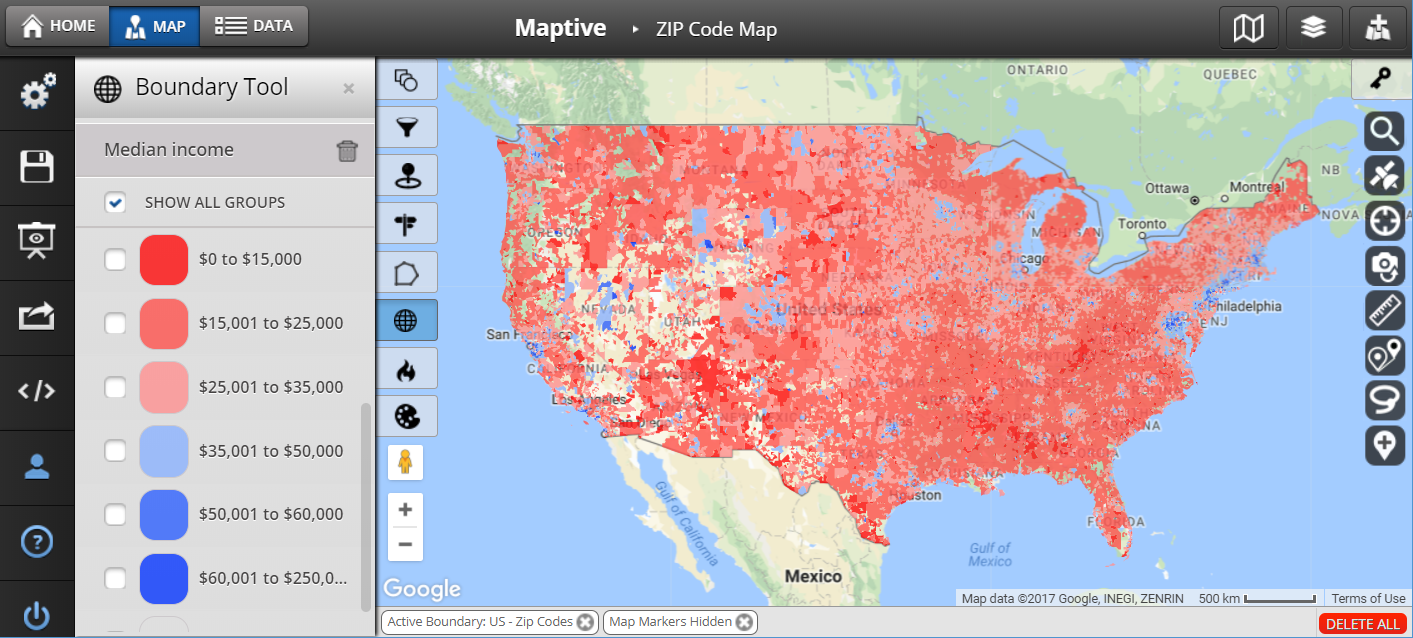 Using our interactive demographic map, you are able to add demographic data to the map using the boundary tool. Currently we have US census data for our demographic map by zip code, counties, states, and congressional districts. These overlays are useful in spotting key trends in your data. With demographic overlays on your map, you can easily segment your data and access location-specific information related to race, housing, age, citizenship status, education, income, transportation, labor, and gender.
Create Your Demographic Map Now
Display demographic boundaries.

Creating boundaries that identify trends related to demographic census data can be done in a matter of seconds. All you have to do is open the boundary tool in your map, select your boundary type, and choose the option to fill your boundaries with demographic census data.

Flag boundaries for later

. Demographic overlays allow you categorize boundaries for later review. If you are looking to grow your business and need to find areas to expand you can use demographic overlays to find boundaries that have similar demographics. You can then categorize boundaries as good or bad prospects.

Adjust boundary size and color

. In Maptive, your boundary width, boundary color, fill color, fill opacity, and number ranges can all be adjusted to your specific needs and preferences.

Edit boundaries at any time.

Once your boundaries have been created, they can be easily edited in real-time right from within your map.
Demographic Overlays:
Census data can be overwhelming to get your head around. While employing these statistics in your business or research project is of utmost importance, heaps of data can be cumbersome to deal with. Using an interactive demographic map is the best way to easily understand census information so that you can apply the insights you gain to the project you are working on.
Here's the simple truth about statistics — unless you are able to understand them, you can't use them. Whether you are a real estate agent wanting to identify areas of economic growth, a non-profit needing to understand what areas require your services, or a business trying to locate your target market geographically, a census demographics map is the stepping stone you need to get to know demographics by address radius.
In the past, using demographic overlays to better understand a population has been the domain of advanced research centers, governments, or large scale corporations. Maptive has democratized this tool, bringing it right to you regardless of your level of technical know-how. Our maps are so easy to create that you'll be gobsmacked at how little time and proficiency it takes to generate what will soon become integral to your operations. What's more, each census demographics map is beautiful to look at, meaning you will want to include them in presentations, embed them on your website, and share them with clients and team members.
Would you like to create a demographic overlay right now? Sign up for our free trial and get mapping in seconds.
Create Your Demographic Map Now
Currently, you can create your own demographic map with US census data by zip code, county, state or congressional districts. Once you have used this basic fill on your map, you can then use it to segment your data by location. Say you would like to find out the average age and education level in Iowa, housing information for Minnesota, or education and income data for Florida. Within moments, you can use your Maptive demographic map as a portal into the lives of the people in the area you choose. Soon, you will be able to identify trends that have a direct bearing on your operations and understand why certain areas are under or over-performing.
The US census data that we use on our platform includes information about:
Race
Gender
Age
Citizenship status
Education level
Income
Housing
Transportation modes
Labor
There is no better way to quickly understand the socio-economic makeup of a particular area, and in doing so, transform census data into a vital tool to plot your way forward.
Our maps are fully customizable, meaning that if you don't like that shade of red, it's yours to change. The last thing we'd ever want to do is suppress those creative instincts of yours. Who said mapping had to be a dry, boring task?
At this point, you may be sweating about the steepness of the learning curve when it comes to generating an interactive demographic map. Remember when we told you that our aim was to bring this kind of mapping wizardry to the people so that everyone has access to the insight our platform has to offer? Well, we weren't joking. Our maps are so easy to use, you might find your cat fiddling around with them, looking for insights about the best neighborhoods to visit for tasty after-dinner snacks.
Let's take you through how quickly and easily you will be able to create a demographic map of your own — and then start putting it to good use.
How To Generate A Census Map:
Allow us to introduce you to Maptive's boundary tool. This magnificent tool allows you to add boundaries, such as state borders, county lines, and zip code partitions, to a map of your own data. That's all well and good, but what does this have to do with your demographic map? Well, the answer is everything. The boundary tool is the instrument you need to create the interactive demographic map you have always dreamed of.
Here's how it works:
Sign up for a free Maptive account
Create Your Demographic Map Now
Upload your data in the form of an existing excel spreadsheet or input it manually into our system.
Select "CREATE MAP"
Within moments, you will be able to view your location data on a customized map, directly on our platform. Maptive is cloud-based, meaning you can log on from wherever you are, on any device.
Select the Boundary Tool from the Map Tools Menu on the left-hand side of your map.
You will then be given the option to select a boundary type. These include everything from world countries to counties, to states, to congressional districts, to cities. Data is included from a range of countries throughout the world.
Next step: To create your demographic map, choose "DEMOGRAPHIC CENSUS DATA" as your Boundary Fill Type.
Now you will be given the option to choose a Demographic Group, as well as what kind of boundary fill data you would like to make use of.

In the example above, we have selected to group our data by education level. We have chosen to show the percentage of people who have bachelor's degrees in all of the US States.

Click "ADD BOUNDARY" and you're off to the human races. (Apologies — census jokes are not everyone's cup of tea.) Here is your map, ready to gift you with insight: And we didn't even need an advanced degree to create it!
Now, this part of the world is your oyster. Choose to focus on a specific area. Change colors. Only show specific groups. Export the data from one region as a spreadsheet. This is your map to do with as you please.
Once you've finished playing with the boundary tool, have a look at the other features it shares the platform with. Believe us when we say this is only the beginning.
Put The Census On The Map Today!
Imagine what you could do with this tool if you worked in the office of a presidential candidate. Think of the possibilities it has to boost your sales revenue. See all it could do for you as you map out a research project in any field from public health to the social sciences to biology to economics.
Let's take this a little further. Imagine there's a hispanic grocery store chain looking to open a 7th location in a new market. They can use our demographic overlays tool to examine multiple factors and determine which areas in the new market have the highest hispanic percentage, then compare the data from that market to the demographics of their highest performing store locations. By looking at multiple points of data, the chain can determine the best location for their new store.