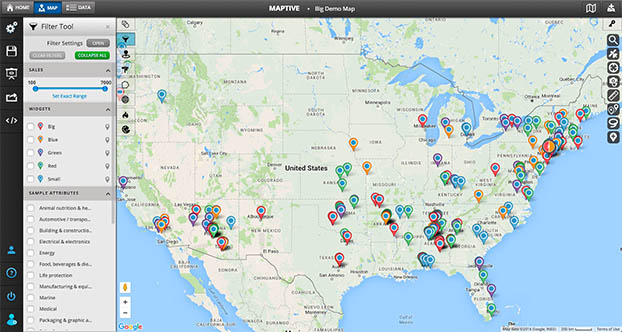 Filter your map data in just a few clicks to zero in on the most important information. With Maptive's filter tool, remove the noise and find the information you need to uncover key insights that may have otherwise been overlooked.
Filter Your Data Quickly and Easily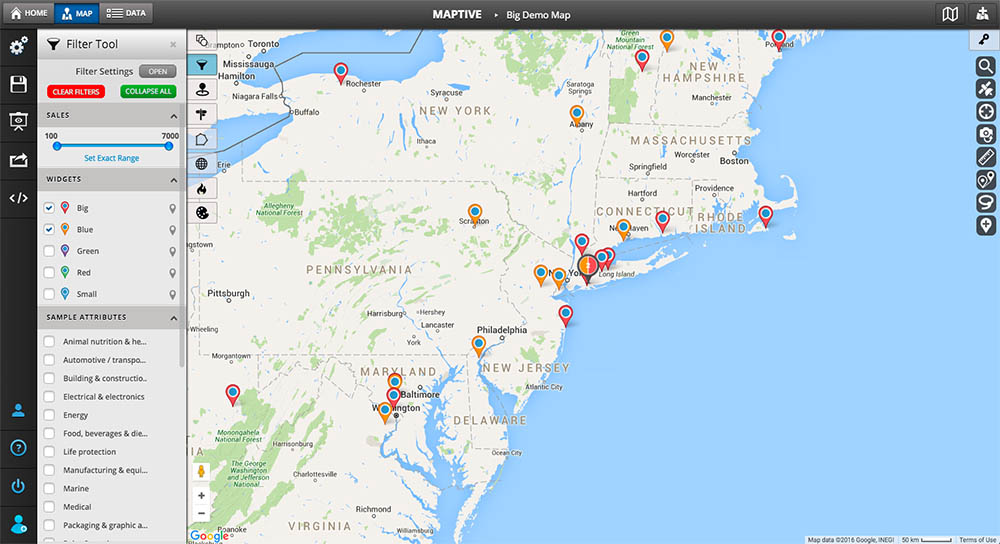 Maptive makes it easy to find the information you're looking for within your map. Open the filter tool and toggle each data point on and off. Or use the various filter types to customize your filters however you like.
Filters are editable and easily turned on and off, meaning one map can be used to display many different variations of your data.
Why Use the Filter Tool?
If you're like most businesses these days, you collect a lot of data. Names, emails, phone numbers, sales figures, and revenue are just some of the figures you likely have stored in multiple spreadsheets.
Plotting this information on an interactive map is a great way to visualize and analyze the data, but it can still be overwhelming. In most cases, you're only interested in a few data points at a time, so all that other information starts getting in the way.
Use Maptive's custom filters to hide unnecessary data and focus on the information you need. Swap information in and out of your map as required to get the most out of your map and your data.
What Else Can I Do with the Filter Tool?
Select Your Filter Type.

Create filters based on the column data you include in your spreadsheet. Filter your data by group, text, number, attribute, or date.

Create Multiple Filters:

Create and use as many filters as you like all at once to display your data exactly how you want.

View and Edit Your Filters in Real-Time:

Filters are instantly displayed in your map right after you create them. Simply open the filter tool to edit your filters in seconds.  
Here's How You Do It
Step 1: Sign up for a Maptive free trial account. Try Maptive for free and explore the many mapping tools we have to offer.
Step 2: Upload or input your data. You can upload data directly from an existing spreadsheet, copy and paste your data into Maptive, or enter it manually.
Step 3: Select "Create Map" to view your map. Your location data will now be plotted on a beautiful interactive map. Maptive is cloud-based, meaning you can log in from wherever you are and view it any time.
Step 4: Select the Filter Tool from the Map Tools menu. Click the wrench and screwdriver icon on the left side of the page, then click the Filter Tool.
Step 5: Open filter settings. Click "Open" next to "Filter Settings."
Step 6: Select your filters. Turn filters on for any data points you'd like to filter.
Step 7: Select your filter type. To filter out information within your spreadsheet columns, choose the type of filter you'd like to create under "Select Filter Type." There are five options: group, text, number, attribute, and date.
Step 8: Save your settings. Once you're happy with your filters, click "Done."
Step 9: Edit your filters. Your filters will now be displayed along the left side of the screen. Click each one to open them and set your filter parameters. When your filter is ready click "Add Filter."
What are the Different Filter Types?
Maptive offers five filtering options to help you customize your map:
Group:

Manually select which data points are included by clicking the boxes next to the points you'd like to display.
Text:

Filter out information based on the text it does or doesn't contain. For example, filter out any contacts named "John."
Number:

Select minimum and maximum amounts for any numerical values. Use the slider to set your range and only display data that falls within it. For example, decide to only display sales between $500 – $1000.
Attribute:

Filter data in and out of your map based on certain attributes. For example, choose to only display salespeople that achieved certain sales targets. Or set custom attributes like real estate zoning, business type, or products carried at specific locations.
Date:

Select a date range to display on your map. Select your date format and then enter your start and end dates. 
Experience Maptive's filter tool for yourself, and sign up for a free trial now.