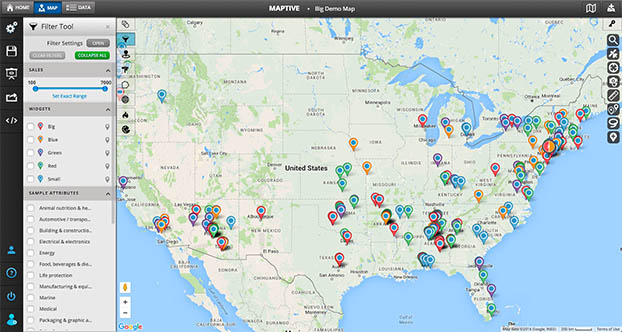 The Filter Tool allows you to segment your data and view it at multiple levels of granularity on a single map. With the Filter Tool from Maptive, you can quickly and conveniently see relationships and trends between data points by paring down heavy spreadsheet data to only what you want to see.
Access the filter tool in 1-click.

Filtering your data can be done quickly and conveniently right from within your map. There's no need to make any changes to your spreadsheet data in order to identify trends. The process is simple: click into the Filter Tool, create your filters, click done, and view your filtered data in real-time in your map. 

Create your filters in seconds

. The Filter tool is the fastest way to view the most important or relevant parts of your location data. It's a helpful tool to use when you need answers fast and you don't have time to scour manually through your data.

Select your filter type

. Filters are created based on the column data you include in the spreadsheet you upload to Maptive. Your data can be filtered by group, text, number, or attribute.

View and edit your filters in real-time.

Filters are instantly displayed in your map from the second you create them. Editing your filters can be done in a matter of seconds by simply opening the Filter Tool again.