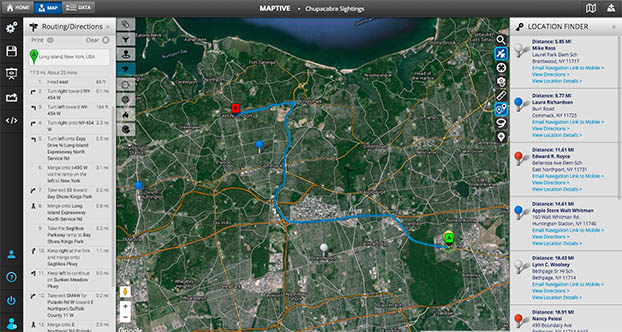 The Location Finder Tool acts as store locator software for the locations you load into your map. Enter any address or let the store locator use your current location, and the tool will find the closest locations to that spot.
Once the location search is finished, the details about the locations will be displayed along the right side of the map. This will include the distance to your location, the store name, address, and links that will help you find directions to the store using Maptive or Google maps. Maptive will also zoom the map so that your location and the results are easy to see.
What can I use the location finder tool for?
Store Locator:
Load all your store information into Maptive and then embed the resulting map in your store locator page. This will allow your customers to easily find the store that is closest to them. Include information like store hours or email address in your data and edit your custom location pop-up to make sure it's included.
Product Locator:
If you have a list of all the places where your product is available for sale you can load that data into Maptive and use our map as a product locator. This lets people, who are looking for your product, know exactly where to find it.
Get Distance Information Fast:
Use the Location Finder Tool to quickly and conveniently get a complete list of distances from one location to all locations plotted on your map. Distances can be shown in either miles or kilometers.
View Location Details in 1-Click:
From the Location Finder Tool you also get instant access to location details. Clicking on location details from the digest of locations will direct you to your map marker—which gives you a quick view of all data that you have uploaded about your location.
Email Direction Links Directly To Your Mobile Phone:
You can also save even more time by using the Location Finder Tool to send direction navigation links right to your mobile device. Clicking the link will open Google maps on your phone and allow you to begin navigating to your locations in seconds.
View Directions Right In The App:
The Location Finder Tool can also be used to get a step-by-step list of navigation directions to locations near you. From this navigation list, additional destinations can be added, your route can be optimized, and your directions can be printed.
How to Create a Store Locator Map

1. Create an account with Maptive if you have not done so already.
2. Upload your data as an Excel spreadsheet, Google sheet, or directly from your CRM. Copy and paste or manual entry work as well.
3. Wait for your data to populate on the map. It only takes a minute or two.
4. Click on the Location Finder button in your toolkit on the right side of the map. Enter an address or use your current location to find nearby locations, then click Find Now.
5. From there, the location finder will display the distance from the input location to the closest nearby data points. From here, decide what you want to do:
Export locations to a file
Email a navigation link to one of the locations
View turn-by-turn directions to any location in the list
View individual location details
Share or embed your map
How Do I Publicly Display a Store Finder or Map With the Location Finder Enabled?
There are several ways to share or display maps within Maptive. The following are especially applicable to a store or product locator map:
1. Embed your map on a website: Insert a simple snippet of HTML code onto a page on your website, and your interactive map will be visible to anyone who visits your site. Make sure to select what you want to be shown on the map so it only shows the data relevant to your customers.
2. Share your map with team members or publicly. After your store location data is uploaded to your map, you can choose to share the map with colleagues and add password protection. Or, allow the map to be available publicly, and you will receive a publicly accessible link. Again, the map settings enable you to select which data and map features are visible.