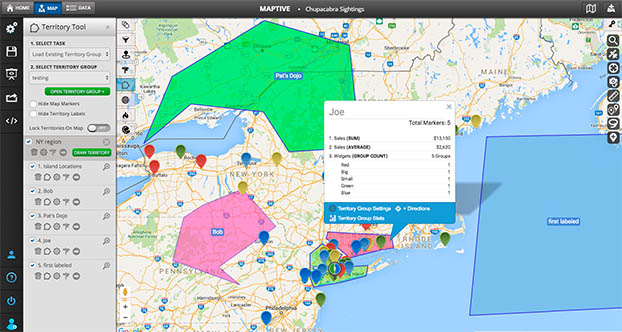 As a sales manager, designing custom, considered sales territories may seem a daunting task. With Maptive's territory tool, create custom sales territories to divide customers and accounts between your sales representatives. Analyze data for each territory to measure which regions are meeting their targets which ones are underperforming.
Add Sales Territories to Your Map in Seconds
Maptive's territory mapping software makes creating a sales territory plan for your business easier than ever. Use the Territory Drawing Tool to create polygon-like shapes on your map to represent your territories.
Once your territories are established define the fill color, boundary color, opacity, and boundary width to help differentiate each region. Easily modify the size, shape, and name of your territories as your needs change, or delete them altogether.
If you prefer to use predefined geographic areas for your territory design, Maptive's boundary tool draws territories based on zip code, county, state, and more. Even combine the boundary tool with the territory tool by clicking on individual states, zip codes, etc. and adding them to a territory. This tool also allows you to incorporate demographic data into your territories for more powerful analysis.
Analyze Data within Your Territories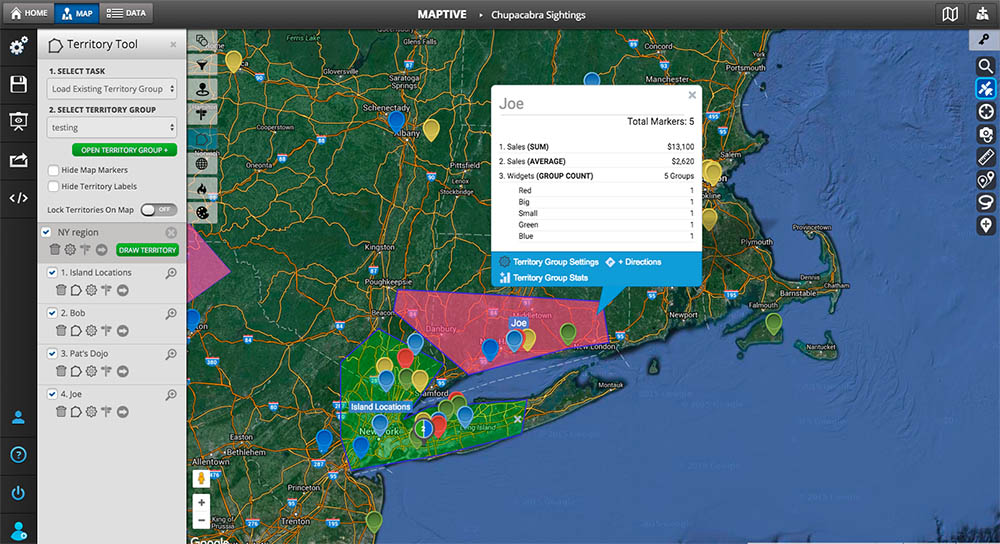 Choose the data you want to display within each territory, then simply click each territory to display it in a convenient popup. Plus, you can review important information for your sales organization within each territory, including:
Sales data

Customers

New leads

Revenue

Sales reps

And more
If you want to share this data with the salespeople on your team, simply export it to a spreadsheet. The information can be exported to an XLS, CSV, or TSV file.
What Else Can I Do with Sales Territory Mapping Software?
Use it for Presentations: Display territories and the data associated with them during presentations.

Collaborate with Your Team Members: Access your territory maps wherever and whenever you want, thanks to your cloud-based technology. Log on from a variety of devices, share only part or the whole of your master map, and communicate your strategy to your sales team.

Internal Analysis: Dive into the numbers behind each territory to find new sales opportunities and analyze why some areas are successful while others aren't meeting their targets.
Here's How You Do It
Step 1: Sign up for a Maptive free trial account. Try Maptive for free and explore the many mapping tools we have to offer.
Step 2: Upload or input your data. You can upload data directly from an existing Excel spreadsheet, copy and paste your data into Maptive, or enter it manually.
Step 3: Select "Create Map" to view your map. Your location data will now be plotted on a beautiful interactive map. Maptive is cloud-based, meaning you can log in from wherever you are and view it any time.
Step 4: Select the Territory Drawing Tool from the Map Tools menu. Click the wrench and screwdriver icon on the left side of the page to access the Map Tools menu. From there, click the Territory Drawing Tool.
Step 5: Create a new territory group. Under "Select Task" select "Create New Territory Group."
Step 6: Name your territory group. Name your territory group using the field provided. Once your name is added click "Add Territory Group."
Step 7: Customize Your Territory Group Popup. Choose the data you want to appear in your territory group popup. After you select a data point choose an action to take with it (sum, average, high value, low value, group count) then click "Add to Territory Popup" to add it. Once all of your data points are added, click "Done."
Step 8: Add a new territory. When you're ready to create your first territory, click "Draw Territory." Name your territory and select the fill color, fill opacity, and border width, then click "Start Drawing."
Step 9: Draw your territory. Move your cursor to where you want to create your territory. Click on the map to create the points of your polygon, then click on the first point to complete it.
What Can I Do Once My Territory is Created?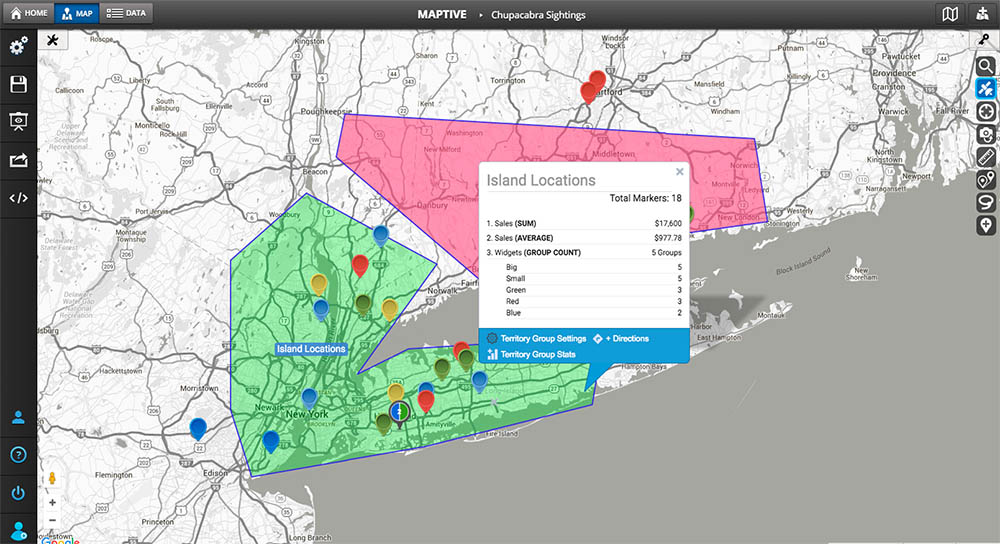 Sales territory management is simple with Maptive. Edit your territories as needed using a variety of options:
Choose to hide map markers within your territories.

Choose to hide territory labels.

Click the trash can icon to delete a territory.

Click the polygon icon to adjust the shape.

Click the gear icon to edit the name, fill color, fill opacity, and border width.

Click the directions icon to find the fastest route between locations within the territory.

Click the arrow icon to export territory data to an XLS, CSV, or TSV file.
Get started on your territory optimization today, and discover how to best utilize your field team with Maptive. Sign up for a free trial now.