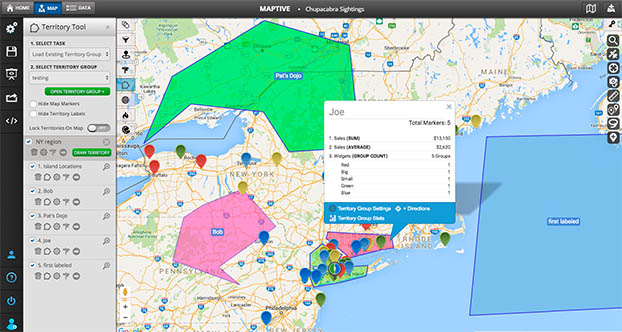 The Territory Tool allows you to draw custom polygon-like shapes on your map to represent territories. This tool makes it easy to quickly pull up and evaluate key information and metrics—such as the number of locations or total amount of sales—associated with the locations that fall within a specific territory. The end result is a beautifully simple, easy-to-understand visualization of different segments of your location data.    
Create custom territories within your map.

Creating a territory or territory group in your map can be done in a matter of seconds. With the Territory Tool, you can draw any shape you want with as many sides as you want in order to identify key metrics or trends that exist in your location data.

Build and customize information within territory groups.

The Territory tool allows you to easily customize the summary information you see on the associated popup. Use this tool to instantly calculate and evaluate the sum, average, highest/lowest value, and count groups within each of your custom-built territories.

Customize territory shape and size

. The Territory Tool allows you to customize fill color, boundary color, opacity, and boundary width. You can also easily modify the size of your territory by editing the initial shape you create. You can also change the name of your territories, or delete them altogether.

Export territory data.

Exporting territory data from your map is incredibly simple and convenient, and can be done in just 1-click. Data is exported into a XLS, CSV, or TSV file.
Territory Map
Wrangle your sales data by creating a territory map on our robust platform that is oh-so-user-friendly and comes complete with all the analytic tools you would ever want to make your data pop with insight. No more pouring over columns of figures to try and make sense of where you need to focus your research. Within a flash, you can have your data organized into territories that you draw yourself. From there, you can use our comprehensive suite of inbuilt analytic functions as a launchpad for a deep dive analysis for each territory .
As the author of your own borders through our manual drawing application, we give you all the agency you need to understand your unique regions in a way that will catalyze insight and help you identify untapped opportunities.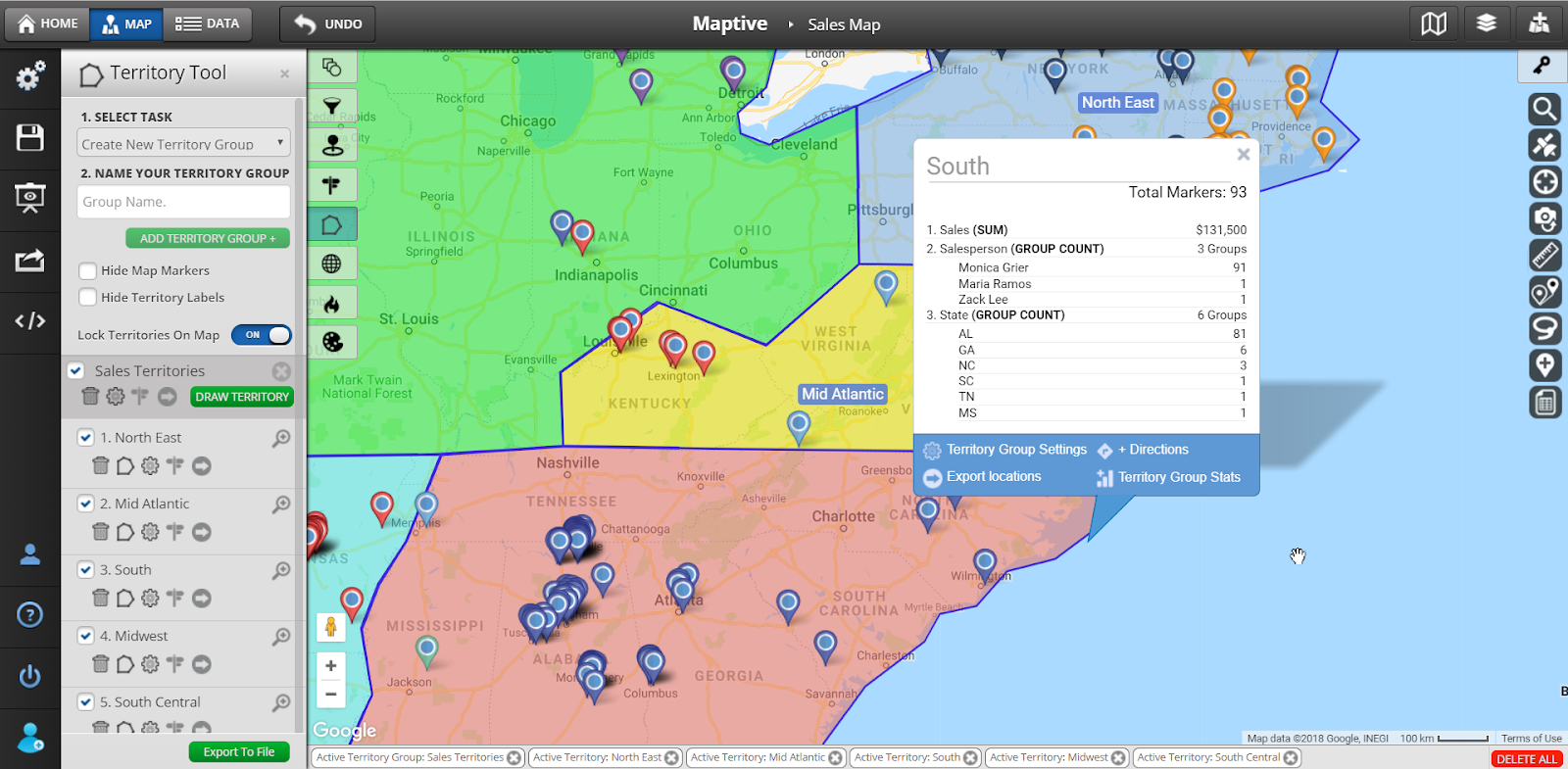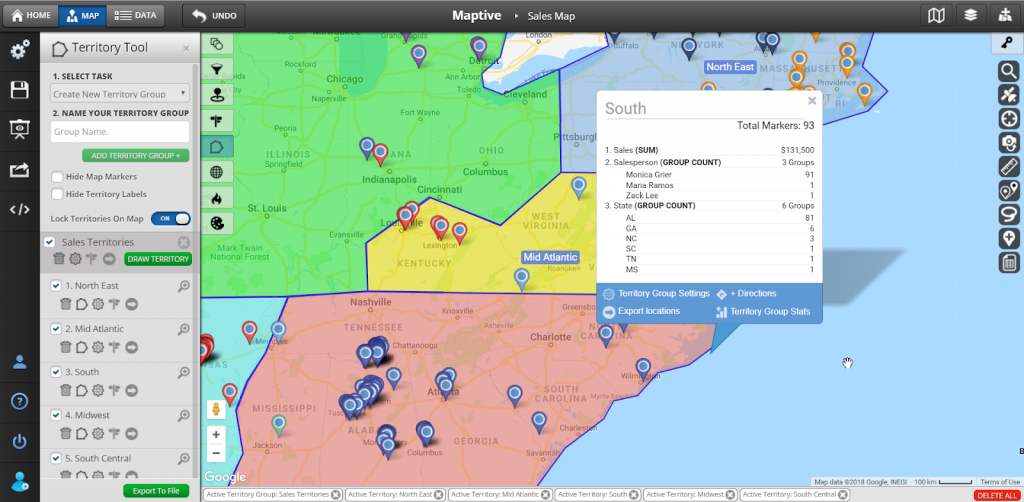 Is your curiosity doing backflips? Tell you what. We'll give you the opportunity to sign up for a free trial today to try out our territory map tools, on the house. The truth is, we've found the elixir for your data management woes and it would be unfair if we kept it to ourselves.
Every territory map on the Maptive platform is striking to look at and easy to share, embed and print, meaning you can proudly show off your creations to relevant parties. Use our custom territory maps for:
Presentation to your teams or clients — It would just be rude not to share them. They look that good.
Collaboration between team members — Because our territory map software is cloud-based, it can be used as an interactive node point for collaboration. Log on from a variety of devices, share only part or the whole of your master map, and communicate your strategy to your employees in a flash.
Internal analyses — If you prefer to tinker around on your own, each territory map has the potential to bring about huge insight into your data that can elevate the way you see your information.
A territory map can be useful in a range of different professional settings. Academic research, governance and environmental disaster management are just some places where these tools could be used to great affect. Think of any situation that can benefit from the evaluation of location-based data, and you've thought of a home-place for a Maptive territory map.
Perhaps one of the most remarkable uses of our territory map is an instrument for the analysis of your business data. Whether you are a startup in your infancy or a large-scale operation looking to update your tools for data visualization, our territory tool can help you understand your enterprise in a way that has huge bearing on your future growth.
Maptive has been used as franchise territory mapping software to help companies identify opportunities that are hard to see with the naked eye. Within moments, you will be able to see where gaps lie and notice points of territory overlap. From there, you can use your findings to implement future growth planning. See how to evenly space your outlets in areas of high population density, and understand why a particular store is not doing as well as others.
Territory map software has become integral to how many companies approach visualizing their sales data as they move toward sustainable growth. Why don't we zoom in and show you how?
Sales Territory Mapping Software
Sales data can be like an unruly toddler. No matter how much you try to get insight into why it behaves the way it does, it seems to keep its deeper motivations to itself.
When you look at your data expressed as streams of numbers, it's hard to understand where you are succeeding and where you need to focus your resources if you want to see improvement. How do you know why (or if) a strategy is working? How do you allocate territories to your sales teams to ensure the best results possible? Why is something selling so well in one area and not in another? Is one salesperson more effective than another because of the resident salesperson, or because of the less malleable dictates of the area, such as mean income and population size?
The hunt is on for superior data visualization software that will help companies better understand this crucial element of business so as to implement strategies for optimal growth. Creating a territory map is right at the forefront of this race for innovation.
Why are custom territory maps so effective when it comes to understanding and managing your sales strategy? For starters, they allow you to design the territories yourself. By being able to map out your own unique regions, you can ensure that your map meets your specific requirements. No two sales departments are alike, and our territory map software reflects this.
Beyond this, an advanced territory map is able to contain all the information of a comprehensive spreadsheet, but visualized in a manner that is simple to comprehend. You don't have to skimp on the detail. Contained within each territory's popup is all the information you need to best understand your information flow.
Our maps come with advanced analytic tools that help you quickly understand a territory's data. Within seconds, you can be making major decisions that affect the future of your company's success.
Are you ready to create a territory map of your own? We'll show you how.
Create Territory Map Analyses Of Your Own
Here's how you can use Maptive to create custom territory maps of your own:
Select the Territory Tool: Once you have created your Maptive map, the next step is to open our tool box. This is the moment you start to take your map from, "Ah, that's nice" to, "What?!? How did you do that?" The territory tool is just one of the ways to get your maps to star status.

Select Task: In the first drop down menu, select the option to create a new territory group. Now it's time to ensure that your creative juices are flowing because this is the moment when you get to:
Name your Territory Group: Whether you want to name your territory group after the sales team leader for that region, your favorite superhero, or simply give the territory group a number, this will be the umbrella term for this set of territories. Then it's time to create the territories within your group. Ready? (And if you're better with brush strokes than you are with words, don't worry. The territory tool has something for everyone. In the next step, you get to flex your creative muscles in a more visual way.)
Customize your territory: Once you have named your territory, it will appear in your menu, giving you the option to "DRAW TERRITORY." Once you select to do so, you are well on your way to creating your custom territory maps. Now you will get the opportunity to tailor-make your territory so that you can easily identify it on the map. Decide whether you would like to show or hide your markers on your map, and whether or not you would like to display the name of each territory. You can also choose to lock territories on the map so that they will not disappear when touched by zealous editing fingers
In the navigation bar, you can choose to:
Name your territory
Adjust the territory fill color from a full pallet of options
Change the territory fill opacity to give you control over how much you would like to reveal of the map beneath your territory.
Play with the boundary color of your territory, again from the selection of every color in the rainbow.
Enlarge or decrease the width of your territory's boundary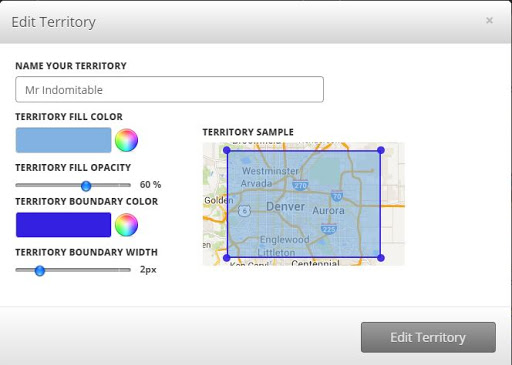 Draw your territory: When you click on "START DRAWING," your cursor will change to a little dot. Now it's time to get your polygon on. With the power of this dot, you can make the first mark on your territory map and start drawing your brand new polygon.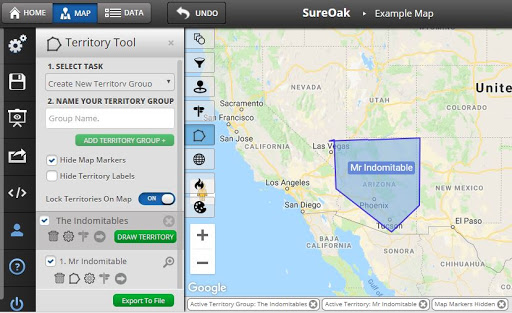 There you have it, folks! The territory, "Mr Indomitable" inside the territory group, "The Indomitables."
Before we move on, let's take a moment to consolidate what our territory map software could do for your sales territory management. Within a few finger clicks, a territory map will appear that visualizes your data in a way that is easy to manage, helps you identify opportunities, and illustrates areas of unnecessary overlap. You can compare data within territories to see why certain areas are over or under-performing. The more time you spend with your territory map, the more you will understand your own business — it's that simple. This is the crystal ball you've been waiting to look into.
But the benefits of working with our territory map software don't end with drawing simple territories. While this may be hard to believe, it gets better.
Make use of in-built territory analyses tools
Each territory comes with its own pop-up that will include the details of the relevant territory according to your personal specifications. You can display the number of markers in the territory, aggregate sales data and inspect other relevant statistics within the area. Imagine what this could do for your KPI strategy. This is not simple data visualization but a comprehensive toolkit for advanced performance analysis. Because it is so easy to use, you can spend more time implementing your findings and less time on a wild goose chase for insight. You also have the option to export the data from a particular territory in the form of a spreadsheet — and just like that, you have a list of locations that you can do with as you please!