Create Territory Maps with Zip Codes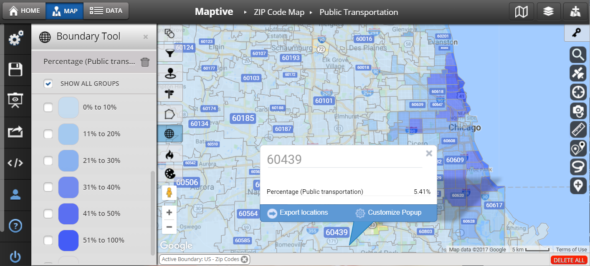 Custom Zip Code Maps, No Coding Required.
Hand your sales team a clear strategy.
Uncover new business opportunities.
Effortlessly understand your territories and markets.
Easily share and export maps and directions.
Upload your location data from Excel.
100% Cloud-based.
User-friendly.
Fully integrated with Google Maps.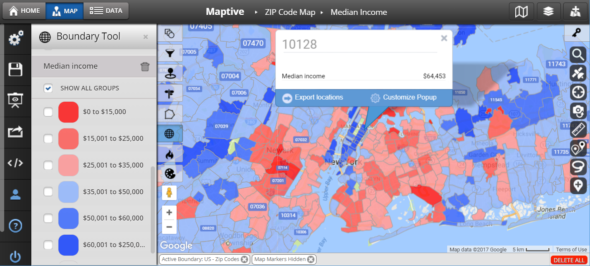 Visualize and Understand Your Data with a Zip Code Map
You can uncover insights, get ahead of trends, reduce costs, and optimize operations—how? Create a territory map with zip codes using Maptive's intuitive mapping software.
Geospatial data can impact marketing strategies, sales initiatives, and overall business decisions. By visualizing trends with a zip code heat map you can quickly and effortlessly identify areas of opportunity, cut out operational redundancies, and help your business thrive.
How to Create a Territory Map with Zip Code Boundaries
A zip code map lets you outline the boundaries of each zip code in your data set and helps you see the insights buried deep inside your numbers.
With Maptive's mapping software, you can bring your data to life and create beautiful, custom zip code maps within minutes, without any coding.
To use Maptive zip code boundaries tool, simply:
Become a Maptive user for FREE.
Upload your location data from Excel spreadsheets, Google Sheet, your own CRM, or copy-paste your data directly into Maptive.
Visualize your zip code maps and break your data up by sales territories. Using the Boundary tool, you can map out your sales data within zip code boundaries, change the colors of your sales territories, add labels to better visualize your data, and much more!
Optimize your maps with Maptive customization tools and download or share them directly with your team.
[START YOUR FREE TRIAL] [BOOK A LIVE DEMO]
What Can You Do with Zip Code Maps?
Once you create a territory map with zip codes you can visualize and analyze your sales and spatial data in direct relation to specific zip codes. It is a powerful method of understanding business data that would normally be trapped in a spreadsheet.
Heat Maps based on zip codes make it easy to visualize and identify trends in your location data on a Google map. For example, you can use Maptive's heat-mapping software to visualize the concentration of your customers or competing businesses in a number of given zip codes. This way, you can quickly see areas that might already be saturated and other areas where there is still a market opportunity. You can also customize your zip code heat map by adjusting its radius, opacity, intensity threshold, and gradient colors.
Comparison Analysis is normally achieved by first linking data to zip code boundaries and then creating a regional heat map analysis. This type of analysis enables you to, for example, find out the concentration of a specific demographic in a selected zip code—information that you can later use when deciding where to launch a targeted marketing campaign or which stores should run a certain promotion.
Territory Definition is one of the key tools smart sales managers use to determine the best sales coverage for their team. If you think of your sales representatives as a tactical, on-the-ground team, creating territory maps with zip codes equals handing them your master plan for target takeover. Zip code mapping can become an incredibly tedious process without the right tools. Thanks to Maptive, you can easily uncover insights buried deep in your data and map out and assign sales territories in just a few clicks.
Sales Productivity is another benefit of zip code mapping. Once you've done all the work of figuring out the sales potential of each zip code, you can more effectively allocate your sales team's resources and create sales territories that are more likely to generate revenue.
Plus, you take the guesswork out of your sales reps' day, which will help improve how efficiently they move from client to client.
Customer satisfaction is bound to increase thanks to zip code mapping because each client will maintain a strong relationship with the specific sales rep assigned to their zip code. On the flip side of that coin, the right zip code mapping strategy will also ensure that each sales representative has an equal opportunity to win over great clients and maintain a healthy relationship with them with long-term repeat sales.
Stop staring at that Google Sheet and Excel spreadsheet and take your business to a new level by creating zip code territories that both you and your sales teams can understand and use right away.
Visualize Your Data In New Ways
Custom Zip Code Maps
Create maps with zip codes and take full control over everything displayed on your custom map, including labels, roads, points of interest, and more! You can add logos, store location photos, manager photos, and even custom markers. Plus, you can alter your base map appearance to satellite views, topographical maps, black and white maps, and more.
Sharing Features
Maptive gives you complete control over who can see your maps (public or private – with password protection) and which mapping features they can use on your maps. You can share your map with one click or publish it publicly and allow anyone to view it. You can also embed a map on a website or export and print your map with the ability to make it as large as a 2048 x 2048 pixel poster.
Presentation Mode
If you want to create presentation-ready maps, Maptive lets you build an interactive, custom PowerPoint map from your zip code data. You can manually add pins anywhere in your presentation maps—marking your sites, outlets, sales territories, or anything that makes sense for your business goals.
Demographic and Geographic Data
In addition to your own data, Maptive lets you see areas not just by city, address, province, and state, but also by demographic US Census data such as population density, age, median household income, race, and education without uploading anything extra. Compare your data and locations against powerful Google Places data. Identify nearby locations and competition to help with site selection, competitive analysis & more.
Start Creating Territory Maps with Zip Codes Today
Maptive's mapping software can change the way you do business. Customize your Google Maps, define your zip code map, pick the styles you prefer, manage how elements and icons show up on display, and create a territory map with zip codes that are unique to you and your business.
All the custom styles and powerful mapping tools you need to visualize your data. Zero coding.
Start Your Free, No Risk, 10 Day Trial
No credit card required. No surprises. Just Results.
START MAPPING NOW