Geo Mapping: Turn Your Data into Maps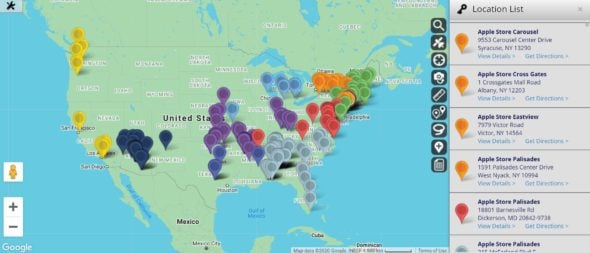 Make Sense of Your Location Data with Geo Maps
If you run a business then you probably have a lot of data. It may even get overwhelming. What do you do with all the information you've collected on your customers, employees, sales, suppliers, and more?
Many businesses turn to Maptive's geo-mapping software to solve this problem.
Oftentimes, you can't take full advantage of your data until you actually see it. That's when the real insights emerge and you're finally able to understand what all those numbers in your spreadsheet were trying to tell you.
Use Maptive to plot your location data on an interactive geo-map and bring the information you've collected to life.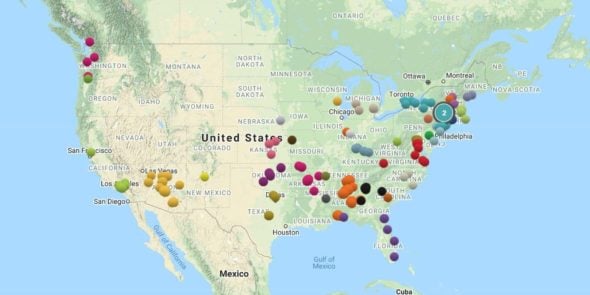 What is Geo-Mapping?
Geo-mapping is the process of taking location-based data (names, addresses, sales numbers, demographic info, etc.) and using it to create a map. By visualizing all the information you've collected you'll be able to spot important trends and new opportunities for your business.
For example, let's say you want to analyze the sales for one of your territories. On paper, the numbers look great. The territory performs well and the sales numbers exceed your expectations. There doesn't seem to be much to improve.
However, after plotting all the information on a map, you notice there are virtually no sales coming from the southern portion of the territory. This means there is still an opportunity to improve your performance, and now you know exactly which area to target.
These are the types of valuable insights that geo-mapping offers.
Why is Geo-Mapping Important for Your Business?
Geo-mapping isn't just about spotting trends. Using your location data to create a map helps you plan for the future, create winning strategies, and run your business more efficiently.
Here are five ways Maptive's geo-mapping software will benefit your business: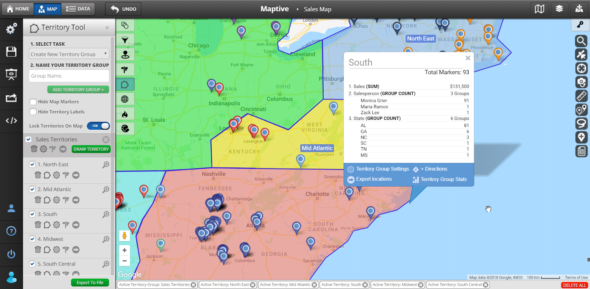 Build Sales Territories
One of the biggest challenges of managing a sales team is keeping everything fair and equitable. Leads are constantly coming in and you have to make sure everyone on your team is given an equal chance to close a deal.
Sales territories are an excellent way to divvy up potential sales and accounts amongst your reps. Create territories based on zip codes, cities, states, and other boundaries, or draw custom territories as you see fit.
Once your territories are in place sales reps can be assigned to them and will handle any leads and accounts in that area. Your reps will now continue to work with the same customers and get to know each client.
Some added benefits of creating sales territory maps are:
Better opportunities for your team.
Keep your customer data organized.
Easily compare sales and performance between different regions.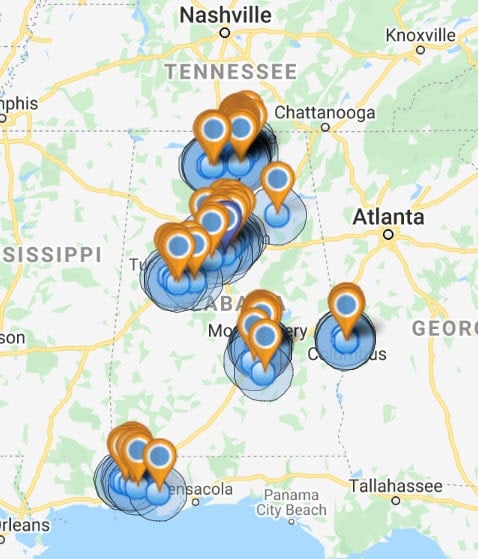 Sales and Service Coverage Maps
Do you have enough reps to cover your entire service area? Are you wasting resources with too many reps in one area? Sales and service coverage maps will answer these questions.
Plot the locations of your team members and customers, then use Maptive's radius tool to create a driving radius around each rep. This shows you if you have any gaps or if there is any overlap in your service.
Use these insights to reorganize your coverage, ensuring customers are adequately taken care of and you're making the best use of your resources.
Want to share your service maps with other team members or clients? Easily embed your maps on your website, or make them public so others can see them.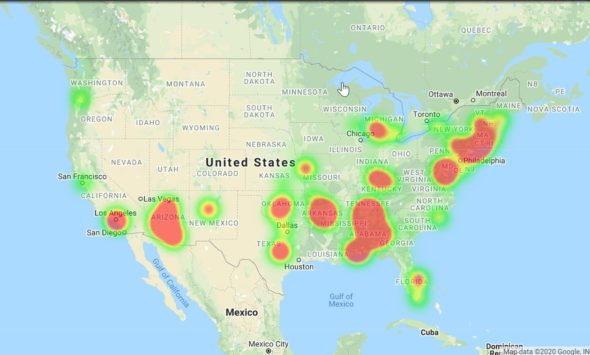 Sales Reporting and Analysis
Numbers on a screen don't tell the whole story. Plot your sales data on a geo-map to reveal where you're excelling and where you have room for improvement.
By geo-mapping your sales reports you will:
See which areas are performing the best.
Identify regions that aren't meeting their targets.
Compare the performance of different sales reps and territories.
Spot sales trends
Target potential customers more effectively.
Are you struggling in certain areas? Take a closer look and find out why. Perhaps your messaging doesn't resonate with those communities, and it needs to be adjusted. Or maybe your products and services aren't suited for that demographic and you need to focus elsewhere.
Where are most of your sales coming from and why those areas? Analyze the demographics and find patterns. Double down on marketing in those areas and target other regions with similar demographic make-ups.
These are just some of the ways Maptive transforms your data into usable insights.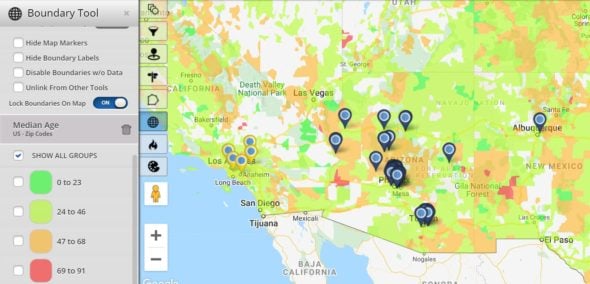 Demographic Market Analysis
The best way to serve your customers is to know them. That's why Maptive gives you access to a wide range of demographic data drawn from the U.S. census, including:
Population
Race
Gender
Age
Citizenship
Education
Income
Housing
Transportation
Labor
These insights are available by zip code, county, state, or congressional districts.
Plot your location data on a geo map, then utilize demographic information to understand your customers better. You may realize your products and services appeal to a certain segment of society. Or you may identify areas where your business isn't taking hold.
This leads to more effective marketing and better strategic planning for your business.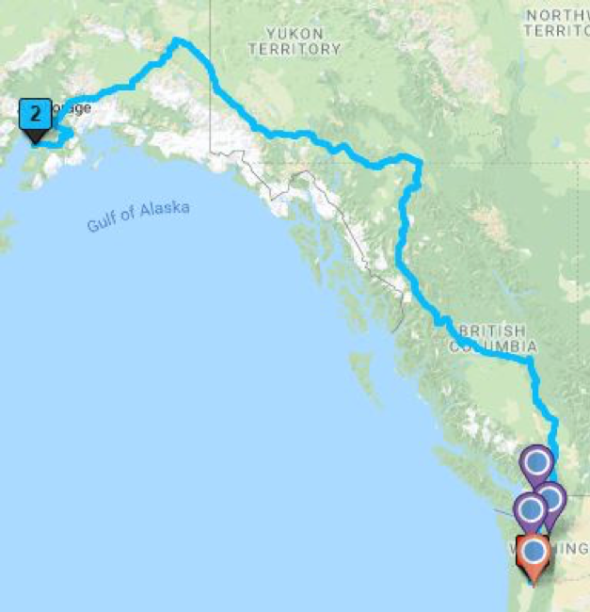 Route Planning and Optimization
No matter what type of business you operate, at some point you're likely transporting goods, delivering products, or visiting customers. If your routes aren't optimized, this leads to increased costs and labor.
Powered by Google Maps, Maptive's route planning tool finds the fastest route between up to 25 locations. Simply plot your suppliers, business locations, and customers to find the best routes between all of them.
This will help you:
Reduce labor, vehicle repairs, and fuel costs.
Optimize your supply chain.
Reach customers faster.
Service more customers per day.
Stop wasting your resources with unnecessary travel time and use geo-mapping software to run your business more efficiently.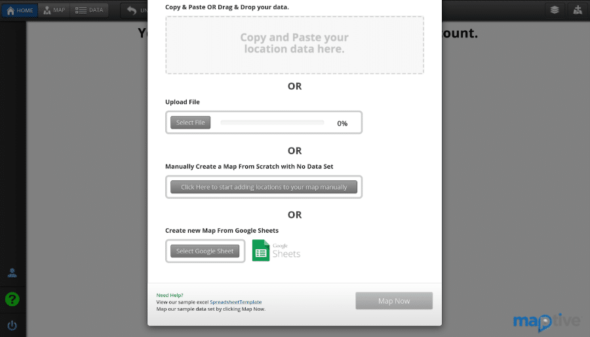 How Do I Create a Geo Map?
Creating geo maps with Maptive is simple and takes just a few minutes. Follow the steps below to plot your location data on a beautiful interactive map:
Sign up for a Maptive free trial account.
Log in to your account and click "Data" at the top of the screen.
Upload or copy your business data from a spreadsheet, or enter it manually. Make sure it includes header columns such as address, city, zip code, name, phone number, etc.
Click "Map" at the top of the screen to view a pin map of your data.
Utilize Maptive's wide range of tools and customizable options to display your data sets exactly how you want to.
3 Types of Geo Maps You Can Make in Less Than 10 Minutes
As you can see, using your location data to create a geo map is extremely easy. Here are three types of maps you can make with Maptive: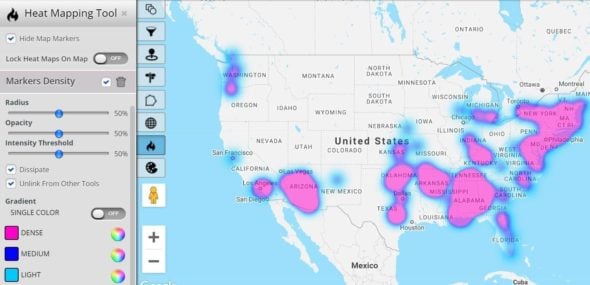 Heat Maps
This map type measures density. Quickly identify areas with the most data points, as well as gaps in your service. This is one of the best ways to spot trends and opportunities that could benefit your business.
Use heat maps to analyze the density of:
Sales
Customers
Population
Competitors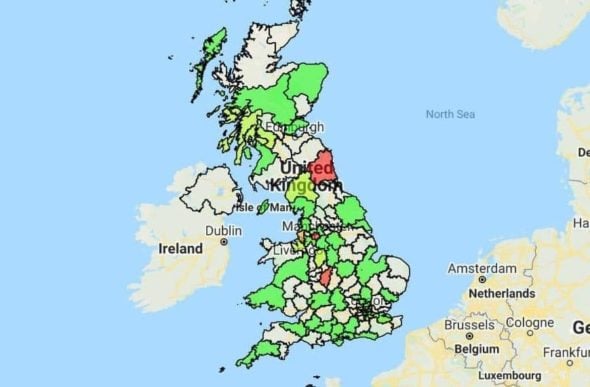 Territory Maps
Create sales territories or segment your data and compare different regions. Territories can be created based on established boundaries, such as by zip code, county, state, or congressional district. You can also draw custom territories to suit the needs of your business.
When using the boundary tool you have access to a wide range of demographic insights to help you analyze your territories more thoroughly.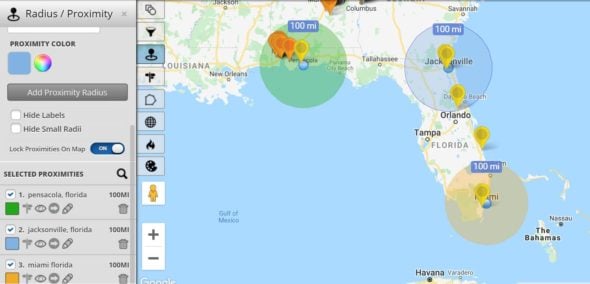 Radius Maps
Radii have a number of uses that bolster business strategy and operational efficiency.
Use radius maps to:
Target customers near your business.
Decide where to open new locations.
Ensure stores are properly spaced out.
Assign customers to your reps.
Decide at which locations staff are able to work.
Create Your Geo Map Today
Get the insights you need to make the right decisions for your business. With Maptive's geo-mapping software you will:
Visualize your data and better understand what it's telling you.
Easily create sales territories for your sales reps.
Analyze the distribution of your sales.
Gain access to valuable demographic information.
Optimize your routes during deliveries, service calls, and sales meetings.
Sign up for a free trial of Maptive and start mapping today.