Maptitude Alternative: Mapping Software Comparison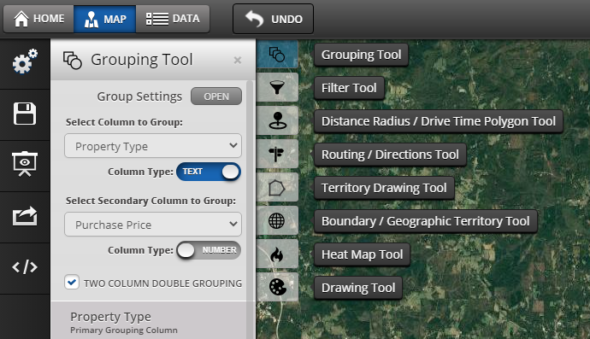 If you are in the market for a new mapping software, you already know that there are many options you can choose from depending on your organization, goals, and budget.
Two of the most often compared mapping software are Maptitude and Maptive. Understanding the differences between each software can be a confusing process, so we hope this article can help you navigate through the details of what each tool offers, so you can make an informed decision.
Below, you'll see we have outlined the details for both Maptive and Maptitude according to their:
Features

Pricing

Main takeaways
Features
Maptive

Maptitude

Ease of use

Upload your location data from any spreadsheet or Google sheet, or add data directly into Maptive.

Map multiple locations in seconds, visualizing data quickly and easily.

Access fully customizable maps and enjoy complete control over the appearance of your maps.

Support for Google's upcoming WebGL 3D features.

Maptive works on any device: Desktop, Tablet, or Mobile.

Access your maps from anywhere with cloud-based technology.

Maptive is built on Google Maps, so the data you see on your maps is always updated.

Ease of use

Upload Excel or CSV data.

Export map images.

Share maps privately via a username and login or publicly with those given the map URL.

Each license includes one free detailed Country Package. Additional country packages can be purchased separately for $595.

Maptitude is only compatible with Windows.

It can be run completely offline, even without an Internet connection.

Mapping tools

Full suite of mapping tools to create interactive maps:

Drive time polygon tool

Radius map tool

Polygon territory tool

Geographic boundary territory tool

Demographics/Census mapping tool

Heat mapping tool

Driving radius maps

Lasso tool

Distance calculation tool

Drawing tool

Multi-stop route planner and optimization tool

Location finder tool

Automated territory creation and optimization tool

Distance matrix calculator

Bubble maps

Mapping tools

Batch geocode address, ZIP Code, and city locations.

Create thematic visualizations such as: color/heat maps, pie charts, symbol and size themes.

Create radii/buffers/circles, straight line influence areas, weighted centers.

Create demographic report PDFs and overlays.

View, query, and filter tabular data for map layers.

Enterprise-level features

Data visualization: valuable insights for decision making.

Enterprise-level security and support: 2FA, SSO, Penetration Testing.

Powerful territory mapping tools: take sales territory planning to the next level.

Route optimization with support for unlimited stops.

Integrate your GIS software or Geospatial data to create robust maps.

Enterprise support with CRM integrations: Maptive integrates seamlessly with all of the significant CRM tools (coming soon).

Upgraded API support (coming soon) with support for real-time data updating.

A full toolset for Location Intelligence includes new and improved drive time maps, distance radius tools, route planning, integrated demographic data, geographic boundary tools, and more.

Enterprise-level features

Demographics and address/postal geocoding.

Allows widespread use of mapping software throughout an organization, where multiple users can manage, share, and use geographic data for analysis and presentation.

Use your corporate data via support of Microsoft Office formats (Excel and Access).

You can share tabular data and geographic files and have full control over read-write permissions.

The installation takes place on the server side. You simply run the installation through Windows, which will install Maptitude and the necessary drivers. The supported platforms are Window Server 2012 and later.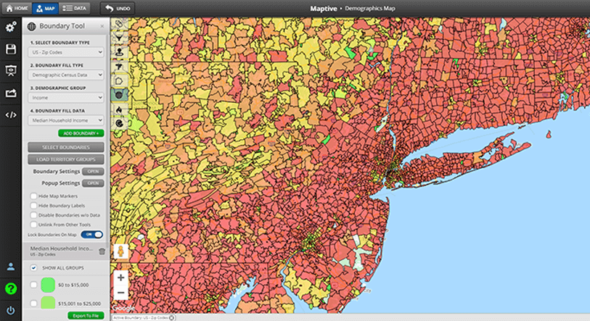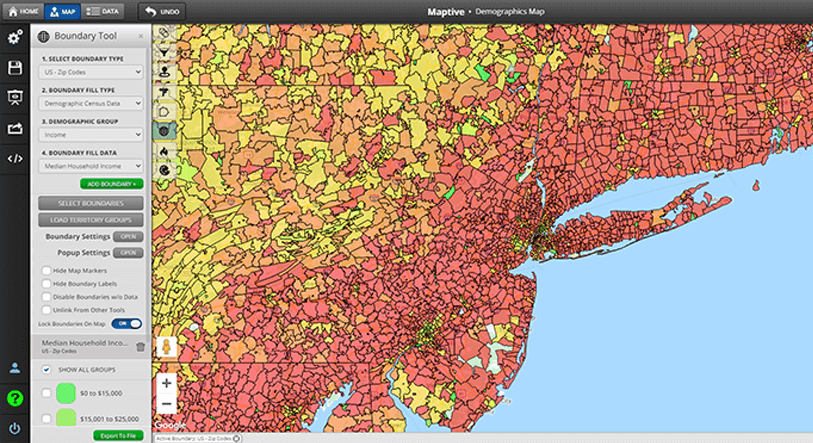 Pricing
No one likes overpaying, and when it comes to mapping software, the differences in pricing can be substantial–though, of course, the final decision must always be based on what your organization truly needs and what your overall budget might be.
Here's what you'll pay for Maptitude and Maptive:
Maptitude Cost:

$9,995 per year for their Enterprise Plan. 

Maptive Cost:

$1,250 per year for their Pro Plan (one user).
Maptive also offers a $250 45-day plan so you can try the software without making a year-long commitment.
Main Takeaways
While both Maptive and Maptitude offer mapping software that companies and individuals alike can use to create customized maps and visualize data, below are the main key reasons why we believe that Maptive is a better alternative to Maptitude, well beyond the price point.
Maptive Is Cloud-Based.

That means that  Maptive users can easily access maps from anywhere and on any device. All you need is an internet connection. So, whether you're at home or the office, on a PC or your iPhone, you can view, share, and edit your maps. 
Instead, Maptitude is Windows-based software, meaning it's only compatible with computers that have Windows installed on them. If you own a Mac and want to use Maptitude, you'll need to install Windows on it. And because its data does not synch on a cloud, you might run the risk of accessing older data or visualizing information that is no longer valid.
Maptive Is Easier to Use.

Especially if you are relatively new to using mapping software or don't have a strong background in coding. 
While Maptitude uses a window-based interface that can be clunky and difficult to use for non-experts, Maptive was built with ease-of-use in mind and includes built-in step-by-step tutorials to help you get started with mapping from day one.
Maptive Includes All Data Packages.

The amount of data your mapping software gives you access to will determine the kinds of insights you can discover.
Every Maptitude mapping license comes with one free country data package of your choice. This data includes addresses, streets and highways, travel time information, and demographics. If you wish to purchase additional country packages, they cost $595 each.
On the other hand, because Maptive is built on Google maps, you get access to tons of location data, including business locations, competitor locations, and more. Maptive also includes additional data packages for several countries at no additional charge, including demographic/census data, such as population, race, housing, age, citizenship status, education, income, transportation, labor, and gender.
So, even if your mapping takes you to multiple countries around the world, you always have the necessary data to complete your projects.
Maptive Is Always Up To Date.

Geographical data changes all the time, and that's why it's so important to use the most recent data to build your maps. 
Maptitude provides users with yearly upgrades that include new road maps and demographics. These upgrades cost $395.
Instead, Maptive is continuously updated with no additional fee to ensure you're always creating maps with the most current data possible. This is because Maptive is built on Google Maps, an industry leader when it comes to GIS software. Using Google ensures their maps are always up to date and gives them access to features like real-time traffic updates.
Maptive Makes it Easy to Share and Collaborate.

Maps are rarely used in a vacuum, and are almost always shared with a team, so it's important for a mapping software to make it easy for users to collaborate on interactive visualizations and share them freely.
While Maptitude allows you to export an image of your map for use in reports and presentations, if you want to share an interactive version of your map, you'll need a subscription to Maptitude Online Sharing, which costs $420 a year. You'll also need two licenses (one for yourself and one for the person viewing your map). 
Instead, with Maptive, you can easily share you map in many ways that are already included in any subscription: save it as an image and use it anywhere; export your data to a spreadsheet; embed your map on a webpage; present your map in presentation mode; send a link to a specific map view or a link to your entire map that allows users to customize their view. 
Full permission controls are built into the sharing features, and since Maptive is cloud-based, you can collaborate with multiple users on the same map. 
Conclusion
Your department or organization may need to improve its marketing strategy, revamp their sales territories, or use location-based data to explore new business opportunities. Whatever the case might be, choosing the mapping software that is right for you can make the difference between a strategy that lets your team have their best year yet, or plans that fail miserably.
We hope that this breakdown helped clarify the differences between what Maptive and Maptitude have to offer.
There is no doubt in our mind that Maptive is one of the best Maptitude alternatives for businesses and organizations of all sizes, especially given that Maptive comes at a much lower cost while offering cloud-based and always up-to-date location intelligence data through an interface that is easy to use and makes collaboration a breeze.
But don't take our word for it–try Maptive free for 10 days and see for yourself.
Start Your Free, No Risk, 10 Day Trial
No credit card required. No surprises. Just Results.
START MAPPING NOW