Alternative to Maptitude Mapping Software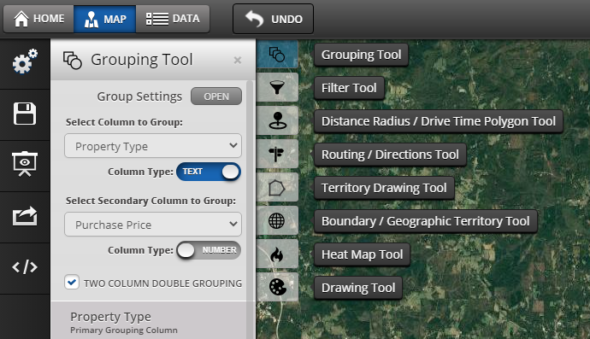 Every mapping software is a little different, so the solution that works best for you will depend on your needs. If you're currently using Caliper's Maptitude GIS software and looking for a feature-rich alternative, you should strongly consider Maptive.
Maptive is a full-featured mapping solution built on Google maps. 
Read on to find out why Maptive is the best alternative to Maptitude.
Cloud-Based vs. Windows-Based
The type of software you're using will significantly impact what you can do with it and how flexible you can be.
Maptitude is Windows-based software, meaning it's only compatible with computers that have Windows installed on them. If you own a Mac and want to use Maptitude, you'll need to install Windows on it.
Maptitude isn't mobile-friendly, so you can't use it on smartphones or tablets or share maps with someone who is.
Maptive's GIS software is cloud-based. Easily access your maps from anywhere and on any device. All you need is an internet connection. So, whether you're at home or the office, on a PC or your iPhone, you can view, share, and edit your maps.
Ease-of-Use
Maptitude uses a window-based interface that can be clunky and difficult to use for non-experts, leading to frustration.
Maptive was built with ease-of-use in mind and included built-in step-by-step tutorials to help you start with the tool.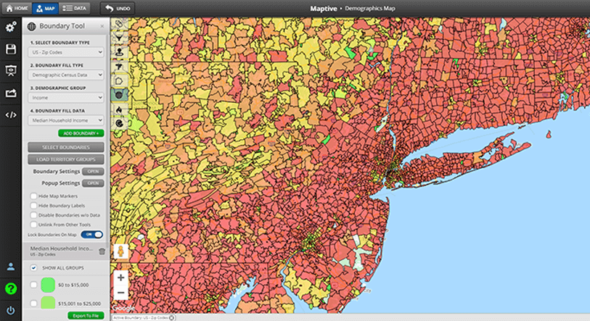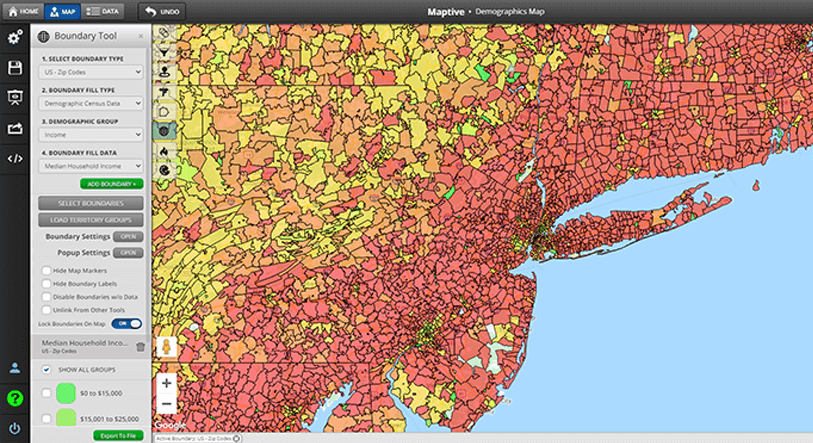 Data Packages: All Included
The amount of data your mapping software gives you access to will determine the kinds of insights you can discover.
Every Maptitude mapping license comes with one free country data package of your choice. This data includes addresses, streets and highways, travel time information, and demographics. If you wish to purchase additional country packages, they cost $595 each.
Since Maptive is built on Google maps, you get access to tons of location data, including business locations, competitor locations, and more. Maptive also includes additional data packages for several countries at no additional charge, including demographic/census data, such as population, race, housing, age, citizenship status, education, income, transportation, labor, and gender.
So, even if your mapping needs change, you always have the necessary data to complete your projects.
Always Up to Date
Geographical data is continually changing. That's why it's so important to use the most up-to-date mapping data.
Maptitude provides users with yearly upgrades that include new road maps and demographics. These upgrades cost $395.
Maptive is updated continuously all year round with no additional fee to ensure you're always creating maps with the most current data possible.
Sharing & Collaboration Features
Maps are meant to be shared. The mapping solution you use should make it easy for you to share your maps with friends and colleagues.
Maptitude:
Maptitude allows you to export an image of your map for use in reports and presentations and share it with team members or online.
If you want to share an interactive version of your map, you'll need a subscription to Maptitude Online Sharing, which is $420 a year. You'll also need two licenses (one for you and one for the person viewing your map). Once your map is uploaded to Maptitude Online, your friend or colleague will be able to view it there.
Maptive:
With Maptive, there are several ways you can share your map:
Save it as an image and use it anywhere.

Export your data to a spreadsheet.

Embed your map on a webpage.

Present your map in presentation mode.

Share a link to your map. You can send a link to a specific map view or a link to your entire map that allows users to customize their view.

Full permission control built-in.

Collaborate with multiple users on the same map. You can do this because Maptive is in the cloud.
All of these sharing options are included with any Maptive subscription.
Try Maptive for Free
Are you thinking of giving Maptive a try? Our software includes many powerful tools, such as heat maps, territory tools, drive times, route planning, zip code mapping, unlimited pin-mapping, and more. Sign up for a free trial and start creating beautiful, customizable maps today.
Start Your Free, No Risk, 10 Day Trial
No credit card required. No surprises. Just Results.
START MAPPING NOW