Alternative to Espatial Mapping Software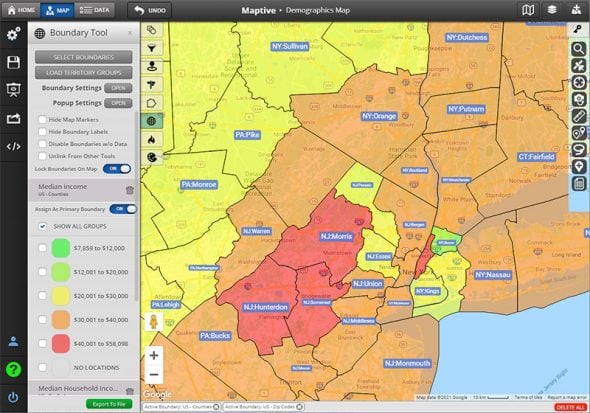 Mapping software is a valuable asset to any business, as it allows you to plot your data on an interactive map and discover new insights. But what type of mapping software is right for you?
Espatial is a popular choice amongst businesses, and while it does have some useful features, there are better options. One of the best Espatial alternatives is Maptive, a Google-based platform that's cheaper and offers some clear advantages.
We'll compare both of these mapping tools to help you decide which software is the right solution for your business.
Cost
While not the be-all and end-all, cost is an important consideration. You always want to make sure you're getting the best bang for your buck. Here's what you'll pay for Espatial and Maptive:
Espatial Cost:

$1,295 per year for their Pro Plan (one user). 

Maptive Cost:

$1,250 per year for their Pro Plan (one user).
Maptive also offers a $250 45 day plan so you can try the software without making a year-long commitment.

Google-Based
Google is an industry leader when it comes to GIS software. While their free tool has limited features, it's virtually impossible to beat the base software that it's built on.
Espatial uses its own mapping software, while Maptive is built using Google Maps API. Using this technology as the starting point and building a variety of innovative features on top of it, Maptive has created an extremely effective mapping solution. Using Google also ensures their maps are always up to date and gives them access to features like real-time traffic updates.
Territory Management
Creating and managing territories is one of the most useful applications for mapping software. Maptive's territory mapping tools allow you to assign customers and territories to sales reps more effectively and make it easier to monitor performance.
Unfortunately, Espatial mapping software only offers territory management with their Team Territory Manager Plan ($4,995 per year) and Enterprise Plan ($14,995 per year). Meanwhile, Maptive offers territory management with all their plans, including their free trial and $250 plan.
Demographic Insights
To excel in sales, you need to know who you're selling to. Demographic datasets allow you to better understand your sales leads and target potential customers more effectively with advertising. It also lets you identify areas where your ideal customers reside and gain an edge over your competitors.
Both Espatial and Maptive offer the following demographic insights:
Population

Race

Housing

Age

Education

Income

Gender
However, Maptive offers three additional data points:
Citizenship Status

Transportation

Labor 
The more demographic data your sales reps have available to them, the more successful they'll be.
API Access
API access allows CRMs, apps, and other software to access the data within your mapping solution. It's critical for ensuring all your tools can communicate with each other. This is a key feature if you require your mapping software to integrate with other programs.
Espatial only offers API access with their most expensive plan, which is $14,995 per year. On the other hand, Maptive offers API access across all their plans.
Try Maptive Today
Sign up for Maptive and enjoy a ten-day free trial. It's available on every device and operating system, including PC, Mac, iPad, iPhone, iOS, and Android. Try the wide array of features, insights, and customization options to discover why so many businesses are switching to Maptive for all their mapping needs.
Start Your Free, No Risk, 10 Day Trial
No credit card required. No surprises. Just Results.
START MAPPING NOW