Territory Mapping Integration for HubSpot
Integrate your HubSpot Data Quickly and Easily with Maptive. (Coming Fall 2023)
Start Mapping Now
Are you looking for a HubSpot mapping tool that will integrate seamlessly with your CRM? Do you need a more efficient way to perform sales territory creation & management?
Maptive offers sophisticated mapping software that integrates with HubSpot to allow you to perform automated territory optimization. Maptive's ATO leverages an algorithm developed, updated, and continually improved by We Map Sales. We Map Sales specializes exclusively in the development of territory optimization technology so you're guaranteed that our automated territory optimization feature will always be the best in the industry.
With Maptive and WeMapSales you can easily generate and manage sales territories using your CRM data to support better decision-making and create balanced territories.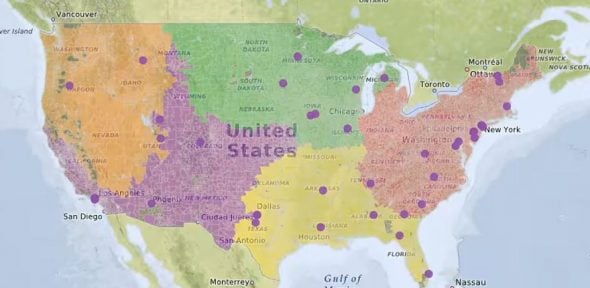 What is Automated Territory Optimization (ATO)?
ATO is the easiest and most effective way to perform sales territory management. It uses your HubSpot CRM data, as well as your custom-defined constraints and a combination of metrics of your choosing, to automatically generate balanced sales territory maps. 
Use metrics such as sales rep location, customer locations, leads, sales numbers, population, market potential, and drive time to evenly distribute customers amongst your sales reps and create new sales territories. 
What is Sales Territory Optimization, and Why is it Important?
Sales territory optimization is the process of aligning your territories in such a way to ensure you have the resources in place to serve all your customers and maximize your sales effectively. Consistent sales territory optimization is important for several reasons:
Your customer base is constantly evolving, and you need to adapt your strategies to serve them better.

It allows you to provide better customer service and follow up on leads quicker.

It ensures a fair distribution of customers in each territory, which gives sales reps equal opportunities to succeed and reduces employee turnover.

A recent study

showed that organizations that utilize territory optimization achieve their sales objectives 14% more often than other businesses.
What are the Benefits of Automated Territory Optimization?
ATO allows you to perform enterprise sales territory management quicker, easier, and with better results. Take your Salesforce CRM data and automatically create the ideal sales territory plan for your business.
Increase Your Sales:

Optimized sales territories have been shown to

increase sales by up to 7%

. This is because you always have enough sales reps to match the demand from your customers.
Convert More Leads:

Having more balanced territory assignments means you always have the resources necessary to follow up on new leads. Reduce the number of sales opportunities you lose and convert more prospects into customers. This is one of the primary reasons why organizations utilizing automated territory optimization see a

15% increase

in revenue.
Reduce Employee Turnover:

Your sales reps want the chance to reach their full potential. By balancing your sales territories based on the number of reps and customers, every member of your team has the chance to meet their sales goals and grow within your organization. This results in much less employee turnover.
Adapt to Change:

As a growing business, you're constantly adding new customers, markets, and products. ATO allows you to change your strategy as the needs of your business and customers evolve.
Save Time: Manual s

ales territory optimization is complicated and requires juggling many variables to get it right. ATO automates the process, saving you valuable time that you can spend on growing your business.
Improve Customer Satisfaction:

Ensure that all your customers have easy access to your sales team and reduce coverage overlap, so multiple salespeople do not contact them at once.
Why Integrate with Maptive?

Maptive offers several benefits to business that are looking to integrate their Salesforce CRM with territory planning software:
Seamless Integration:

Easily integrate your CRM with Maptive. Once connected, your territory maps will automatically update every time you add new data points.
Secure:

Maptive is licensed with Google's enterprise-level mapping services. All data is geocoded through Google and secured using 256-bit SSL encryption.
Easy to Use:

Our interface is user-friendly and easy to use whether you're a territory mapping pro or you're trying it for the first time.
Customer Service: Our team is standing by to support you and answer your questions. Call us, email us, or use our chat service to get the help you need.

Cloud-Based:

Access your territory maps anywhere from any device. Always get the information you need when you need it.
Other Maptive Features
Maptive is more than just sales territory mapping software. We offer a wide variety of mapping tools to help you get the most out of your sales data:
Map Customization:

Change the shape and color of your map pins and choose from 15 different base maps.
Sharing and Collaboration Features

: Export your map data to a spreadsheet, save it as an image, send a link to your teammates, or embed it on a webpage.
Demographics and POI Data:

Gain access to a wide range of demographic census data, including population, age, gender, income, education, and more.
Route Optimization:

Optimize routes between two or more locations to save time and reduce costs.
Territory Management:

Create territories based on established geographic areas (zip codes, counties, states, etc.), or draw custom boundaries to suit your unique needs.
Try Maptive Today
Ready to integrate your Salesforce CRM with Maptive and experience a better way to optimize your territories? Try it for free with our 7-day trial.
CRM Integrations Coming Fall 2023
Automated Territory Generation and SalesForce Integration are Coming Very Soon! Please leave your name and email address below to be notified when it is released.
Start Your Free, No Risk, 10 Day Trial
No credit card required. No surprises. Just Results.
START MAPPING NOW