Google Map Customizer
Learn why using Maptive is the easiest way to build and customize maps built on Google Maps.
Get Started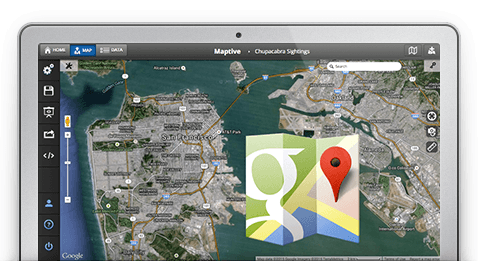 Google Maps is a powerful tool, but it comes with limitations. Sometimes you want to customize your map and make it your own. Luckily, Maptive makes this surprisingly easy.
Upload your location data and create your map in minutes. From there, use a variety of tools to build a custom Google Map exactly to your liking.
Side by Side Comparison
Swipe the table left or right to see more.
| Mapping Features | Google Maps | Maptive |
| --- | --- | --- |
| Place markers on your map | Yes. Click anywhere on your map to place a marker. | Yes. Click anywhere on your map to place a marker. |
| Add information to your markers | Yes. Add a name, description, and other attributes. | Yes. Add a name, address, phone number, email, and any other attribute you like. |
| Sharing options | Yes. Share via email or embed your map. | Yes. Output your data to a spreadsheet, save it as an image, send people a link, or embed it on a website. |
| Route Planning | Yes. Add up to 10 stops. Google doesn't rearrange the order of your stops to optimize your route. | Yes. Add an unlimited number of stops. Maptive will rearrange the order of your stops to optimize your route. |
| Customize Map Markers | No | Yes. Choose from a wide range of colors and shapes. |
| Change Base Map | No | Yes. Pick from 15 different base maps, including satellite maps. |
| Heat Maps | No | Yes. Easily add heat maps and customize the radius, color, and opacity. |
| Territory Mapping | No | Yes. Build territories based on established geographic boundaries, or draw custom territories. |
| Demographic Data | No | Yes. Add demographic census data, including population, race, housing, age, citizenship status, education, income, transportation, labor, and gender. |
Using Google Maps API
Google Maps API gives you the ability to create a truly custom map that works exactly how you want it to. This method gives you a lot of flexibility when creating custom Google Maps and is free up to a certain point.
The disadvantage is that it can be time-consuming and complicated to build all the features you want. Plus, to create more than just a basic map you'll need considerable knowledge of HTML and other programming languages. If you don't have the necessary skills you can hire someone to build it for you, but that's very costly.
If you're not familiar with coding, and you don't have the budget to hire a programmer, then Maptive is likely your best option.
Create Your Custom Google Map Today
Are you ready to start creating beautiful custom maps? Sign up for a free 10-day trial of Maptive and start mapping today.
Get Started Now