Easily Create A Map With Multiple Locations:
Mapping multiple locations on a customized Google map can be done in just a few clicks. Start by creating a map, and uploading a list of addresses. You can upload an excel spreadsheet that contains all your addresses, use Google sheets, or even enter them one at a time. Once your locations are uploaded we use Google maps to place them on a custom map. Each one of your multiple locations will have its own individual marker. You can click on each marker to view all the data that you included for that location. After your data is mapped, Maptive provides a wide range of features you can use to view your data in a variety of ways.
What can I do with Maptive's software:
Map up to 100,000 markers. Whether you have just a few location or thousands of locations all over the world, Maptive provide a solution to view all of your locations on one map.
Grouping Multiple Locations. When you have a multitude of locations on a single map it can be hard to find what you are looking for. Grouping can help you distinguish one location from another be setting a different color for each marker type. Learn More
Filtering Locations. With location filtering you can easily drill down on your data by adding a filter on any column in your spreadsheet. This can help you limit the number of markers on the screen and make it easier for you to find the location or address that you need. Learn More
Location Finder. The location finder lets you easily find the locations closest to an address or your current location.
Directions. Using the Directions tool you can find the optimal route between multiple location by just selecting the locations you need to drive to and clicking Optimize Route
Map Multiple Locations
So you want to know how to map multiple locations in the easiest and most visually appealing way possible? How convenient — because that's exactly what Maptive allows you to do.
The best part?
You will be surprised at just how quickly you will be able to create a map with multiple locations when you use Maptive. In less time than it takes you to read this page, you can have a perfectly constructed geographical masterpiece in front of you that displays every detail of your data.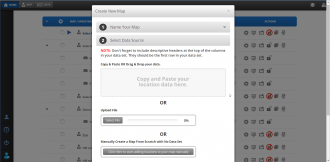 Notice how only Steps 1 and 2 require input from you? You can thank us later. But now, you have work to do. Sign up for your free trial right here.
There are no hidden costs, no scaly attempts to grab your credit card details, no complicated sign up processes.
We are powered by the online mapping giant that you have come to know and love, meaning that if you are looking for the easiest way to map multiple locations on Google Maps, this is exactly where you should be.
If you have a deadline looming, don't stress. We've got you. You can map multiple locations within minutes. You take care of collecting your data and we'll take care of mapping it in the most seamless way possible. That's our speciality, and it just so happens that we would like to share our expertise with you.
What's more, if you need to share your maps with anyone from your clients to your sales team to your short-tempered boss, we've got you covered. Our maps are gorgeous. You'll beam with pride as you show them to the world. They'll wonder how you managed to manifest such sophistication in no time at all. (You can tell them if you like. Or take all the credit for yourself.)
Google Maps-Multiple Locations:
We know what you're thinking — can't I already use Google Maps for this purpose? Why can't I simply map multiple locations there?
You're right.
You can create a map with multiple locations on Google Maps. That's just one of the reasons why we love them and use them as the backbone of our platform.
But the reality is, this is not one of Google Maps' main purposes. As a result, while it is possible to map multiple locations on Google Maps, it's not a quick and easy process. This is where we step in to help out.
Here's what we bring to the party:
We make it easy — Simply upload an existing spreadsheet and, within a matter of seconds, we will transform it into one of our beautiful maps. Alternatively, drop your data directly onto your map.We're not a fan of cumbersome ways of doing things, so we've sought out the shortcuts. We thought you might want to use them too.
Our limit is HIGH — We allow you to upload as many as 100,000 locations. With that kind of volume capability, no job is too great for Maptive. If, however, you would prefer to simply map out a few locations, that's fine with us too. You decide how big or how small you would like your data set to be.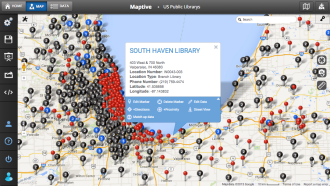 Our toolbox is fancy-
Maptive prides itself on its suite of world class tools and features. For starters, you can filter and group your data so that the power to manipulate your information is completely in your hands.
What's more, you can perform advanced functions such as create heat maps, optimize routes and draw polygons around specific areas.
Share, Print, Embed, Display your Multiple Location Map –
Once you have created your magnificent new map, you can then decide exactly what you want to do with it. Send it to the people who need it, pop it on your website, or print it out on the largest paper size available to show off your new skills to the world.
This is not simply about putting markers on a map. Our set of tools and features take you beyond the realm of what you thought was possible with online mapping. Perhaps most importantly, we do it efficiently. Powered by the robust capabilities of Google Maps, you can rest assured that we can handle the load you throw at us.
Map Multiple Locations and Get Useful Info Fast!
The benefits of being able to create a map with multiple locations go beyond simply being able to see your raw data geographically. By knowing how to map multiple locations, you can easily understand trends in your data that may not have otherwise been noticeable to you. Once you know how to map multiple locations using our platform, you will wonder how you ever managed to work efficiently without it.
Come with us as we take you through the many feats you are able to achieve by using Maptive's miracle mapping software:
Control Your Data Range:
Our grouping and filtering tools allow you to display your data on your customized map according to criteria that you define. You can show or hide different attributes in your data set to highlight relevant facts and figures.
Let's take you through how this might work in practice. Say you uploaded a location spreadsheet that contained information about all of your company's stores. In one of the columns of data, you have included information about the store type. Let's pretend that you have three store types:
Express Store
Regular Store
Super Store
By manipulating the data range, you can decide to display only the Express Stores on a map. You can go further and only display the Express Stores with low sales. You can go even further and decide to show Express Stores with low sales in Denver.
You then have the option of exporting different versions of your map, clearing the data, and starting again.
It's not hard to see how this can be employed in any business setting — but its uses go further than this. Our platform is a dream for researchers of all persuasions, as well as anyone looking to gain insight into location-based data.
Customize Your Map:
If you are an information geek or are known for your creative flair, you'll be pleased to know that our maps are fully customizable. You can manipulate the look and feel of your map in almost any way you see fit. So once you have managed to pin locations on a map, the next phase is to make it unmistakably yours.
You can change the colors of your markers, switch to another marker type, or change their look completely by uploading your own designs. You can customize the pop ups that accompany each map marker by choosing the information you would like attached to each point.
But the desire to customize your map is not simply to make it look really, really good looking. Once you map multiple locations, you want to ensure that your map is as readable as possible — and this is where our powers of customization come in very handy.
Here's a scenario for you:
You know that all your Alaskan stores need to be stocked with specific products that differ from the stock for your other locations. Here's a plan — upload a 70 X 70 image of a snowflake and apply this brand spanking new marker to all your stores in Alaska. Just like that, with even a cursory glance in the direction of your map, your Alaska stores will jump out at you. You won't be sending the wrong stock in their direction with that kind of reminder.
Group Locations:
The option to group locations is particularly useful for those looking to map multiple locations on a map where the number of your locations is particularly high. To avoid clouding the clarity of your display, our Grouping Tool allows you to organize your data by any column within your spreadsheet.
Perhaps you would like to group your markers by zip code, by sales person or by city or state. You have the option of selecting whichever data type serves the objectives of your map-making activities.
You then have the option to:
Group by color and size
Ground using number ranges
Show all groups or select which groups are important to that specific view of your map
Cluster Map Markers:
After you pin locations on a map, looking at the sheer number of markers that results can feel like staring at your kitchen after you've had the whole family round for Thanksgiving — you just don't know where to start.
That's why we've given you the option to cluster your markers. By heading over to the Settings of your map, you can cluster your markers with the switch of a button. Within seconds, your data will be organized, allowing you to identify points of high and low saturation and see where there is room for growth.
If only cleaning up after Thanksgiving was that easy.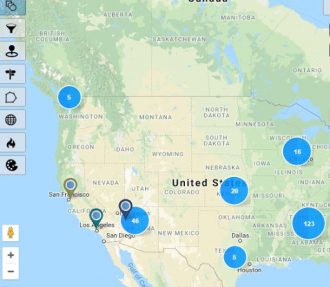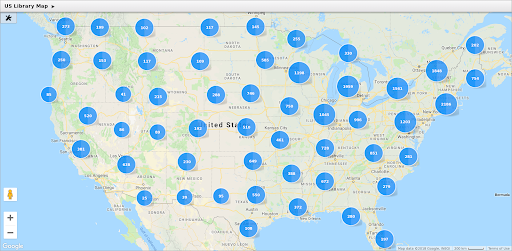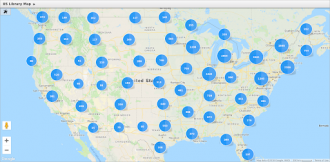 Cluster Mapping Data into Pie Charts:
Now we're getting really fancy. If you have numerous markers of different colors in various areas, cluster them into pie charts with the click of a mouse. The best part is that you don't lose any of the detail. Hover over any of the pie charts to reveal the exact data pertaining to that graph. This function is bound to prevent any overwhelm that may arrive when you decide to map multiple locations.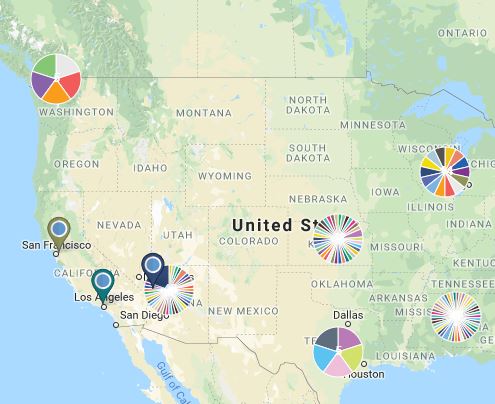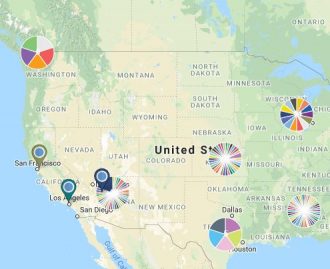 Use The Location Finder:
If you've used any mapping software in the past, you're probably already familiar with how handy a location finder can be. Now you can apply this useful technology to your sophisticated map.
Our location finder will help you find stores, popular amenities and important locations close to any marker of your choice.
You will wish you had this feature attached to your children — or your cat that keeps going missing.
Get Directions:
Easily navigate from one place to another. And then another. And then another. Once you map multiple locations on a Maptive map, a mere mouse click will get you directions between any of your uploaded destinations.
But it doesn't end there…
Optimize Your Route!
No, it's not too good to be true. This is how to map multiple locations and get the best out of it. It's as easy as deciding on which locations you need to include and then pressing, "Optimize Route."
That's right — we've taken all the stress out of navigating between multiple destinations.
Create a Map With Multiple Locations:
We're sure you're more than ready to sign up for our free trial, so here's where you need to head.
Bet you never realized how very easy it can be to create a map with multiple locations on Google Maps. Good luck with your first map. We can't wait to see what you do with it.
Start mapping now!
Just follow these simple steps:
---
Copy & Paste OR Drag & Drop
your data set here.
OR you can Upload My File
Important: Remember to include column headers in your data set. (like the example)

Double Click then Copy & Paste
OR
Drag and drop
your data here
Date Security: Your data is transferred using encrypted https