Streamline Your Service & Maintenance Business with Route Planning
Learn how Maptive's Multi-stop Route Planning Software can help your business
Try Maptive for Free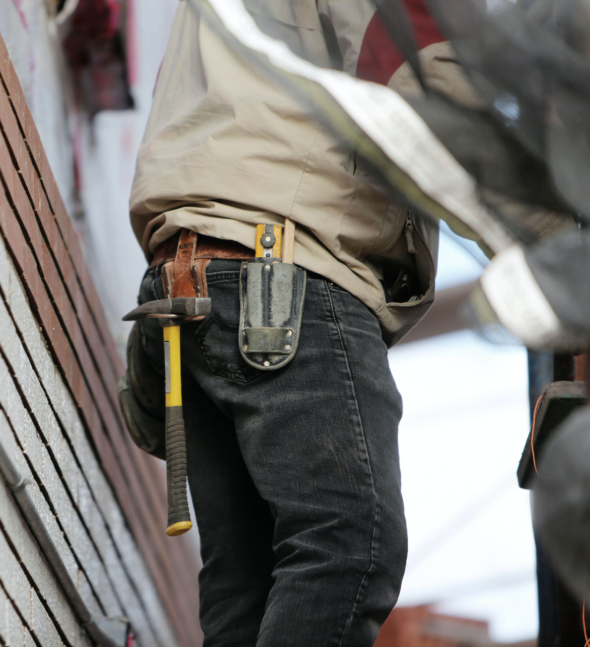 Field service providers like repair and maintenance businesses are the true heroes who keep our homes, stores, and supply chain up-to-date with new equipment installations and fixes to residential appliances and industrial machinery.
One of the most tenacious trends that have arisen in the wake of the COVID-19 pandemic is the demand for more customer-centric solutions, driving more businesses to offer more field services than ever before–causing a spike in demand for technicians and specialists who can travel from one customer to the next.
However, without a service route planner app, they are stuck using a free route planner like Google Maps, running the risk of being late to their multiple stops and wasting precious time in transit that could have otherwise been used to delight clients and bring in revenue.
Once you start automating your service and delivery routes with route planning software like Maptive, the benefits and savings start stacking up very quickly, whether you are a local field service provider with a handful of technicians or a national maintenance chain with hundreds of employees.
In this article, we'll go over some of the advantages field service businesses can derive from adopting route optimization software and why your business should incorporate route planning into its operations.
Field Service Management by the Numbers
Every repair & maintenance business owner could tell you that this industry is growing exponentially. Here are some key figures to keep in mind:
The global field service management market size was $2.87 billion in 2020.
The market is projected to grow from $3.24 billion in 2021 to 8.06 billion in 2028 at a CAGR of 13.9% in the 2021-2028 period. Source: Fortune Business Insights
About 18 million repair & maintenance businesses in the U.S. employ 30 million people. Source: IbisWorld.com
From smaller home repairs to large-scale industrial maintenance, the key to running a successful field service management business is the ability to coordinate technicians' availability. And to do that, you need a route planner that goes beyond Apple Maps or Google Maps' capabilities.
New software and applications that can be accessed on mobile devices have the potential to streamline daily operations, and free route planners have the potential to be the biggest driver of efficiency across the industry.
Major sectors that could benefit from optimized routes across the Field Service Management industry include:
Utilities & gas companies' technicians
Plumbers
Electricians
Home and commercial facilities inspectors
Appliance repair and installation
Construction companies
Safety & security specialists
Delivery business and delivery drivers
Maptive's Route Planner Tool – Create Multiple Routes with Unlimited Stops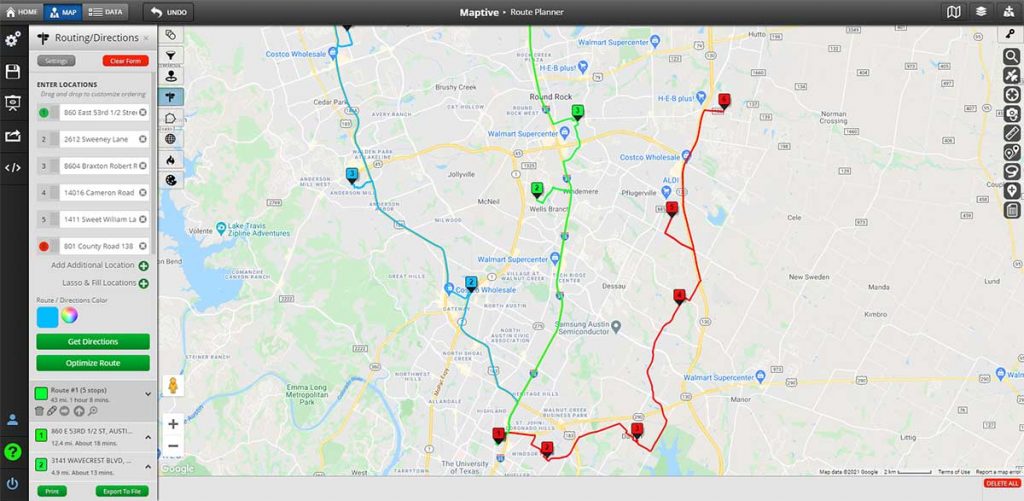 Pros of Adopting a Route Planner
While repair & maintenance businesses keep seeing a skyrocketing demand for their services, route planning software like Maptive, designed to plan and optimize the multiple stops of your technicians, can help your entire organization save money and time while consistently delighting your customers.
Minimize Expenses. There's no denying that rising gas prices have become a problem for field service businesses, and transitioning your fleet to electric vehicles is probably not a solution most businesses can afford. However, by switching from manual to automated route planning, your routes can be up to 35% shorter, and a speedy route translates to a whole lot of fuel and time savings.
Maximize Customer Satisfaction. One of the most frequent complaints among customers is technicians or delivery drivers not showing up on time and inconveniencing their day. But with route planning software, your field crew will have a clear plan at the beginning of each day: they will be able to arrive at their destinations on time–thanks to the efficient route you planned for them–with all the tools they need to do their job and keep your customers satisfied and raving about you online.
Reduce Time Spent on Scheduling. With powerful route planning software like Maptive, you can save all the time you are currently spending manually drawing up routes with multiple stops and researching each location on Apple Maps or Google Maps. Instead, Maptive can generate the optimal route to reduce travel time and free up your technicians to service more clients every single day.
Fewer Customer Issues to Manage. Dealing with issues and complaints can become a full-time job if your technicians are not able to do their job reliably and on time. But if you empower them with the right route planning software that helps them stay organized throughout the day, you are sure to have fewer issues–freeing up your precious time to do what you do best: create winning strategies to expand your service territory and planning the future of a growing business.
More Efficient Inventory Management. Route planning software allows you to plan ahead for the day, the week, the month, and even the quarter. Once you fully adopt route optimization as part of your overall operations, route planning can help you anticipate inventory needs–which can become crucial as global supply chains keep being interrupted or disrupted by shutdowns and conflicts around the world.
Lower Turnover Rates and Retain Employees. Unfortunately, many technicians and field specialists often switch from one maintenance and repair business to the next because of management issues. However, with route optimization, you will able to provide your crews with clear plans for each day, turn-by-turn directions to new client locations, the equipment they need for each service call, and a transparent schedule–ensuring your employees experience lower stress levels and higher productivity.
Why Maptive
If you are still planning your crews' routes manually, you already have some sort of database holding addresses and client information. By adopting Maptive as your route-planning tool, you will finally be able to use your database to plan routes and streamline your everyday business operations.
Maptive can help you plot multiple locations on a map in just a few clicks. You simply need to upload your Excel spreadsheet, CSV file, or Google Sheet into Maptive, and let it do all the delivery routes for you. You'll be able to visualize up to a hundred thousand addresses on a map—faster, more powerful, and more customizable than Google Maps.
Thanks to Maptive's cloud-based route planning app, your field service crews are able to see their multi-stop routes anywhere, including their mobile device or tablet. However, we also realize that some service areas may be extremely remote, with spotty reception. That's why we have built-in a myriad of functionalities that allow you to export your route planning app to a CSV file or print as a map of any size so that your technicians and drivers always have access even when off-line.
Best of all, Maptive's route optimization software is fully integrated with Google Maps, which means that you are guaranteed to give your field crews the quickest and most efficient route for their stops throughout the day, thanks to its global coverage, 99.99% uptime, and the most accurate and up-to-date data available.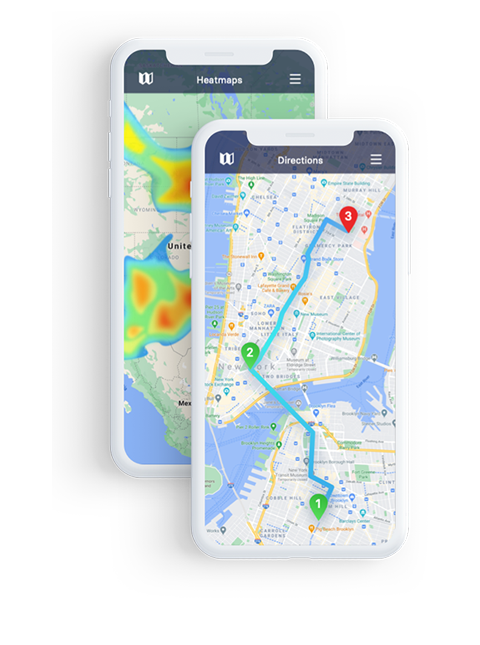 Try Maptive for Free
What are you waiting for? Discover the many advantages of route planning and how it can contribute to your repair and maintenance business becoming healthier, more efficient, and ready to capture the growing market demand.
Start Your Free, No Risk, 10 Day Trial
No credit card required. No surprises. Just Results.
START MAPPING NOW