Maptive's approach to sales maps is about design simplicity in an on-demand, browser based service.  Our Google powered mapping solution is as powerful as it is fast.  Your business and your decision making will greatly benefit from the visual approach.  Sales maps can be used in many ways:
Build sales territories
Create sales routes
Analyze sales and customers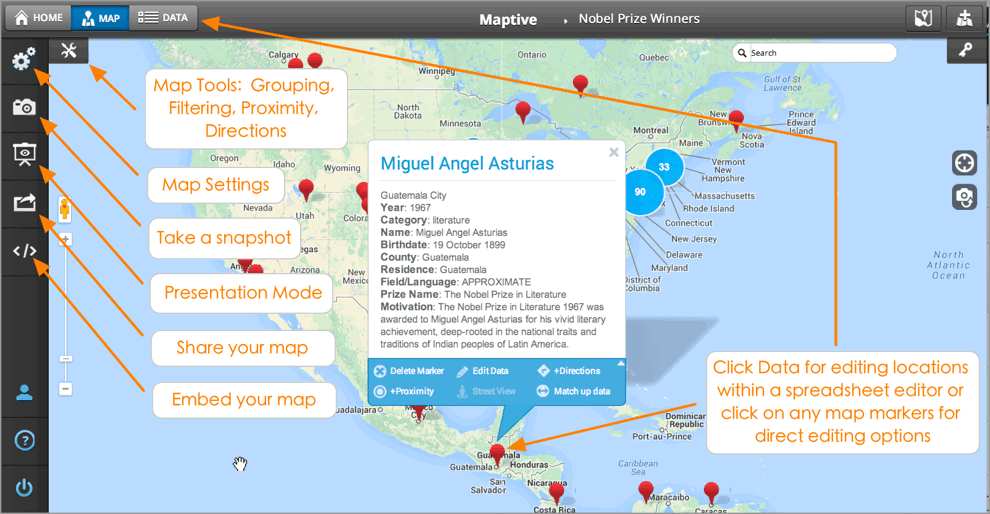 Create Sales Territories
Map customer locations to create sales territories that make sense. Add all of your spreadsheet data to your map, not just addresses. That means you can make territories based on travel time, customer size, number of clients, yearly income, and more.
Make Routes for Sales Calls
Make maps of sales areas to create routes for sales calls. Our custom Google maps will give directions for driving between multiple locations. They also help you find the best route between locations.*
Build a Picture of Your Customers with Data
Maptive can show you who your best customers are, how to keep them, and how to get more. When you know that, you can make better choices about sales and marketing.
Make sales maps to show your business distribution. See areas of saturation and areas for growth.
Make maps that show what you're selling and where you're selling it. Know where to spend your advertising money.
Map complicated data and organize it with Maptive's useful tools. Group and filter* for deeper analysis and better insights.
Group crowded marker areas to easily see where your penetration is heavy or light.
Group markers as pie charts that help show who your customers are.
Ready to Make Sales Maps?
Create free sales maps with Maptive Free, with absolutely no obligation.
Need more enterprise-level features?  Compare Free to Maptive Plus. You can also call Casey in California at (808) 840-3896. Or fill out our simple form.
Have More Questions?
See our detailed FAQ or contact us. For another great mapping tool, visit our friends over at Batchgeo.
*A feature of Maptive 4, the newest version of our mapping software. Maptive 4 will be released May of 2013.