Neighborhood Canvassing Maps for Political Campaigns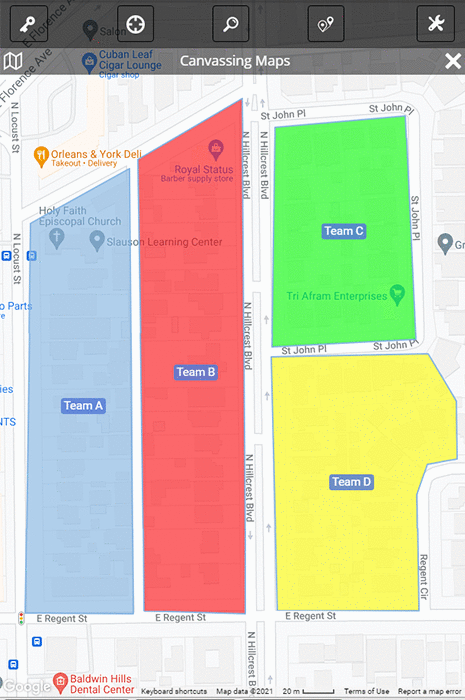 If your political campaign is looking for the most efficient route towards increased awareness, improved voter turnout, and election day results, canvassing is your way to go.
Done right, political canvassing motivates voters to act at scale, advancing your campaign like few, if any, other methods can.
However, canvassing is a complex process with many moving parts: it requires clear goals, organization, and coordination. And without the right tools, canvassing can buckle under its own scope, leaving your team without a clear sense of purpose, direction, or guidance.
Add your main asset—massive and cumbersome spreadsheets of Census, demographic, and voter data—and it becomes abundantly clear: the line between winning and losing hinges on your political canvassing campaign's ability to make sense of your data, plan, and act—fast.
Enter political canvassing maps.
What are Political Canvassing Maps?
Political canvassing maps visualize your target voter's data, district's demographics, and campaign's goals over detailed maps, allowing you to create targeted in-the-field strategies, discover opportunities, and efficiently coordinate your team of canvassers.
The best, and simplest, way to improve your campaign results is to activate likely and receptive voters. Instead of blindly knocking on doors and attempting to persuade indifferent or hostile voters, political canvassing maps help you pinpoint high concentrations of likely voters.
Data will help get the names and addresses of the voters you want while uncovering potent voter clusters. And while you should always check each district's local privacy laws before accessing these resources, political campaigns frequently use these publicly available datasets to legally and ethically discover voters:
Public voter records, including party registration and previous votes
Donor lists, either directly tied to your campaign, or to complementary campaigns
Direct mailing lists
US. Census and other demographic data
What are the Benefits of Political Canvassing Maps for Campaigns?
Political strategists trust door-to-door campaigns because they understand the unrivaled value of direct human interaction for galvanizing political action. Neighborhood canvassing maps help strategists efficiently and effectively target the right voters, stoking political change at the grassroots.
But that's not all. Neighborhood canvassing maps for political campaigns provide several other major benefits. They enable you to:
Political Canvassing Benefits
Efficiently Improve Voter Turnout With Mobilization
Just because someone likes a candidate, referendum, or message doesn't mean they're a guaranteed vote. Mobilization makes sure receptive people are registered to vote and motivated to act.
Build Awareness to Gain New Voters
Sometimes, we incorrectly assume that people know and care about our cause as much as we do. Canvassing spreads your message to otherwise-unaware voters while building buzz for your campaign.
Provide Access to Information to Overcome Political Obstacles
With misinformation abound, it's critical to provide your voters access to accurate and enlightening information. Give your voters a clear vision of your campaign's talking points, key dates, and other things they need to know.
Ensure Votes by Building Connection
As social creatures, humans feel a kinship and sense of duty to people they know, like, and trust. Build a positive human relationship with your voters through canvassing and likely earn their votes in return.
Adapt Your Canvassing Maps With Up-to-Date Neighborhood Data
People move or switch parties all the time, and district demographics can change in an instant. In-the-field feedback gives your campaign, and complementary campaigns, real-time data and insights to make better, more strategic decisions.
Recruit Volunteers to Increase Your Campaign's Reach
Nothing moves the needle like a passionate base. Connect canvassers with like-minded and equally enthusiastic voters to gain more volunteers, activate their network, and grow your campaign.
What to Include In Your Political Canvassing Maps
The best canvassing maps for political campaigns are equally intuitive and informative. Because you're trying to influence major political change from a grassroots level, your maps should reflect your big picture strategy without sacrificing the precise details that make it possible.
The best political canvassing maps should feature:
Political canvassing is fundamentally local. Your maps should give your door-to-door volunteers access to exact addresses, voter data, routes and more. The most successful political canvassing campaigns trust mobile-friendly GIS mapping software to gain a range of practical geolocation, visualization, and usability benefits.
Clear and Adaptable Boundaries
Create clearly defined and easy-to-understand boundaries for your volunteers to ensure streamlined canvassing. However, you'll only gain maximum efficiency and efficacy by being adaptable. Your political map creator must be able to create custom boundaries to account for necessary pivots.
Outreach works best when you target the right people. All political canvassing maps should include an actionable voter database. Census data will give you insights on demographics, while public records share voter's registration status and voting history. That's why many campaigns implement mapping software with powerful data visualization tools.
How Maps Help Field Organizers and Campaign Managers
Gain Insights and Discover Opportunities from Voter Data
Hidden in your spreadsheets are a treasure trove of game-changing data. Gain an edge, become better informed, and make better decisions by transforming your massive spreadsheets into intuitive and easy-to-read data visualizations.
Streamline Volunteer Training Sessions
When it comes to training volunteers, every minute counts. With so little time and so much at stake, you need a political map creator that makes it easy to visualize goals, create and share maps, and identify targets—so you can focus more on achieving and less on administering.
Create Powerful and Efficient Walk Sheets
Small improvements to your walk sheets can lead to massive results. Break down districts by the street, efficiently optimize routes, and provide rich target voter data. Integrate your walk sheets into political canvassing maps to gain powerful resources like real-time updates, Google Street View, and more.
Introducing Maptive: The Best Political Map Creator
With its beautiful and intuitive design, powerful features, and complete customization—not to mention the comprehensive data and analysis available to you at the click of a button—it's no wonder Maptive is the best software for political canvassing maps. With Maptive, you can transform raw location data into a beautiful, customized Google map in only a matter of seconds.
Maptive proves that GIS mapping software doesn't have to be complicated. Combining ease-of-use with deep functionality, Maptive provides you everything your campaign needs to win, built on top of the Google API—making it easy to adopt, deploy, and master in one seamless and attractive experience.
And as a cloud and web-based solution, Maptive gives you immediate access to the latest features and security updates—and the ability to share, print, and export maps from anywhere with an internet connection.
Increase Voter Turnout with Maptive's Powerful Features
Gain the most momentum with Maptive's robust mapping tools. Combining sturdy data with attractive maps and complete customization, Maptive's feature set gives your campaign an intuitive edge. And with easy importing and exporting, sharing data with your volunteers is a breeze.
Define Better Boundaries for Bigger Results
Create visual boundaries based on predefined regions like counties, states, zip codes, districts, territories, and more. Then, learn your big-picture opportunity with the "Boundary Fill Type" option: Maptive can aggregate your complex spreadsheet data into actionable and easy-to-read overviews for every U.S. State.
 Find your highest-upside districts by pairing Maptive's Heat Mapping and Demographic/Census Mapping tools. Maptive puts the power in your hands to make campaign-winning walk sheets: shape your insights into action with Maptive's Polygon, Lasso, and Draw custom boundary tools.
Target your ideal districts by creating a population density map. Find where the most voters live with Maptive's integrated United States Census Bureau data. And with the Boundary / Graphic Territory Tool, you can create boundaries based on population size in your chosen parameters, including:
US States
US Counties
US Zip Codes
US Congressional Districts
US Census Tracts
US Census Block Groups
Customize your visualizations with Maptive's Boundary Fill features. The most functional maps balance comprehensive content with easy scannability. With access to a full suite of customization options like boundary width, boundary color, fill color, and fill opacity, Maptive makes that possible.
Knock on More Doors with Route Optimization
Make the most of your door-to-door canvassing. With turn-by-turn navigation and the ability to add up to 70 stops and over 20+ locations, Maptive's Multi-Stop Route Planner and Optimization Tool makes maximizing your outreach as simple as a drag-and-drop.
Filter Your Voter Database to Find Your Political Edge
The key to winning your campaign lives in your spreadsheet data. Maptive makes discovering your path to victory seamless and simple. Bring your most relevant data to the surface, gain actionable insights, and make better-informed decisions faster with Maptive's Filter tool.
Improve Your Door-to-Door Canvassing Training
What wins campaigns? Enthusiastic voters, a powerful message, and the sense that political change is just within reach. No wonder campaigns are often won in the canvassing training sessions.
Maptive helps you deliver more powerful, persuasive, and influential training with rich presentation features that help you invigorate your volunteers without sacrificing your limited time. Maptive's data visualization tools make abstract voter data feel real, while the Set Map Positions and Zoom Levels tool makes that very data hit home.
 Share your vision with your volunteers with Maptive's Custom Presentation Maps and Poster Size Printing features, which puts your power in the hands of the people with fully-customized maps optimized for everything from a PowerPoint presentation to a 2048 x 2048px full color poster.
Tell Your Campaign's Story with Maptive's Full Customization
Every element of your canvassing efforts must reflect your campaign's core purpose. Unlike other political map creators, Maptive puts your campaign first with full customization that's as impactful as it is easy to use.
Geo-mapping doesn't have to be generic. Make your message stand out with a range of base map options—including satellite views, topographical maps, black and white maps, and more—branded map markers (plus more than 20 dynamic options built-in), and flexible zoom levels and map positioning.
Mobile-Friendly and Cloud Based for Access from Anywhere
Canvass the whole country with Maptive's 100% online, no-app-required accessibility. Coordinate with your volunteers in the field while providing them remote access to your perfectly-optimized maps. And with GPS tracking, optimized routes, and turn-by-turn directions available at the click of a link, you can ensure hit the streets smarter all the way to election day.
Sway More Voter's Opinions with Maptive's Easy Sharing Features
Simply and securely share, print, embed, and display your political canvassing maps. Maptive allows you to give one-click access to everyone you want and, with its password protection feature, nobody you don't. Choose how to display and share your location map: share it privately with volunteers, publish it publicly to the web, embed your interactive map on a website, or export the map image to print or insert into documents.
Engage Voters in Confidence with Enterprise Level Security and Support
From private voter data to sensitive campaign strategy, voter data security is of utmost importance. Maptive takes security seriously. Licensed with Google's enterprise-level mapping services, Maptive protects all geocoded data with Google's 256-bit SSL encryption. And with fully redundant backups, disaster recovery, two-factor authentication, full permission level control, password requirements, Cloudflare endpoint protection, and world-class customer support, Maptive is always here to keep your campaign moving forward safe and sound.
Start Mapping Your Political Canvassing Campaign Today
There's no more efficient way to engage voters and win votes than canvassing—and no better resource to help you canvass than Maptive.
Maptive packs an unparalleled feature set for political campaigns. Tap into demographic and up-to-date US Census data, pinpoint high-value districts, and gain a bird's-eye view on your political movement. Maptive puts victory within reach.
And with a range of resources designed to make waves in the field—think adaptable boundary tools, full-customization, and route optimization—you can turn your door-to-door canvassing efforts into political change.
Champion your cause, galvanize your volunteers, and grow your campaign with easy-to-share, beautiful maps—available encrypted, fully secure, and mobile to everyone in your campaign via the cloud without the need for a clunky or proprietary map.
Ready to take a simple step to your campaign that may yield massive results? Don't wait. Sign up now for your free, no-risk 10 day trial of Maptive today!
Start Your Free, No Risk, 10 Day Trial
No credit card required. No surprises. Just Results.
START MAPPING NOW