Maptive: The Best Mapping Software for Macs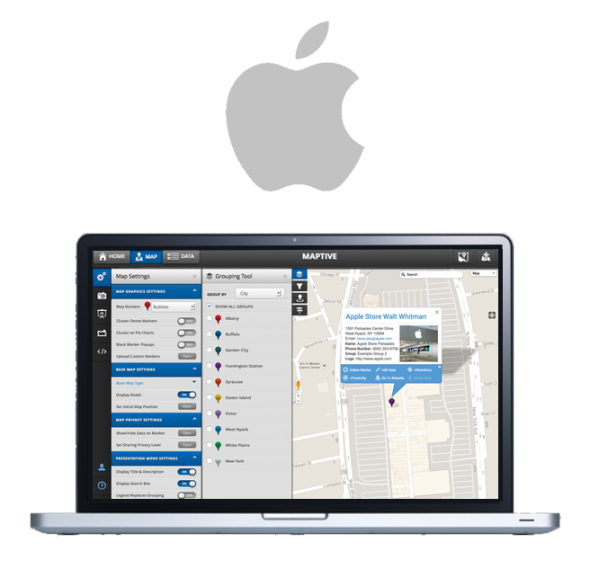 Many companies depend on data visualization tools to run their business. Having access to a powerful GIS mapping solution has become critical to the decision making process. Unfortunately, if you use a Mac not every mapping solution is compatible with your computer.
Maptive was built from the ground up with Apple devices in mind, including those running on Mac OS X and iOS. Maptive is also compatible with Windows, Linux and Android operating systems. Our technology is cloud-based and completely online, allowing you to access it across all of your devices, including your phone, tablet or laptop.
Maptive features a wide array of mapping tools and features, including a heat map generator, route planner and optimizer, territory mapping tools, and more. Keep reading to find out about some of our features and how to get started using Maptive.
Some of Maptive's Features
Pin Maps
Easily plot the locations of customers, salespeople, store locations, competitors, suppliers, and more. Adjust the look and color of your pins to differentiate one type of location from another.
Map Filtering Tool
Remove the noise and focus on the data that matters most. Use the filter tool to decide what information to display and what to hide.
Heat Map Generator
Quickly identify the areas where your data is most dense and where it's sparse. Heat maps are ideal for plotting customers, sales, population numbers, and more.
Route Planning & Optimization
Decrease the amount of time you spend on the road and improve efficiency. Maptive's route optimizer calculates the quickest route between two or more locations so you can get where you're going quicker.
Distance Radius
Draw a radius around any location on your map. Just choose a point on the map and select your distance to create it. This is ideal for assigning customers to sales reps or finding competitors near potential store locations.
Boundary and Drawing Tools
Maptive is a powerful sales territory mapping software system. Create territories based on established boundaries, such as zip codes, counties, and states. Or draw custom territories based on the needs of your business.
Real-Time Collaboration
Because Maptive is cloud-based, maps can be updated in real-time by multiple people.
Drive Time Polygons
Determine how far you can travel in a certain period of time using the drive time polygon generation tool. This tool is great for determining service areas, commute times and to aid in the site selection process.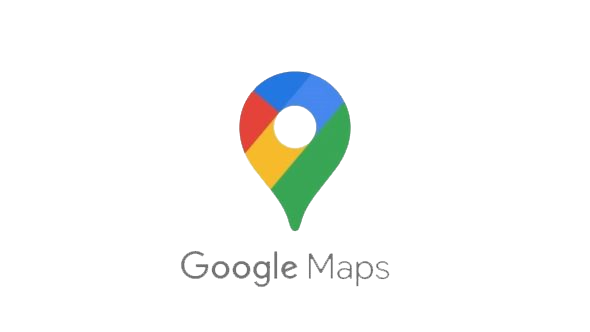 Powered by Google Maps
Maptive is built on top of Google Maps' platform. This gives you the benefit of Google's best features, including their global coverage and mapping accuracy, while also providing you with a number of tools that aren't available through their free tool.
Get Started With Maptive
When it comes to mapping software for Macs, no solution is easier to use than Maptive. Follow the steps below to create your map in minutes and easily edit it to suit your needs.
Creating Your First Map
Sign up for a Maptive account. There's a free 10-day trial so you can try it risk-free.

Enter your data into Maptive. You can either upload it directly from a spreadsheet, copy and paste it, or enter it in manually.

Click "Create Map" to instantly plot your location data and view your map.
Editing Your Map
Click the gear icon in the top left corner of your map to open your map settings.

Select "Map Markers / Graphics" to customize the look of your map pins, labels, and popups.

Select "Base Map" to adjust the layout of your map, including highways, transit visibility, landscapes, and more.

Click the tools icon in the top left corner of your map to open your tools.

Choose from a wide variety of tools, including Filter, Distance Radius, Routing, Territory Drawing, Heat Maps, and more.

Click the "Satellite View" button on the right-hand side of your map to toggle between the standard map view and satellite view.
Sharing Your Map
Maptive gives you a number of ways to share your map with friends and team members
Click the "Export Image" button on the right-hand side of the screen to download an image of your map. Easily share your images through Dropbox, Google Drive, or Social Media. Images are available in either PNG or PDF format.

Click the "Export Data From Your Map" button on the right-hand side of the screen to export your data to a spreadsheet.

Click the "Share Map" button on the left-hand side of the screen to create and send a link to your map. Choose whether you want your map to be public or private and then select the view you want to send. You can either email your link or simply copy it and share it with others.

Click the "Embed Map on Website" button to copy your map's code and embed it on a website or blog.
Map on Your Mac Today
Start Your Free, No Risk, 10 Day Trial
No credit card required. No surprises. Just Results.
START MAPPING NOW