Map Multiple Locations on Google Maps
Quickly and easily map your location data on Google Maps using Maptive
Get Started
Mapping multiple locations has been a long-standing challenge for users of Google Maps. If you are a business that relies on location data to make decisions, you know this all too well.
Google Maps has limited capabilities for mapping multiple addresses on a map at once. The native Google Maps app can only handle 10 locations at a time. While this limit may be reasonable for personal use, it can never be enough for business purposes. What if you need to manage hundreds of customers? Or all of the steps in your supply chain? 10 locations will not do for most serious mapping projects.
Maptive was created to bridge this gap. Maptive is an easy-to-use cloud-based mapping solution built on the Google Maps platform that offers all the tools you need to plot multiple coordinates on a map. The platform combines Google Maps advanced mapping capabilities with unlimited flexibility to help you generate an accurate map with multiple location markers, regardless of your needs.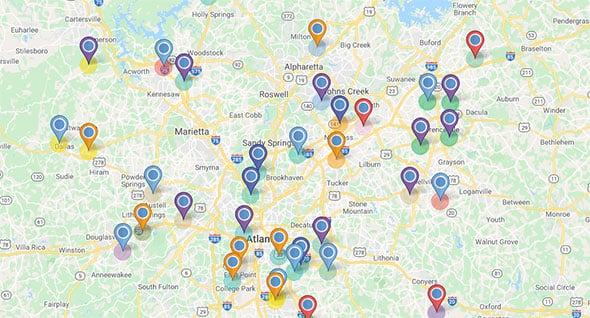 How To Map Multiple Locations at Once
With Maptive, you can map multiple locations in only a few clicks. 
Plot a spreadsheet of addresses on a map by following these steps:
Save your list of addresses in a spreadsheet file (XLS, Google Sheets, CSV)
Copy-paste or upload the spreadsheet file to Maptive
Generate and customize your map
Let's explore these steps further below.
1. Recording multiple addresses on a spreadsheet 
The first thing you need to pin multiple locations on a map is a list of your addresses. A spreadsheet table is the easiest way to list addresses for Maptive. Create at least two columns, one for addresses and the other for their descriptions. You can add more columns to categorize locations for easy grouping and filtering after mapping them.
2. Copy-pasting or uploading your addresses into Maptive 
With your list of coordinates complete, fire up your Maptive account and click Create My First Map. Fill in a name and an optional description of your new map and click Continue.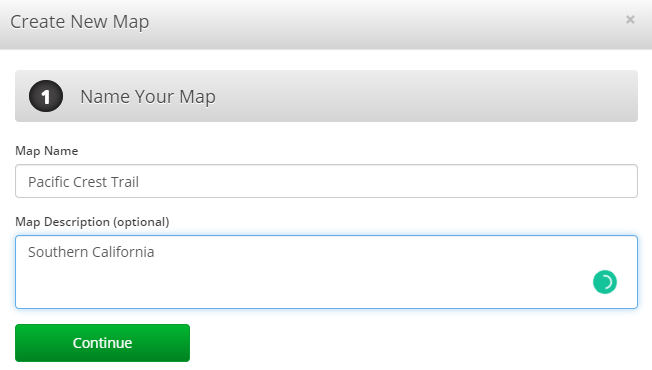 In the second section, you will see options for uploading your address data on Maptive. You can copy and paste it directly on the top section or upload it from your device. If you are using Google Sheets, simply click the Select Google Sheet button and choose your sheet directly from Google Drive.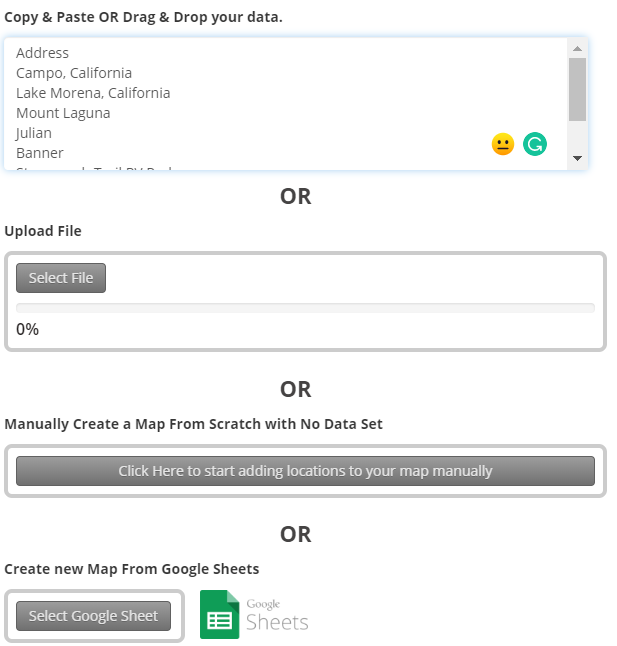 3. Generating and customizing your map
After copying or uploading your address data, click Map Now. Your map will be generated with your locations marked, just like below.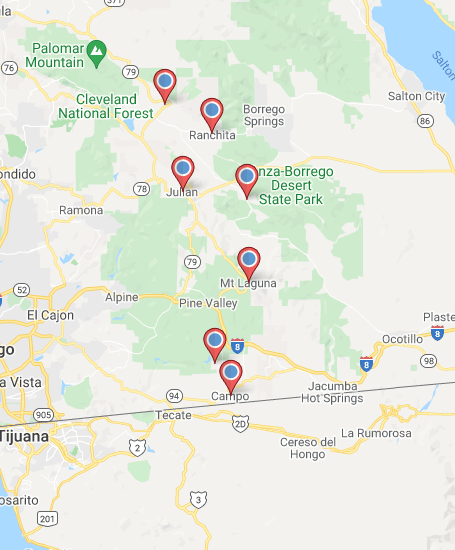 Maptive allows you to check if your data has been correctly matched to address fields and correct any mismatching. 

 For new users, Maptive has a comprehensive, easy-to-follow tutorial that covers the platform's most commonly used features and functions for creating a map with multiple locations.
Maptive's Top Features for Mapping Multiple Locations on Maps
Maptive features the most comprehensive set of tools for plotting locations on Google Maps.
Custom Map Appearances
Maptive offers expansive customization options for map graphics and markers. You can stack and unstack, cluster, and change markers' form, color, and behavior for easier analysis. You can also change base map colors and highlight elements like highways, waterways, landscapes, and regions. Additionally, Maptive allows you to upload your own marker style to create branded or personalized maps.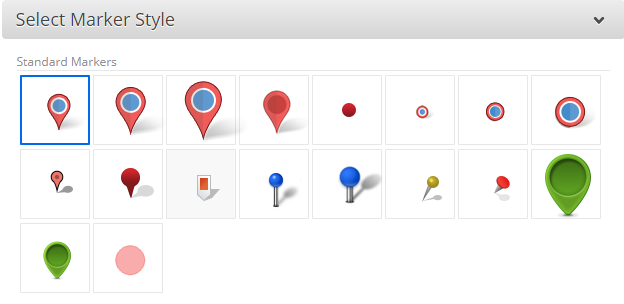 Intuitive Map Grouping
With Maptive, you can create marker groups based on columns in your spreadsheet data. For example, with a Type column, you can make groups like cities, beaches, and mountains to make it easier to filter through markers.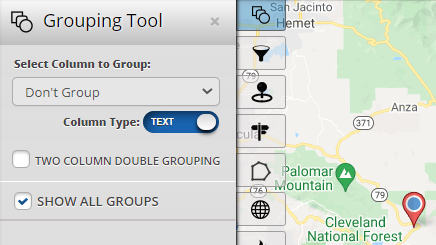 Map Layering
If you have two maps with different sets of addresses, you can quickly combine them into one map with Maptive's map layering function.
Customized Routing
Once you are done creating multiple locations on a map, you can add them to a new or existing route. Routes are customizable with any color you choose. Maptive even optimizes the route for you at the click of a button, giving you the most convenient connections according to real-time Google Maps data. This feature makes Maptive perfect for activities that rely on optimum route planning, such as product delivery to multiple clients.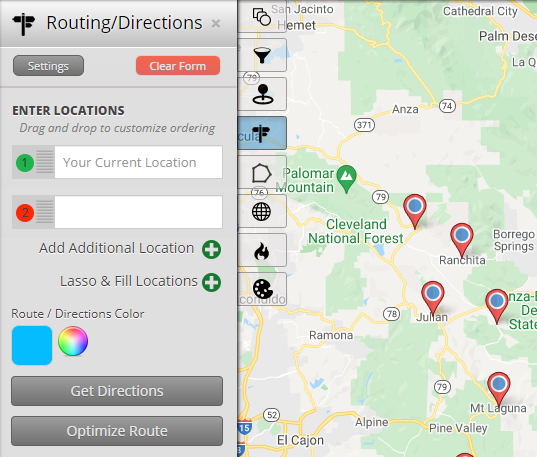 Location Finder
Maptive's Location Finder can help you and other map users find the closest marker to a real-time location or any other points of interest they enter. So, if you run a chain of retail stores, you can use this feature as an embeddable store locator for your website to enable your customers to find the store nearest to their location.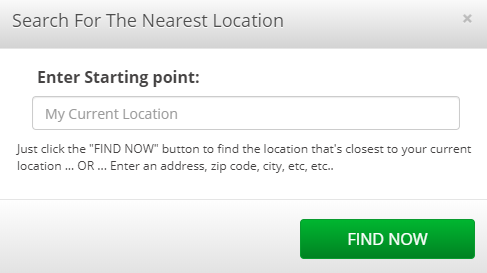 Flexible Map Sharing
After creating your customized map, you can share it with other Maptive users via email or through a direct shareable link. Furthermore, if you are plotting sensitive locations, you can password-protect your map for enhanced privacy.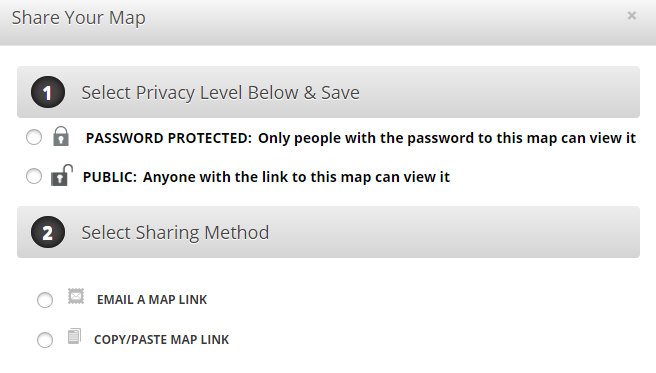 Easy Export
Maptive allows you to export your custom map as an image or PDF file for presentation. You can export an image of what you have on screen, the map without menus, or the entire legend. You can also export marker data as a spreadsheet file for future reference or map creation. Maptive allows you to export the full data set or a list of the locations visible on your map.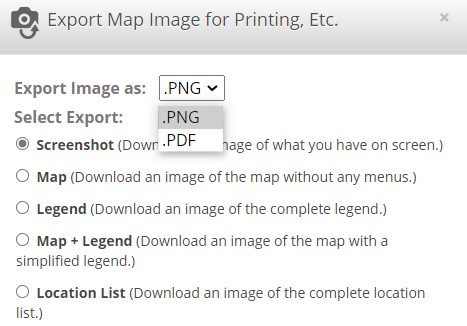 Risk-free Trial
Maptive does not ask for your credit card information when opening your free trial account. You can start plotting multiple locations on maps and worry about the payment later.
Maptive's features go far beyond these 8 functions. Click here for a complete view of what you will be getting with a Maptive mapping account.

Why Should You Use Maptive to Create a Map with Multiple Locations?
When it comes to mapping multiple addresses on Google Maps, Maptive is the ideal service because of several key benefits.
Easy Mapping with Spreadsheets
If you have been wondering how to create a Google map with excel data, you have come to the right place. Simply list your addresses on a spreadsheet and upload them to the Maptive platform, and we will map all your coordinates within seconds.
Partial Addresses
With Maptive, you do not need full addresses to map out your locations. Use whatever piece of the address information you have, be it the name of the street, city, state, or zip code, and we will place your pins at your desired location.
Comprehensive Set of Mapping Tools
After mapping your addresses, you can make use of a myriad of customization, clustering, and sharing tools to get the most out of your map.
Intuitive Mapping
While some mapping tools over-complicate the process, Maptive keeps users first. It combines utility with user-friendliness to reduce your learning curve without compromising insight.
Google Maps Features
Maptive incorporates all of Google Maps' powerful features, including Street View, which gives you an on-the-ground understanding of your locations, and satellite image mapping, which enables you to build powerful, beautiful satellite images.
Cloud-based Mapping
Maptive is entirely cloud-based, giving you access to your maps from any device. You do not need to install any app to use it on your phone.
Unparalleled Data Security
At Maptive, we consider client data security our utmost priority. All user data is secured using 256-bit SSL encryption. You also get fully redundant backups, disaster recovery, and two-factor authentication.
Additional Tips for Plotting Multiple Coordinates on a Map
You need ways to make your data easily digestible when you have many locations on your map. Use features like cluster maps, map filtering, grouping, or heat map to hide or reveal multiple pins at once.
Cluster your pins. Maptive provides options to alter your marker types so that they do not appear individually but rather as a single larger marker with the sum of the marker data displayed. This helps when you have very dense sets of pins in specific map locations. You can even display your markers as cluster pie charts to convey more information about the data contained within.
Use Maptive's filter tool to segment your data. With location filtering, drill down into your data by adding a filter on any column in your spreadsheet. This will limit the number of addresses on the map and take less time to find the locations you need.
Use Maptive's grouping tool to group or color-code markers based on a common category or data variable.
Build heat maps to display density instead of individual pins. If you'd prefer to see marker, sales, or population density rather than a traditional pin map, Maptive is the platform for you. We offer multiple styles of heat maps to visualize density across many locations.
Are you ready to create multiple pins on Google Maps? Sign up for Maptive's free trial and plot points on a map today.