Maptive GIS Software for Canada
Unlock the Full Potential of Your Geographical Data: Visualise What You Need to Succeed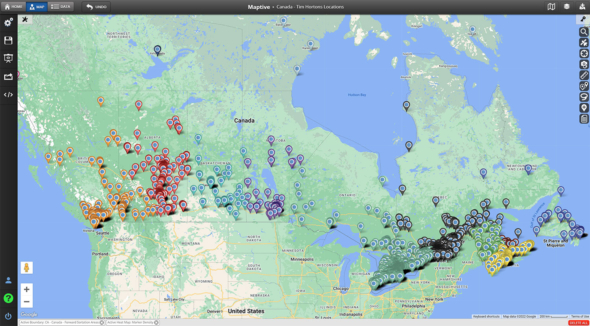 Canada GIS Mapping Software
Back up your business decisions with data.
Effortlessly understand your territories and markets.
Uncover new business opportunities.
Intuitive, enterprise-level features.
100% cloud-based.
Fully integrated with Google Maps.
What Is GIS Mapping Software?
GIS Software turns your location data into visualisations on a map, so you can quickly identify areas of opportunity, better understand your market, and effortlessly discover how to target your sales efforts.
GIS stands for Geographic Information Systems. It collects, stores, and maps spatial data of geographical areas. Combined with geospatial data, GIS provides the base layer over which to visualise your geospatial data with Maptive GIS mapping software.
To use Maptive GIS Software in Canada, simply:
Become a Maptive user for FREE.
Upload your location data from Excel spreadsheets, Google Sheets, your own CRM, or copy-paste your data directly into Maptive.
Map out all your geospatial data and visualise your territories however it makes the most sense for your organisation's goals.
Optimize your maps with Maptive customization tools and share them directly with your team.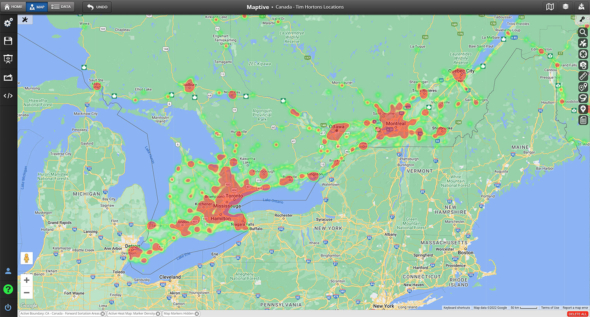 What Can You Do with Maptive GIS Software?
Transform your geographical data from lines on a spreadsheet into interactive maps that you can quickly understand, use, and share.
Sales Teams use GIS software to program the locations you need to hit into your map, and the Maptive route planner will make sure you get there as efficiently as possible—including real-time traffic updates via Google Maps.
Franchises use the proximity tools in Maptive GIS Software to easily determine if a new potential location of a franchise is too close to any of the others. You can also use the demographics tool to spot potential regions of interest.
Marketers pair GIS software with Maptive integrated demographics data to quickly identify where and how to focus their efforts based on average income, population density, demographic distribution—and more!
Real Estate Agents rely on GIS software to quickly identify market trends, understand demographics, and see the distance between locations. Cold call your territory, find clients, and close deals faster with Maptive location intelligence tools.
City Planners and Developers use Maptive GIS software to simplify data analysis, research, and planning. And with Maptive unmatched customisation, sharing, and presentation tools, you can get the right people on your side faster.
Maptive GIS Mapping Features 
Have you been trying to analyse geospatial data and derive location intelligence without a GIS software package? Then you know it's almost impossible to make your spatial data work for you without a data visualisation software like Maptive.
You will need no coding knowledge to use Maptive's intuitive GIS software.
Built as a comprehensive cloud-based solution on a sturdy API like Google Maps, Maptive enables users to access full-service GIS software from anywhere—while offering the richest suite of features in the industry and exceptional ease of use: no codes or downloads required.
Heat Mapping
Use heat maps to analyse sales density, population density, and more. With the custom heat maps in Maptive GIS software, you can plot and easily visualize the density of specific markers, location-based data, or other numerical data.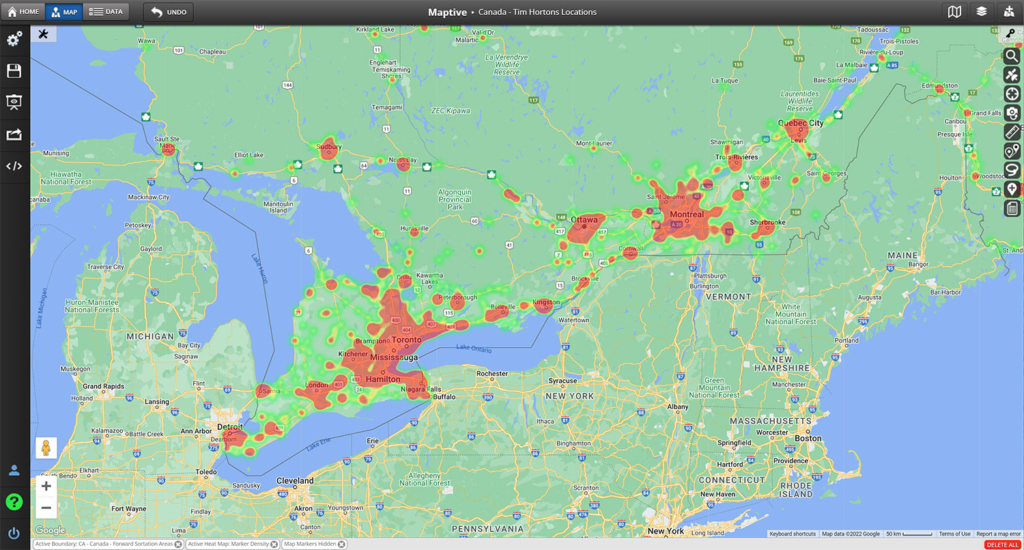 Route Planning & Optimization
Save time and money and stay focused on your meetings and deliveries while we organize them in the most efficient way possible. With the Route Planning & Optimization tool of Maptive GIS software, users can find the best route between as many as 25 locations with up to 73 stops and project accurate travel times.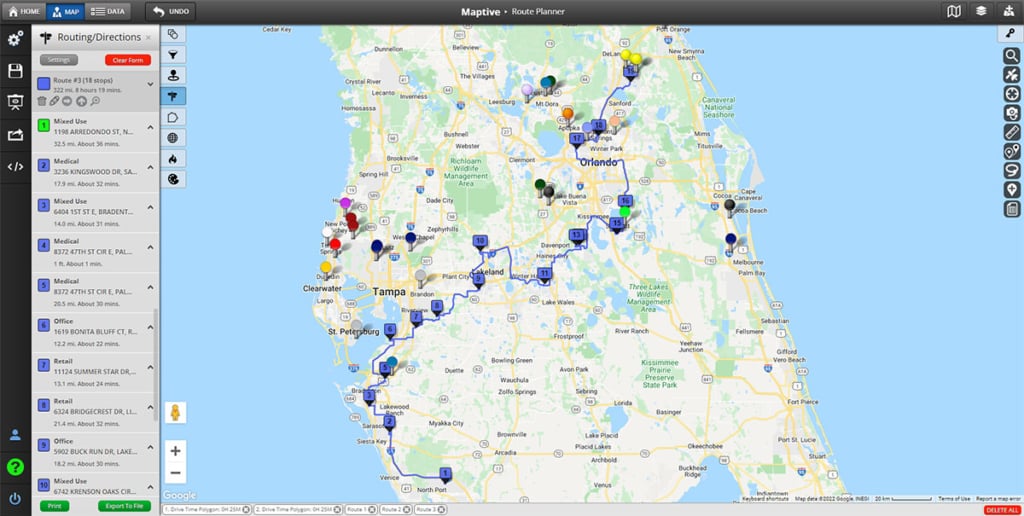 Territory Drawing
Support your revenue growth with relevant territory maps that are based on your spatial data and powered by Maptive mapping software. You can avoid the guesswork of splitting up territories by assigning accounts to salespeople based on defined metrics, such as sales numbers, geographical boundaries, and market size.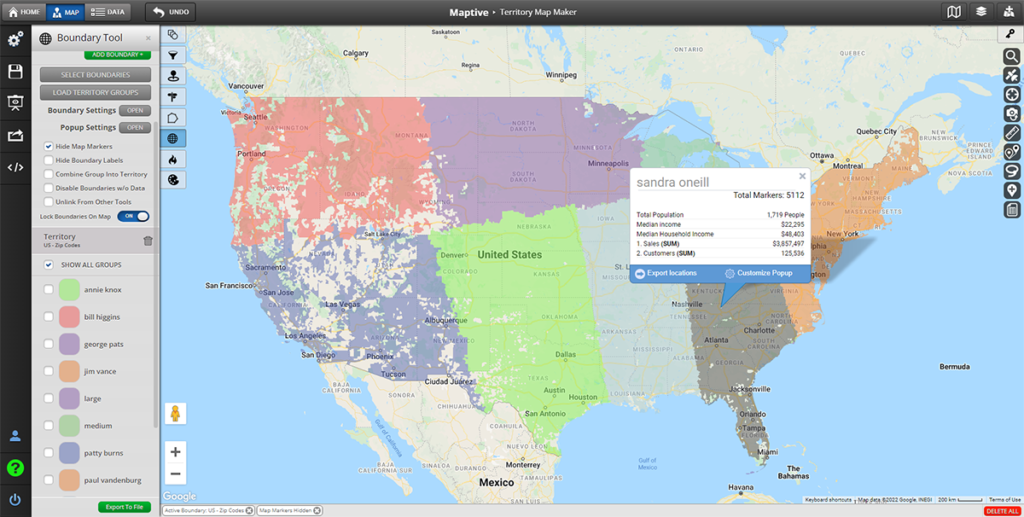 Drive Time Polygons
Have you ever wondered how far you're able to drive in a certain amount of time? The drive time polygon Tool in Maptive GIS software uses the power of Google Maps to analyse road networks and traffic, and then builds an accurate polygon around your starting location that represents where you can reach within a chosen period of time.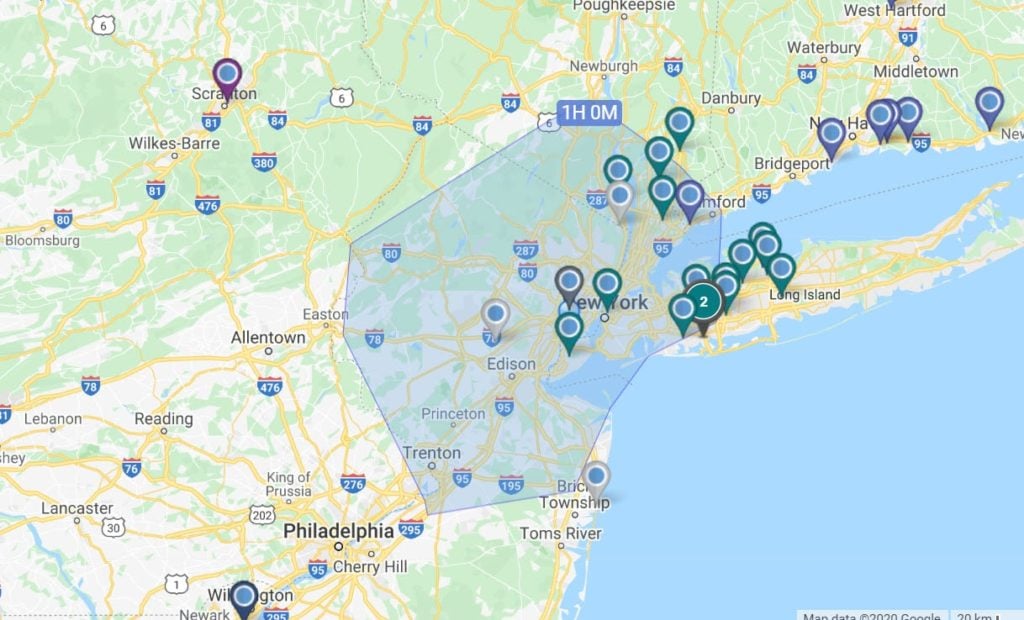 Geographic Boundary Maps
Create visual boundaries by county, state, zip code, district, and more. With Maptive GIS Software, you can display color-coded regions based on marker density, your own geospatial data, or public demographic data.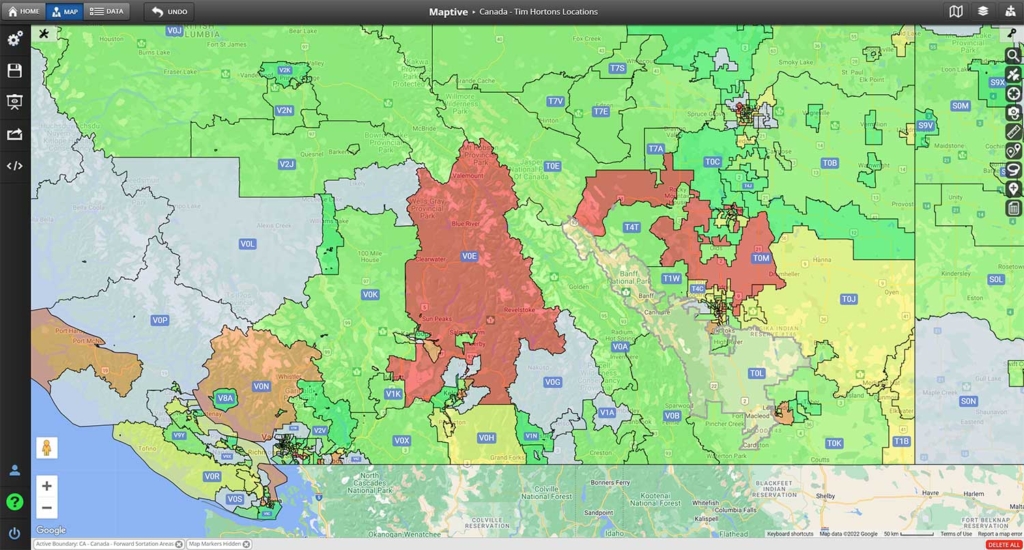 Full Map Customization
With Maptive GIS software, you have full control over everything displayed on your map, including labels, roads, points of interest, and more! You can make your map your own with logos, store location photos, manager photos, and even custom markers for your unique business needs. Plus, you can alter your base map appearance to satellite views, topographical maps, black and white maps, and more.

Demographic and Geographic Data
In addition to your own data, Maptive lets you see areas by postal code, zip code, city, address, province, and state, but also by demographic data such as population density, age, median household income, race, and education without uploading anything extra. Compare your data and locations against powerful Google Places data. Identify nearby locations and competition to help with site selection, competitive analysis & more.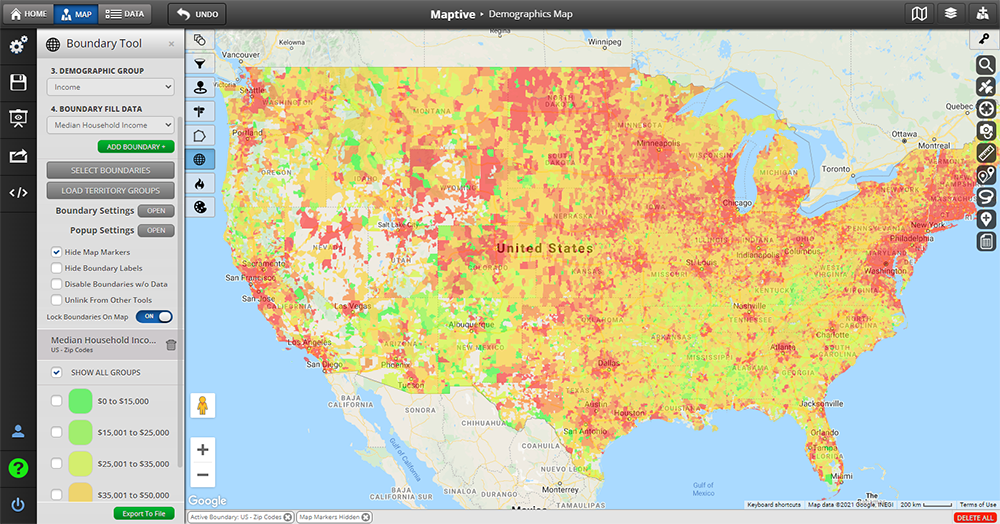 Sharing & Presentation Features
Maptive GIS software gives you complete control over who can see your maps (public or private – with password protection) and which mapping features and tools they can use on your maps. You can share your map with one click or publish it publicly and allow anyone to view it. You can also embed a map on a website with one line of HTML code or export and print your map with the ability to make it as large as a 2048 x 2048 pixel poster. If you want to create presentation-ready maps, Maptive GIS Software lets you create an interactive, custom PowerPoint map from your spatial data. You can manually add pins anywhere in your presentation maps—marking your sites, outlets, sales territories, or anything that makes sense for your business goals. You can create a map that is as visually clean or data-rich as you desire!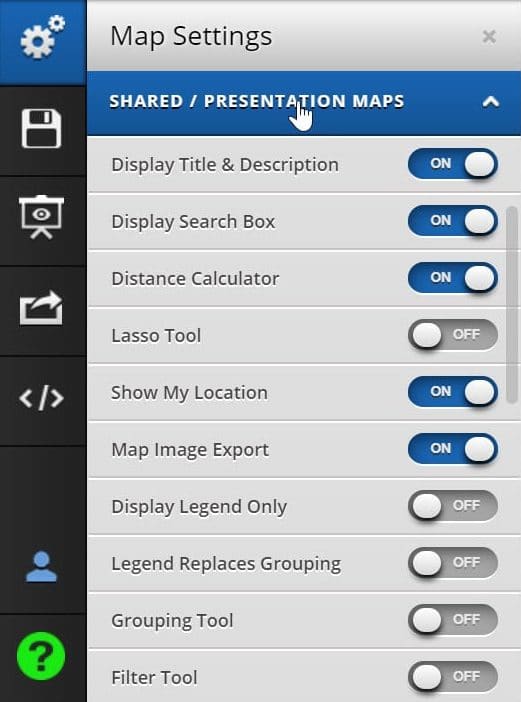 Distance Matrix Calculator (Coming Soon)
With the Maptive distance matrix calculator, you can measure the distance between two groups of data on your map. If, for example, you have the locations of all your stores and all customers, the distance matrix calculator will list the distance values between every store and every customer—saving you enormous amounts of time from individual, manual calculations.
Ready to Get Started with Your GIS Software?
Maptive GIS software can change the way you do business and manage your geographic data and spatial data. Customize your Google Maps, pick the styles you prefer, manage how elements and icons show up on display, and create Google map styles that are unique to you and your business.
All the features and tools you need to visualise your spatial data. Zero coding required.
START YOUR FREE 10-DAY TRIAL