Mapping Software to Enhance Your Sales Campaigns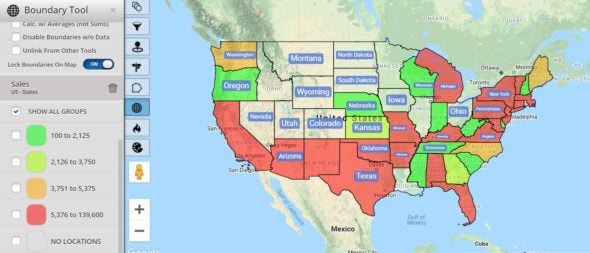 Map Your Sales Data
Plot your sales campaign data on an interactive map and see what your information is really telling you. Identify your target audience, spot new opportunities, make your workflow more efficient, and optimize routes between customers to maximize your sales and minimize your costs.
Why Use Maptive for Your Next Sales Campaign?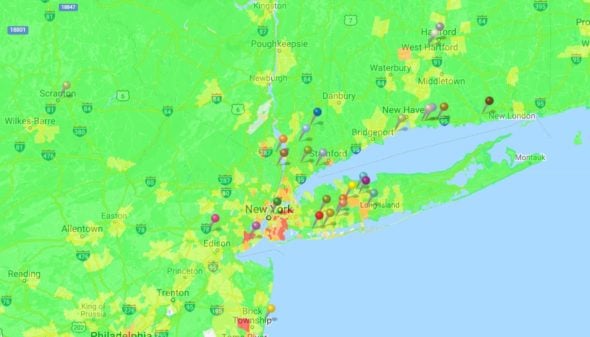 A successful sales campaign starts with a data-driven strategy. This includes defining the right goals, identifying the best prospects, and establishing a plan to target your audience. The answers are in the data, but trying to find the information you need in a spreadsheet or CRM software isn't always easy.
This is why many leading sales teams are turning to business mapping software, like Maptive, to visualize their data and develop more effective sales campaigns. Plotting your location data on an interactive map saves several steps during the research and planning phase, leading to better strategies and results.
Plus, Maptive's cloud-based technology means maps can be accessed whenever and wherever you need them on your mobile device. Whether you're collaborating with your team in your office, or presenting your results to a prospective client in the field, the data you need is always just a few clicks away.
Create  Sales Campaign Maps in 3 Easy Steps
Step 1: Sign up for a Maptive free trial account. Try Maptive for free and explore the many mapping tools we have to offer.
Step 2: Upload or input your data. You can upload data directly from an existing Google or Excel spreadsheet, copy and paste your data into Maptive, or enter it manually.
Step 3: Select "Create Map" to view your map. Your sales campaign data will now be plotted on a beautiful interactive map.
Key Elements of Every Sales Campaign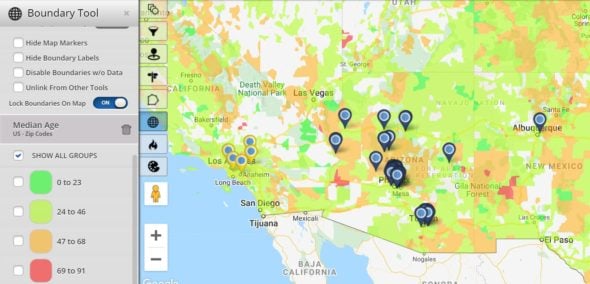 Every successful campaign consists of four key components:
The Right Goals: Use the heat maps tool to determine where your sales are coming from and look for areas where sales are lacking. From there, create goals that build on your successes and address your weaknesses.
Target Your Audience: Establish your ideal customer profile, then utilize the filter tool to remove previous customers and leads who don't meet your criteria. Focus on your ideal audience to target them more effectively and build a better strategy.
State Your Call to Action: Once you establish what you want to achieve and who you're targeting, develop a strong call to action that will convince your customers to go from a prospect to a buyer.
Establish Your Credibility: Share maps with your customers to show all your locations, the areas you're able to service, and the many customers you've helped.
What is the Sales Campaign Process?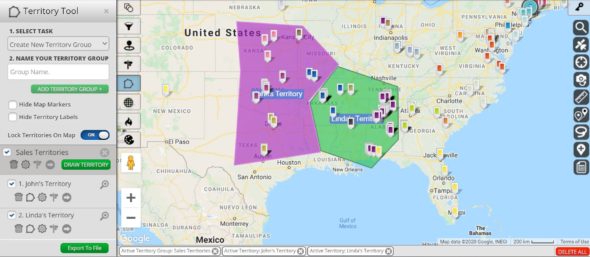 With your marketing plan is in place it's time to take action and turn your ideas into sales:
Step 1: Map Out Everything That Needs to be Done
Plot your customers, leads, locations, and sales reps plotted to visualize your campaign and make it easier to develop an action plan. Based on your data create a list of everything that needs to be done in order to achieve your goals.
Step 2: Optimize Your Workflow
The days of planning a campaign manually are over. Use Maptive to reduce your workflow so you can reach your goals quicker. Export lists of the customers you want to target, use drive-time radii to determine which salespeople will reach out to them, track your progress by plotting sales data, and so much more.
Step 3: Choose Who Will Complete Each Task and Assign Due Dates
Using the boundary and territory drawing tools, establish sales territories for your campaign. Then assign sales reps to each campaign to ensure a fair distribution of customers for all your team members. Give each territory targets and dates by which you expect those goals to be achieved to ensure every region stays on track.
How Maptive Helps with Digital Sales and Field Sales
In today's digital landscape everyone is moving their sales online, but in-person meetings are still an important part of the sales process.
Here's how Maptive will help you with both:
Digital Sales
Filter your data to find existing and potential new customers that meet your criteria, then export your list in order to target them with email marketing. Or utilize Maptive's demographic data to identify areas where your ideal audience is located so you know where to launch your social media and digital marketing campaigns.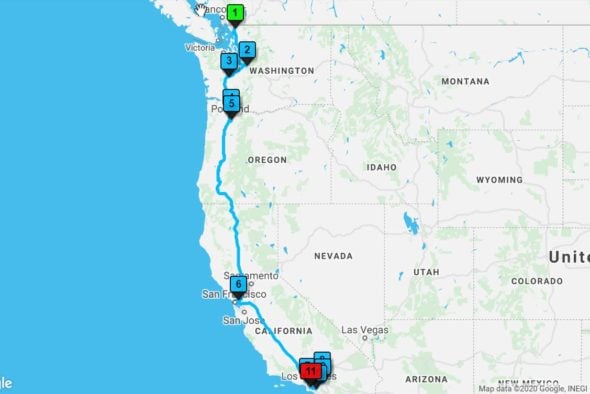 Field Sales
When it comes to field sales, there are a number of costs to consider, including fuel and labor. Optimizing your routes reduces both and also helps your reps visit more potential customers in a single day.
Powered by Google Maps, Maptive's route planning tool will find the most efficient route between as many as 25 different locations.
Calculate the distance and travel time between multiple locations.
Minimize travel time by identifying the quickest route.
Adjust routes on the fly.
Export routes to an Excel spreadsheet to share with members of your sales team.
Use the route planning tool to schedule sales meetings and ensure your reps arrive on time in as little time as possible.
Start planning more effective sales campaigns with Maptive's mapping software now, and sign up for our free trial.
Start mapping now!
Just follow these simple steps:
Double Click Then Copy & Paste Or
Drag And Drop Your Data Here
Important: Remember to include column headers in your data set. (like the example)
Date Security: Your data is transferred using encrypted https