Create a Canada Population Map with Canadian Provinces and Territories
Use population maps to optimize your business, establish sales territories, and plan your marketing. So, if you do business in Canada, create Canadian population maps with Maptive GIS Mapping Software and uncover valuable insights that will help you develop a strategy for future growth.
Where Do Canada's People Live?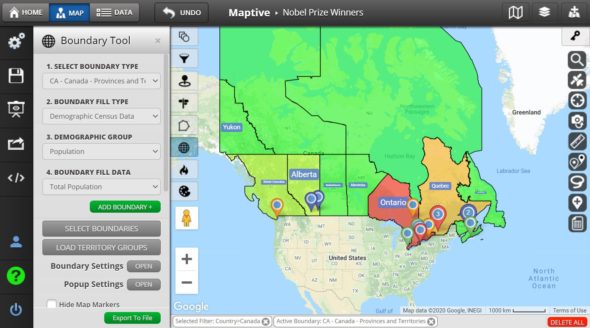 While Canada is the second-largest country in the world by area, the majority of Canadians live in metropolitan areas along the United States border. Thus most of the northern areas of the country, such as the Northwest Territories, are largely uninhabited.
Also, the population distribution heavily favors the east and urban areas. For example, the number of people living in the greater Toronto area outnumbers the population of every western province.
Here are Canada's most populated provinces and cities, based on the most recent population estimates:
Provinces

Ontario (13,448,494)

Quebec (8,146,361)

British Columbia (4,646,055)

Alberta (4,067,175)

Manitoba (1,278,365)

Cities

Toronto (5,429,524)

Montreal (3,519,595)

Vancouver (2,264,823)

Calgary (1,237,656)

Edmonton (1,062,643)
Provinces and Territories
Canada is made up of ten provinces and three territories. 
To clarify, provinces are similar to American states. This means that provinces have authority over some areas that the federal government does not. Also, the provincial government can pass a number of laws without consulting the Canadian federal government.
On the other hand, territorial governments have all their powers delegated to them by the federal government. So, this gives them much less autonomy than provinces.
Canadian Population Density Maps
Maptive has population data for all Canadian provinces and territories. Use this information to identify Canada's most populated areas. 
Provinces are color-coded. Red provinces are the most populated (over 10 million) and green provinces are the least populated (less than 3.3 million). Click on any province or territory to see its total population.
How to Create a Canadian Population Map
Maptive collects census data directly from Statistics Canada for you to use in your maps. Follow the steps below to create a Canadian population map:
Click the tool icon in the upper left corner.
Then select the "Boundary / Geographic Territory Tool."
Select "Canada – Provinces and Territories."
Under "Boundary Fill Type" select "Demographic Census Data."
Under "Demographic Group" select "Population."
Finally, click "Add Boundary."
Filter Your Population Data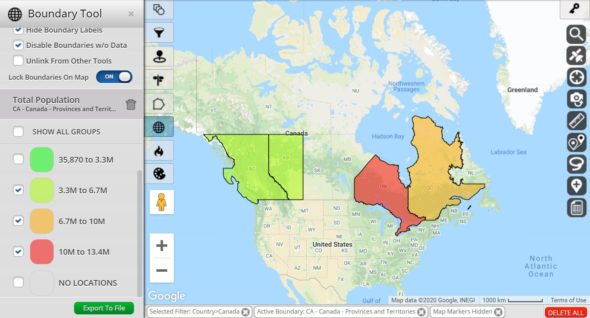 It's possible you're looking for regions that reach certain population levels. For example, you may only be interested in provinces and territories that have over 3.3 million people. If this is the case, use the filter tool to hide areas that don't meet your criteria.
Open the boundary tool. Then scroll down to see the boundaries you've created, Also, you'll notice the population numbers for each category. Plus, you can choose to display all groups or only the ones that fit the population range you're looking for.
What Can You Do with Population Maps?
Use Maptive's Canadian population maps to:
Establish Sales Territories: Create sales territories based on population figures. And, ensure potential customers are evenly distributed amongst your sales team.
Find Population Centers for Marketing Campaigns: Identify the areas with the highest population. Then target those areas with your marketing campaigns.
Track Population Changes: The population of Canada is always changing. So, use maps to monitor population growth in your sales and service areas.
To make your own Canada population map, sign up for a free trial or account with Maptive now.