Geocoding Software
Use Google's powerful geocoding engine to transform your location data into latitude and longitude coordinates. Simply upload your addresses to Maptive to instantly plot them on an interactive map.
Try it for Free
What is Geocoding?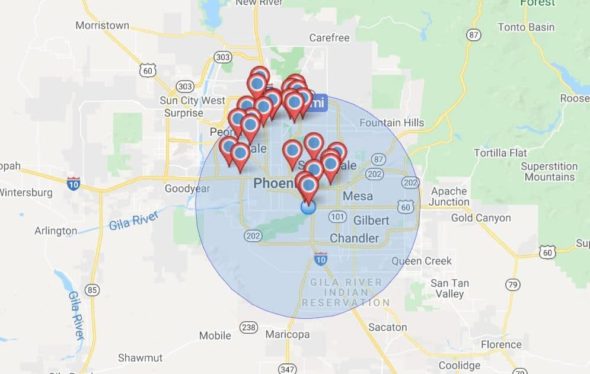 Geocoding services take a street address or geographic location and convert it into map coordinates. They're used by global positioning systems (GPS), and mapping software like Maptive, to plot addresses onto a map so you can visualize the locations of your data points.
Reverse geocoding is the opposite process, where geographic coordinates are converted into postal addresses and actual locations.
What Kind of Data Can You Geocode?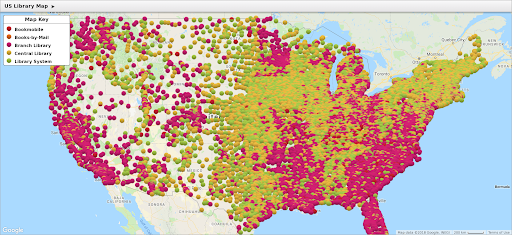 Use Maptive to geocode and plot a wide range of data, including:
Addresses

House Numbers

Countries

Cities

States
Zip Codes

Postal Codes

Famous Landmarks

Counties

Intersections
Maptive's geocoding solution is powered by Google Maps. Find the coordinates of a single location, or plot an entire address database at once at a rate of 10 per second.
Geocode Your Data in 3 Easy Steps
Step 1: Sign up for a Maptive free trial account. Try Maptive for free and explore the many mapping tools we have to offer.
Step 2: Upload or input your addresses and locations. You can upload address data directly from Google Sheets or an Excel spreadsheet, copy and paste it into Maptive, or input data manually.
Step 3: Select "Create Map" to view your map. Your locations will now be plotted on a beautiful interactive map.
What Can You Do with Your Geocoded Addresses?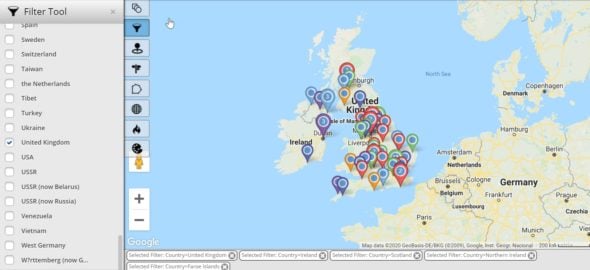 Take advantage of Maptive's wide range of tools and options to customize your map and get the most out of your data.
Filter Location Data
If you have a lot of physical addresses in your data it can get overwhelming. Use the filter tool to only display location data that meets certain criteria, making it easy to find the information you're looking for.
Analyze Density with Heat Maps
Want to identify the areas where you've collected the most data? The heat map tool shows you where your data is most dense, as well as the areas where it's lacking.
Optimize Routes Between Locations
Utilize the route optimizer to find the quickest and most direct route between two locations on your map. Or plan an optimized route between multiple locations to reduce the time you and your team spend on the road.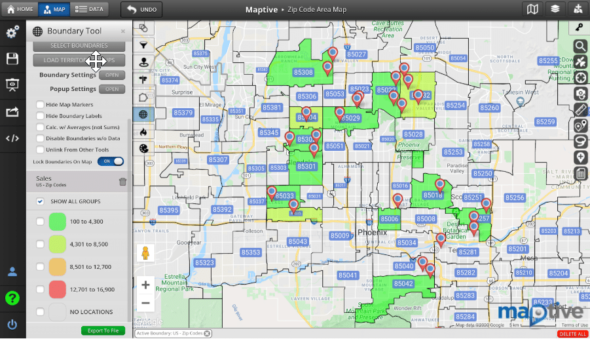 Create Territories
Are you plotting customers and accounts on your map? Use the boundary tool to create sales territories based on zip codes, cities, counties, and more. Or create custom territories with the territory drawing tool. Analyze location and demographic data within your territories to learn more about your customers.
Customize the Look and Feel of Your Map
Personalize your map with a wide range of customization features. Change the look and color of your markers, upload images, and add text and annotations to make your map your own.
Share Your Map
Publish your map to the web, embed it into a webpage, or send it privately to team members to share your findings and insights
What are the Benefits of Geocoding?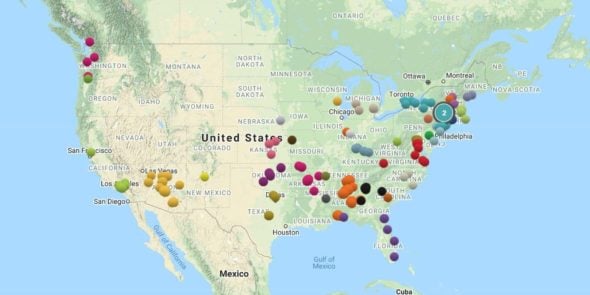 By geocoding your addresses and locations you will:
Visualize Your Data: Take the data from one or multiple data sources, and transform them into a beautiful interactive map. Target a specific geographical area or visualize on a global scale.

Gain New Insights: See how your data points are distributed across your map to gain new insights and spot valuable opportunities that were previously missed.

Create More Effective Presentations: Use interactive maps to share your findings with decision-makers and collaborate more effectively with your team.

Share Your Data: Create a high-quality visual representation of your data that everyone can understand and easily share it with those who can benefit from the information.

Sign up today for Maptive's free trial, your best option for geocoding software.
Start mapping now!
Just follow these simple steps:
Double Click Then Copy & Paste Or
Drag And Drop Your Data Here
Important: Remember to include column headers in your data set. (like the example)
Date Security: Your data is transferred using encrypted https