If you work for a global organization, you likely have location-based data from countries all over the world. So, what global mapping software should you use to build interactive world maps to display your data?
Google Maps can be a powerful tool, but when it comes to customization and plotting large amounts of data, its capabilities are limited.
This is why many businesses have turned to Maptive's world mapping software to display and analyze their global data. With our wide array of tools and customization options, you can build the perfect detailed map for your project.
Built Using Google Maps for the Best Global Coverage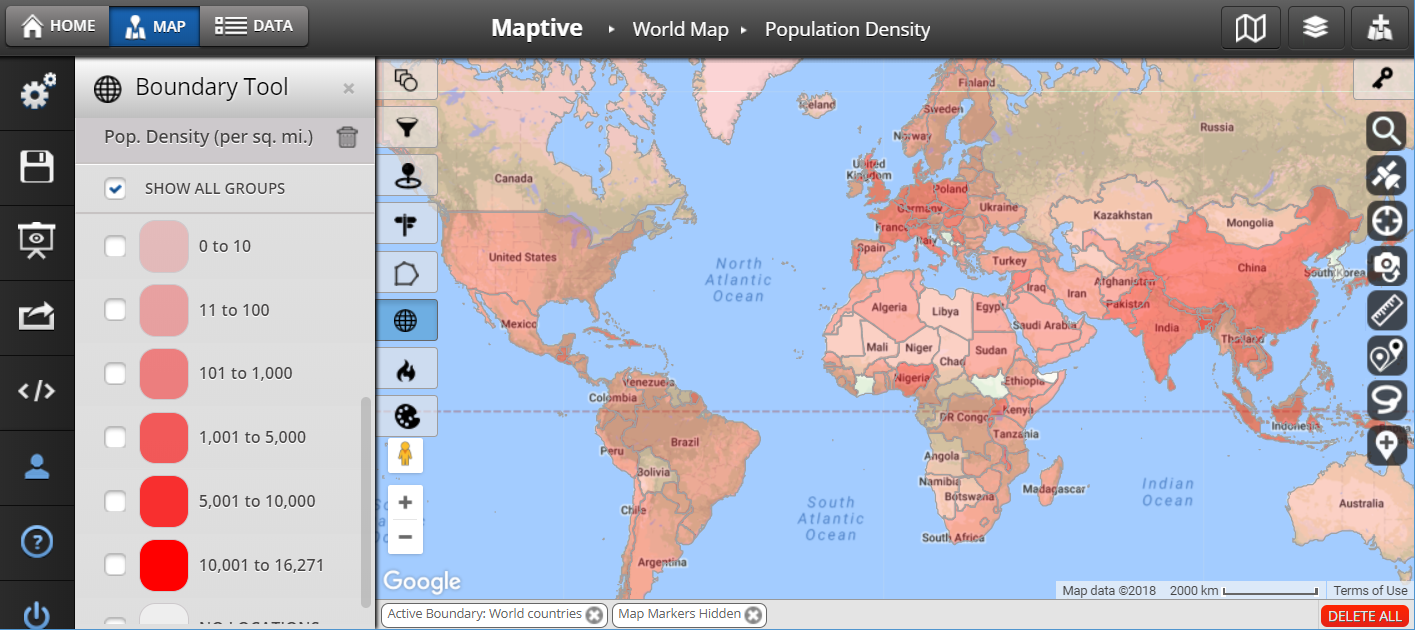 If you love Google Maps and Google Earth but need a service that's more robust, you'll be pleased to learn that Maptive's global mapping software utilizes Google's enterprise mapping technology. This gives our customers access to the best global coverage available, along with the powerful tools and features needed to plot your global location data on an interactive world map.
Easily Set Map Positions and Zoom Levels
To get a closer look at your data, zoom in on specific countries and regions. Maptive makes this easy with features to create specific views and zoom levels within your map. These can be saved to allow you to:
Share a specific view or zoom level with others without sending them the entire world map.

Return to a specific view later without having to search for it and reset the zoom levels.
A Wide Range of Tools and Add-Ons to Customize Your Map
Our map generator gives you access to a variety of tools so you can view your data exactly the way you want to:
Boundary Tool: Create visual boundaries on your map to separate countries, states, territories, and regions. You can even create boundaries based on zip codes to take a closer look at city maps. This allows you to divide up your data and analyze it based on location.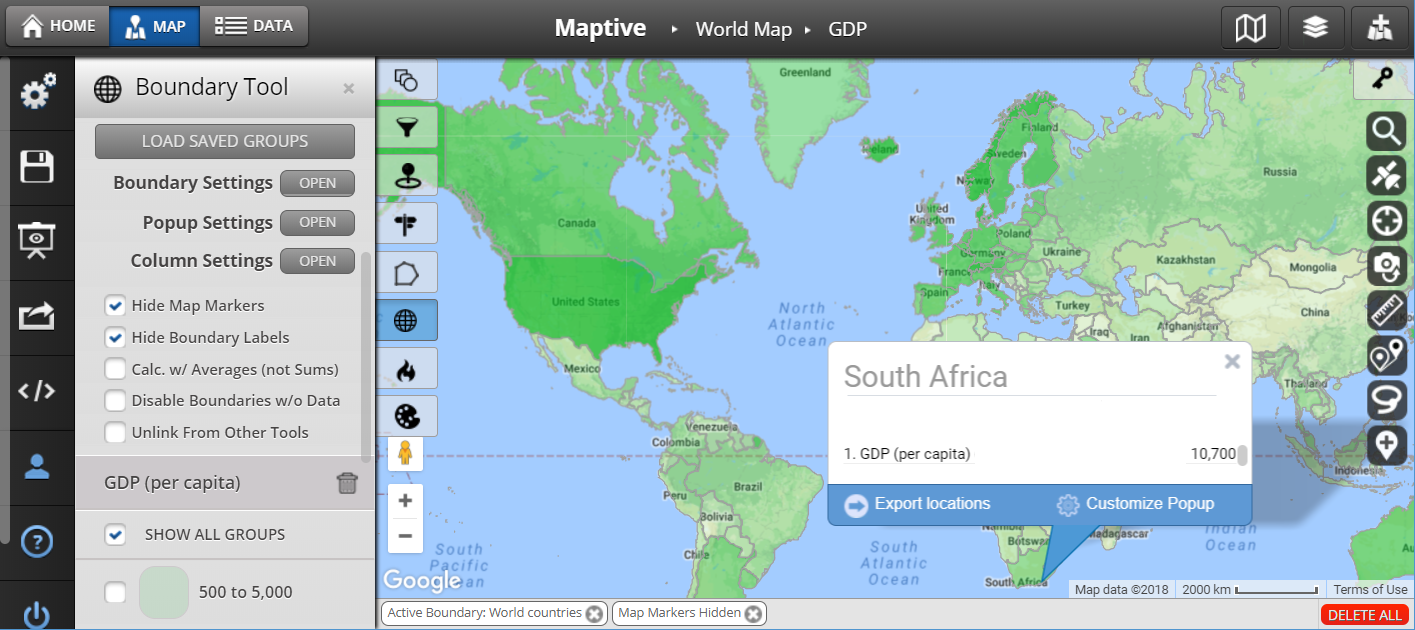 Filter Tool: When displaying large amounts of data, your map can start to get cluttered. Our filter tool lets you choose which data is displayed at any given time. By removing some of the data from your map, you can focus on the information that's important, making it easier for you to uncover critical insights.
Customize Base Map Styles:

Easily change the style of your map. You can choose from satellite views, topographical maps, and more to create your ideal world map.
Global Data at Your Fingertips
Maptive gives you the ability to map addresses anywhere in the world. We also have additional data, including postal code boundaries, for a number of countries:
The United States

Canada

Australia

The United Kingdom

Germany

Denmark

Argentina

Belgium

Brazil
Chile

Costa Rica

Finland

France

Mexico 

Spain

Sweden

Switzerland

Netherlands
Learn more about creating postal code maps here.
Trusted By Leading Businesses Worldwide
Our map maker is used by some of the world's leading businesses. We have clients from the USA, Canada, Britain, Germany, France, Denmark, Australia, New Zealand, Brazil, Sweden, and Ireland. Some of our customers include:











Build Your Interactive World Map Today
Are you ready to utilize Maptive's global mapping software to create beautiful interactive maps? Sign up for a free trial and try Maptive today.