Create Maps with Maptive
Create maps that are bespoke to you and your business in just a few simple clicks.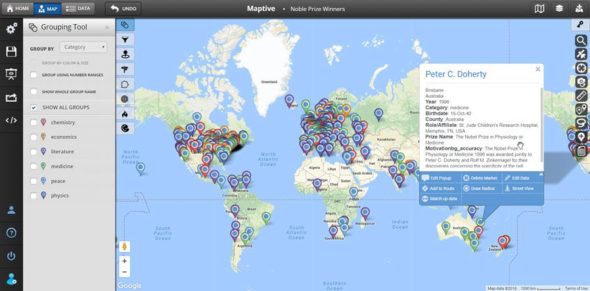 Change the colors of each element on your map, add unique icons and markers, set preferred text colors and styles, and pick which map features are enabled. All of that–and more!–without having to write a single line of code.
Create custom maps
Easily share and export maps
100% cloud-based
User-friendly
Fully integrated with Google Maps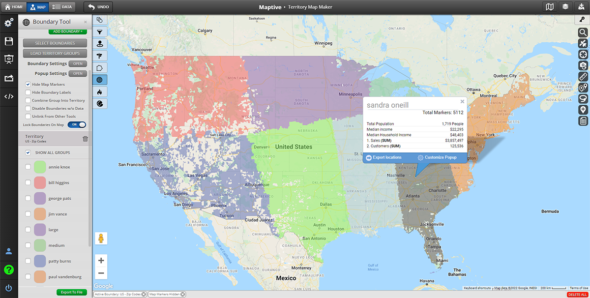 Create Custom Maps with Maptive
Impress your audience with stunning data visualizations for your business presentations.
Equip your sales and marketing teams with helpful tools like heat maps and territory optimization to boost their performance.
Unlock valuable business insights that can help you reduce costs and expand into new markets.
Improve your workflows by analyzing and sharing information with ease.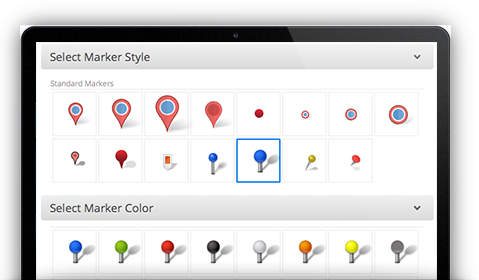 An Overview of Maptive's Features and Benefits
Fully Customizable Maps: Control every single element on your map, add text, create icons, and manage the color and opacity of shapes.
Upload Custom Markers and Images: Customize your map and add markers with logos, store location photos, team photos, and more. Edit the style at any time.
Support for Small or Large Data Sets: Upload data sets of any size, from less than 10 locations to 100,000+.
Share, Print, and Embed Maps: Share your Google Map with your team or embed it on your website with one line of HTML code. Export your print layout even in poster size.
Turn-by-Turn Navigation: Give your delivery crews and sales teams clear and easy-to-understand directions for each stop on their most efficient route.
Enterprise-Level Security: Your data is protected with enterprise-level 256-bit encryption, two-factor authentication, backups, and disaster recovery.
100% Cloud-Based: Maptive is available on any device with an internet connection, including smartphones and tablets.
How Maptive Works: A Step-by-Step Guide
With Maptive's intuitive platform, you can create a custom map in just a few easy steps:
Step 1. To start a new map, simply log into Maptive and click on the menu icon Create a Map.
Step 2. Open your Map Settings and explore custom styles from our templates or begin styling your Google Maps with objects, colors, and other settings as you prefer.
Step 3. Select Advanced Settings to enable, disable, or customize the appearance of any objects on your map, including roads, highways, landmarks, buildings, and more!
Step 4. Display your customized Google Maps in your presentation and document, embed it on your website, and enjoy the results!
Use Cases for Maptive
Delivery and Logistics: Maptive supports delivery and logistics companies to streamline operations and optimize delivery routes by mapping out customer locations and providing real-time traffic updates.
Sales and Marketing: Maptive helps sales and marketing teams to identify potential new target markets, analyze customer demographics, and optimize sales territories.
Real Estate: Maptive is vital for real estate agents as they map out properties, visualize market data, and analyze neighborhood demographics.
Healthcare: Maptive is crucial for healthcare providers who need to analyze patient data, visualize healthcare resources, and track healthcare trends across territories.
Government: Maptive helps local and state governments and public agencies who need to visualize population data, analyze emergency response times, and optimize public services.
Tourism and Hospitality: Maptive can help businesses embed custom tour maps on websites, show points of interest, and synch with real-time events and tourist activities updates.
What Maptive Users Have to Say
As our data visualization partners, Maptive has become an integral part of our operations—from Logistics to Project Tracking to Scheduling. (You guys rock!)

Miquel Fernandez,

RMSI Retail Solutions
The product works, but the support is even better!

Jason Petkov,

Trustpilot User Review
Powerful time saver initially used for a transformation project, now a go to for a lot of analysis.

Maxime-Olivier H,

Enterprise Client
Great product. Even better people. I checked out several tools before selecting Maptive. I know I made the right choice. I have clients who appreciate visualizing their data when constructing sales territories. I find the product user friendly and robust. The best part, though, is the support. Jenn and Paul respond very quickly to requests for help and their advice is always right on the money. I've worked on many projects with software developers and customer success managers. Jenn and Paul get a 10 out of 10 rating. Thank you!

Gary Eyen,

Trustpilot User Review
Great customer service. This is a great mapping tool and excellent customer service. I used it to map out the route to all of her staff's houses for a teacher appreciation gift drop off. Paul was amazing and showed me how to use a few of the tools, like how to make sure the labels showed and create optimized routes. He even extended our trial for 10 days so I could make a map for our 8th graders continuation parade.

Sally Wasinger,

HUE Faculty
Affordable Pricing and Flexible Plans
Start with Maptive's FREE trial.
Sign up for our basic plan for just $250 for a 45-day pass.
Upgrade your plan at any time to add more users and advanced features.
Frequently Asked Questions
What is Maptive mapping software?
Maptive is a cloud-based mapping software that allows users to create interactive maps by importing data from spreadsheets, CRM software, or other sources. It offers a wide range of features, such as route optimization, territory mapping, and heat mapping.
How much does Maptive cost?
Maptive offers various pricing plans starting from $250 for a 45-day pass. Pricing varies based on the number of users and the features included.
What kind of data can I import into Maptive?
Maptive supports a wide range of data formats, including CSV, Excel & Google Sheets.
Can I customize the appearance of my maps in Maptive?
Yes, Maptive offers a variety of customization options, such as changing the color scheme, marker color, and base map. Define a map title, add labels, upload your custom images and icons, draw on your map, or select different map styles.
Is Maptive mobile-friendly?
Yes, Maptive is mobile-friendly, and its maps can be viewed on smartphones and tablets. Maptive supports Apple IOS, Android, and Windows devices.
Can I share my Maptive maps with others?
Yes, Maptive allows users to share their maps with others via email, link, or embed code.
Does Maptive offer any customer support?
Yes, Maptive offers customer support through live chat, email, and phone. They also have an extensive knowledge base, blog & resources with helpful articles and tutorials.
Is Maptive secure?
Maptive uses SSL encryption and secure cloud hosting to protect all user data. They also have strict data privacy policies in place. Learn more about our enterprise-level security features.
Does Maptive offer a free trial?
Yes, Maptive offers a 10-day free trial for users to test the software before purchasing a plan. No credit card is required.
What are some use cases for Maptive?
Maptive can be used in various industries, including sales, marketing, logistics, and real estate. Some common use cases include territory management, customer segmentation, and market analysis.
Sign Up for Maptive Today
Maptive can change the way you do business. Create a custom map, pick the styles you prefer, manage how elements and icons are displayed, and visualize what's important to you and your bottom line.
All the custom styles you need to visualize your data. Zero coding required.
Start Your Free, No Risk, 10 Day Trial
No credit card required. No surprises. Just Results.
START MAPPING NOW