Exceed Your Quotas with Sales Territory Mapping
Unlock the full potential of your sales team with Maptive's sales territory mapping. With our software, you can instantly plot your location-based data to identify key trends, visualize current accounts, create strategies, target potential customers, and spot hidden sales opportunities.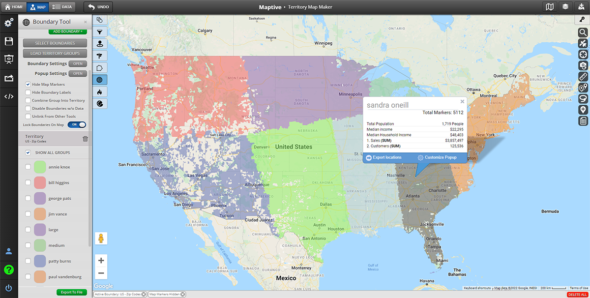 Draw and assign territories to save time, drive sales, and improve productivity. Customize the look of your map with a wide range of tools, filter which data is shown, create boundaries between different sales territories, and use our route optimizer to plan your sales meetings.
Hand your sales team a clear strategy.
Easily share and export maps and directions.
Upload your location data from Excel.
Keep your sales data private with 256-bit SSL encryption.
100% Cloud-based.
User-friendly.
Fully integrated with Google Maps.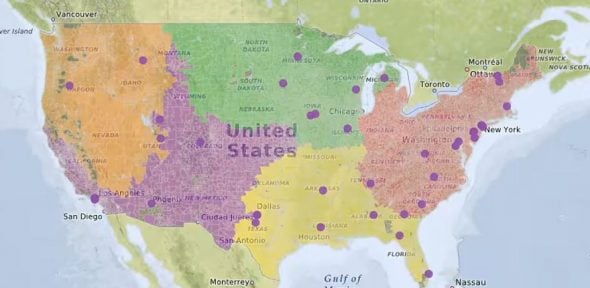 What Is Sales Territory Mapping?
Smart sales managers use sales territory mapping to determine the best sales coverage for their team. If you think of your sales representatives as a tactical, on-the-ground team, sales territory mapping equals your master plan for target takeover.
Traditionally based on geographical areas, sales territory mapping can become an incredibly tedious process without the right tools. Thanks to Maptive, you can easily uncover insights buried deep in your data and map out and assign sales territories in just a few clicks.
To use Maptive's Sales Territory Mapping Software, simply:
Become a Maptive user for FREE.
Upload your location data from Excel spreadsheets, Google Sheets, your own CRM, or copy-paste your data directly into Maptive.
Map out all your customer locations and split territories however it makes the most sense for your sales goals.
Optimize your sales territories with Maptive customization tools and share them directly with your team.
Why Should You Use Sales Territory Mapping?
Territory management is key to improving sales performance. By defining existing territories and assigning them to your sales reps, you maximize both revenue growth and the overall performance of your sales rep team.
Understand the sales potential of each geographic area: To create an effective sales territory map, sales managers must first make sense of the customer data they already have and combine it with market research and demographic data.
With Maptive, you can easily visualize all your data in one simple tool, and then you can use the newly found insights to determine the sales potential of each territory. You can then optimize your sales team's productivity by taking into account customer concentration, market potential, and travel considerations.
Improve your team's sales productivity: Once you've done all the work of figuring out the sales potential of each sales territory, you can more effectively allocate your sales team's resources and create sales territories that are more likely to generate revenue.
Plus, you take the guesswork out of your sales reps' day, which will help improve how efficiently they move from client to client. It might also help curb any of the animosity and competitiveness that unclear territory definition often causes among sales teams.
Increase overall customer satisfaction: Sales territory mapping can also help to improve customer satisfaction levels since each client will maintain a strong relationship with the specific sales rep assigned to their area.
On the flip side of that coin, the right territory mapping strategy will also ensure that each sales representative has an equal opportunity to win over great clients and maintain a healthy relationship with them with long-term repeat sales.
Reduce sales reps' travel costs: When creating well-thought-out territories, sales leaders also need to consider how travel expenses will ultimately factor into their bottom line.
Effective sales reps often have multiple meetings a day all across town, making it difficult to plan accordingly. Maptive's route planning tool solves this by partnering with Google Maps to find the most efficient route between as many as 25 different locations.
One Mapping Tool to Align Your Sales Team's Goals
If you feel like your manager-level goals are clashing with those of your sales team, Maptive's sales territory mapping software can help realign your overall KPIs and ensure that customers and accounts are evenly and fairly allocated and that all your territories are properly serviced.

What Are the Best Practices for Sales Territory Mapping?
Sales leaders who want to achieve sustainable, long-term results know that mapping sales territories can be an incredible tool to boost their effectiveness. Sales territory mapping software can help you compare past performance and discover trends, and should absolutely become part of your overall sales management process and planning.
Here are a few territory management best practices:
Define the sales process: Sales managers can benefit from defining the process that will be used by their sales team before they do any territory planning. This will ensure that all sales representatives are following the same process and will make it easier to track and measure results.
Analyze customer data: Proprietary data like lead concentration and demographic distribution is the key to understanding the sales potential of each geographical area. This information can be used to create sales territories that are more likely to generate revenue.
Segment your market: Instead of trying to address the entirety of your market, break it down into segments you can go after more efficiently. While the geographical location is a big factor, you might also want to segment by industry or client size, depending on your unique service or product.
Evaluate market potential: Sales leaders should evaluate the market potential of each territory to identify areas with high sales potential; by doing so, they can create territories that are more likely to generate high revenue.
Regularly update the sales territory map: Sales data is constantly changing, so sales managers should regularly update their sales territory map to reflect any changes in the market.
Find the right balance: Retaining loyal customers is just as important as generating new leads. Every sales team needs to balance growth opportunities with the satisfaction of their existing client accounts.
How Do You Choose the Best Sales Territory Mapping Software?
There is no doubt in our minds that Maptive's sales territory mapping software is the best on the market. The tool you choose will ultimately depend on your specific business needs, but keep in mind that your choice of software will ultimately impact how effective your sales strategy will be.
As you evaluate different tools, ask yourself:
Does it let me upload my own sales data quickly and easily?
Does it integrate with Google Maps to help my sales reps with directions?
Does it offer secure encryption for my sales data?
Does it let my sales team and I access our maps from any device?
Does it let me customize the appearance of my maps?
With Maptive you can do all of the above and more. Sign up for a free trial of Maptive today and discover how our mapping software can help you boost your sales and run your business more efficiently.
Start Your Free, No Risk, 10 Day Trial
No credit card required. No surprises. Just Results.
START MAPPING NOW