Sales Route Planning with Maptive
Use route planning software to optimize your sales routes, allowing your reps to reduce their travel time and serve more clients.
Get Started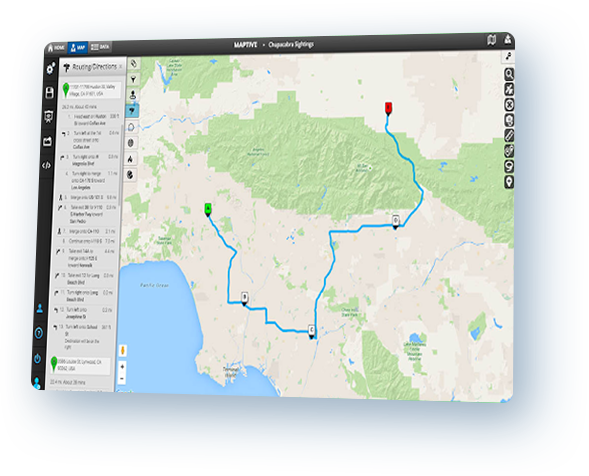 Boost Productivity with Better Route Planning
How much money is your field sales team losing you? Sure they're making sales, but they're also burning gas, wasting time on bad routes, and arriving late to meetings due to poor route planning.
Luckily, there's a simple solution to all of these problems. Maptive's route optimizer makes planning routes easy. Quickly determine the fastest route between two or more stops to reduce your costs and increase productivity.
With the help of Maptive, your sales team will spend less time on the road and more time selling your products and services.
Simplify Outside Sales with Maptive's Route Optimizer
When you use Maptive's route sales route planner, you will:
Schedule Sales Meetings Easier:

Know exactly how long it will take to get from one stop to another so reps can schedule meetings accordingly.

Plan Sales Routes Ahead of Time:

Create routes with an unlimited number of stops. Reps can plan their routes before they leave so they're better prepared.
Get Turn-By-Turn Directions:

Never get lost with clear and easy-to-understand directions for each stop.
Reduce Travel Time:

Your reps get to their meetings quicker, which is good for both you and your clients.
Cut Costs:

By optimizing your routes, you burn less gas, reduce wear and tear on your vehicles, and cut other travel-related expenses.
Increase Productivity:

Reps spend less time driving and more time following up with leads and serving existing clients.
Meet with More Clients:

Faster routes mean your reps can meet with more clients per day.

Make More Sales:

By traveling less and selling more, your reps will undoubtedly generate more sales and revenue for your business.
Advanced Features to Heighten Your Performance
Maptive is much more than just sales route planning software. Combine this tool with our many other features to discover new insights and take your business to the next level.
Maps Made for Your Business
Use a wide range of customization options to create a map that suits your unique needs:
Change the shape and color of map markers.

Choose from 15 different base maps.

Insert custom images and use client logos to mark them on your map.
Only See What You Want To
Like any sales business, you likely have a lot of data. Displaying it all at once complicates your map and makes planning routes difficult. Maptive's Filter Tool lets you decide what's shown and what's hidden.
Want to only see clients you're meeting with that day? No problem. Want to toggle between leads and current clients? You can do that too. The power is in your hands.
Visualize Your Sales Territories
Effective territory management provides several benefits for your business:
Ensure sales reps are only dealing with clients nearby. When combined with optimized routes, this reduces travel time and costs even further.

Keep your accounts organized and make sure clients always deal with the same rep. This lets you provide better customer service.

Balanced territories give all your reps equal opportunities, which leads to less employee turnover.
Build territories using established geographic boundaries, such as zip codes, counties, and states, or draw custom territories to suit the unique needs of your business.
Review & Export Sales Data
Want to know who's making the most of their sales routes? Keep track of a wide range of data, including sales, clients, acquisition cost, revenue per sale, customer lifetime value, and more. Bring this data up within your map, or export it to a spreadsheet to share with your colleagues.
Get to Know Your Customers
Before you start planning sales routes for your clients, you should get familiar with their business and market. Display demographic data for a company's local area, learn more about their customer base, and create a plan for them.
Maptive gives you access to a wide array of demographic census data, including:
Population

Race

Housing 

Age

Citizenship status

Education

Income

Transportation

Labor

Gender
The more your reps know about potential clients, the better chance they have of closing deals.
Team Up with Your CRM
A good CRM is the foundation of any successful sales business. So, any tool you use needs to seamlessly integrate with your CRM to provide the best results.
Maptive works with all the most popular CRMs, including Salesforce, Zoho, Keap, Pipedrive, HubSpot, and more. If you don't find your CRM on our list, contact our support team to set up the integration.
Once Maptive is connected, your map will receive real-time updates whenever you add new information to your CRM. This ensures you always have the most up-to-date customer data when you're scheduling meetings and planning routes.
Share Your Insights and Routes
Discovered a new trend on your map that you want to show your team? Need to give sales reps access to their routes? Maptive offers a number of sharing options:
Save your map as an image

Export data to a spreadsheet

Send a link to your teammates

Embed your map on a website
Add Our Mapping Experts to Your Team
When you use Maptive, you're never alone. Our support agents are standing by to answer your questions and make sure everything works exactly how you want it to.
Check out our FAQ, send us a message, or start a live chat with one of our agents. Your success is our success, so we're happy to help any way we can.
Start Planning Better Sales Routes Today
Are you ready to find the quickest routes, reduce your travel time, cut costs, and meet more clients? Start your Maptive free trial today to take it for a test drive.
Start Your Free, No Risk, 10 Day Trial
No credit card required. No surprises. Just Results.
START MAPPING NOW