Maptive GIS Mapping Software
What is GIS Mapping Software?
A Geographic Information System, or GIS software, is a mapping technology that allows you to store, organize, visualize, and display location-based data to identify patterns easily. Any software that facilitates data transformation from rows in a database or spreadsheet to a map is a GIS program.
If used effectively, GIS software can turn stacks of data-gibberish into clearly articulated mapped-out meaning. Some of your favorite mapping technologies (like Google Maps) are examples of GIS mapping software. Our personal favorite – Maptive – is also a GIS.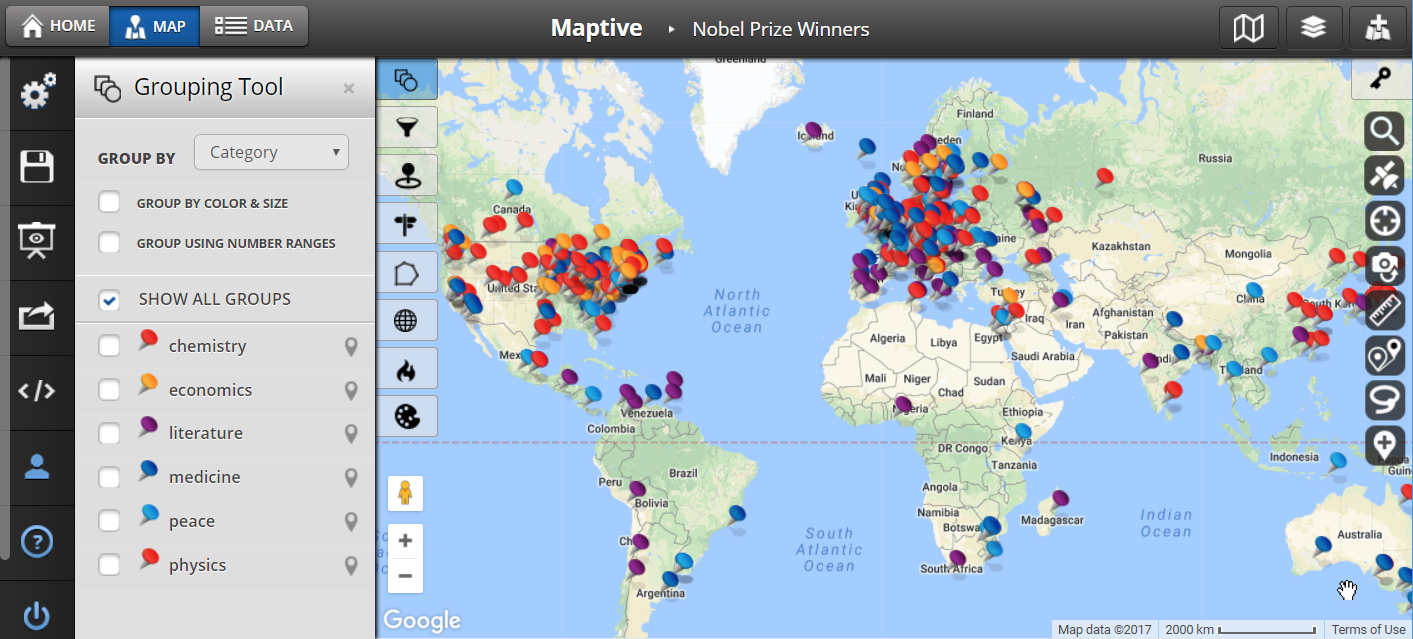 What is GIS Software used for?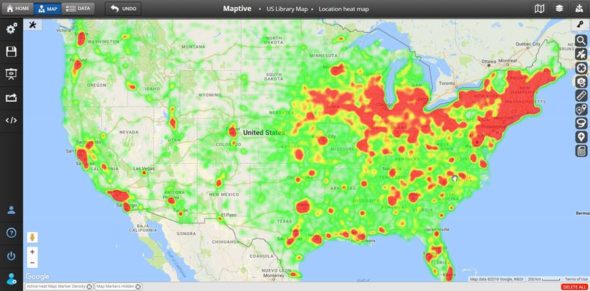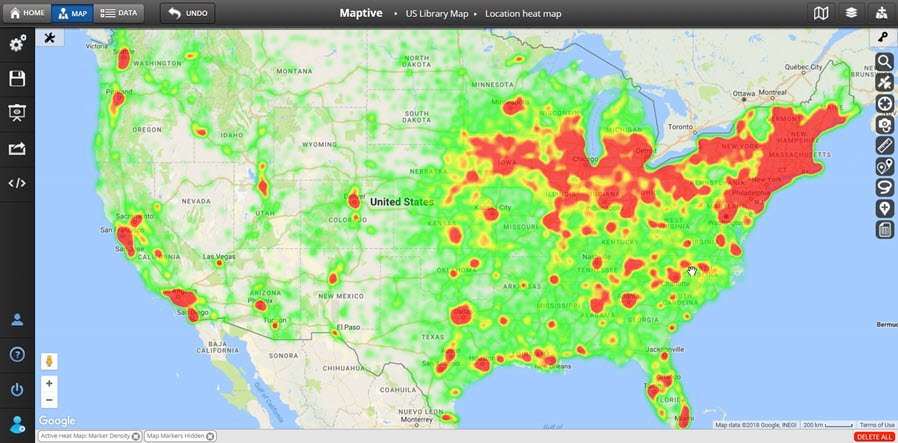 GIS solutions turn location data into visualizations via a map. The implications of this are vast. For businesses, it means identifying areas of opportunity, acquainting yourself with your market, and knowing how to target your sales efforts.
But the advantages of this kind of effective data wrangling are not limited to the business world. The uses of GIS platforms extend to just about anyone — from academics to city planners to public health officials.
If you want to see what the buzz is about, you can sign up for our free trial.
What Kind Of Data Is Stored In A GIS?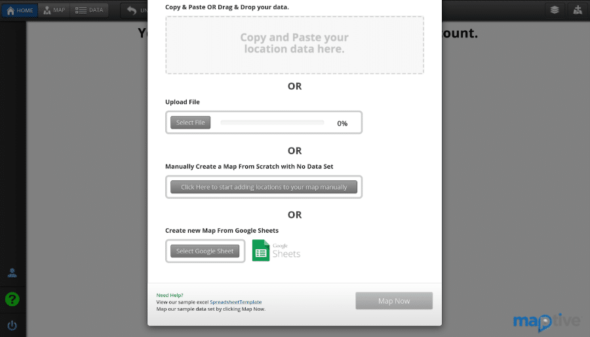 Most GIS software applications can hold reams of data. Maptive is powerful enough to hold countless customized data fields, but our system is approachable for those without significant mapping experience.
To make a map, you need some key data points: street addresses (including city, state, and postal or zip codes). You can also start with latitude and longitude coordinates. Anything else that may help you analyze or design your map should also be uploaded (sales data, logos, websites, location attributes, etc.).
There are several ways to upload your data to Maptive:
Copy and paste
Upload an Excel Spreadsheet or Google Sheet
Connect a CRM database with Maptive's API
Types of GIS Software
You may have noticed in your research that there are several different types of GIS software available. Here are some common ones:
Desktop GIS: Heavy-duty mapping tools require downloading a software package and often require coding experience or extensive prior knowledge of mapping.
Open-source GIS: You will often see open-source GIS software in conjunction with desktop GIS. There is a long history of open-source development in the mapping community.
Commercial or proprietary GIS: Mapping software built for businesses and consumers (often requiring a subscription) – commercial mapping software is still powerful but eliminates the need for coding experience. Maptive falls into this category.
Unlike clunky desktop GIS systems, Maptive is a cloud-based web GIS: no downloads are required.
What Can GIS Software Do?
GIS systems have three primary functions. They can store, analyze, and display data. Let's break down exactly what this means and how Maptive executes in these three core capacities.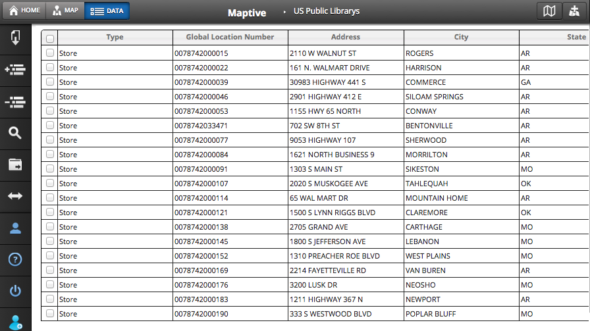 Store Data:
GIS programs allow you to store a wide array of geospatial data. To comprehend how Maptive can excel in data management, it's important to understand our platform's special relationship to Google Maps.
Think of how much location data is already stored on Google Maps: a whole world full of geo-coded detail. Our integration allows us to tap into that vast wealth of geographical information to bring you a powerful, organized, and dependable platform.
Think of GIS solutions as an exercise in layering. At the base level is Google's mapping data. On top of that, our GIS technology adds all the tools to help you visualize your data. Finally, you add your specific data points, whether manually or via an excel spreadsheet, and we will map them.
Analyze Data:
When it comes to geospatial analysis and location intelligence, Maptive is a superior software. We don't just specialize in map production – our tools tease out the important information, whether it's an optimized driving route or a heat map that identifies data density in certain geographic areas. We provide the tools you need to get the job done.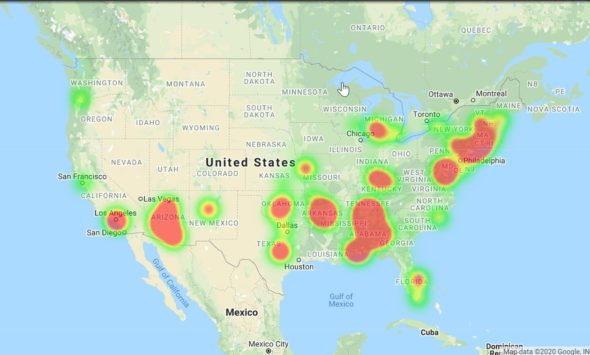 Some of the tools include:
Choose what information you want to see at a particular moment and how you would like it organized. This is the first stop for anyone looking to bring meaning to chaos.
Allows you to see patterns of density according to criteria important to your analysis.
Creates visual boundaries on your map so that you can analyze subsets of numerical data by region to understand tendencies and identify opportunities.
Exposes demographic census data on your map within a matter of seconds.
Radius Tool and Drive Time Polygons:
Allow you to analyze spatial data by quickly determining distances between places and get estimates of how long it may take you to get from one place to another.
A dream for busy people who have multiple stops to make on a journey — optimizes the route between multiple locations to ensure you spend as little time on the road as possible.

Display Data:
Maptive brings your interactive maps to life with bold colors, customized pins, and multiple options for base maps. As a result, you can customize nearly everything on your map.
Choose the colors of your routes, your boundaries, and the regions you demarcate. You can even choose your overall map style. Perhaps a little sepia for a vintage look?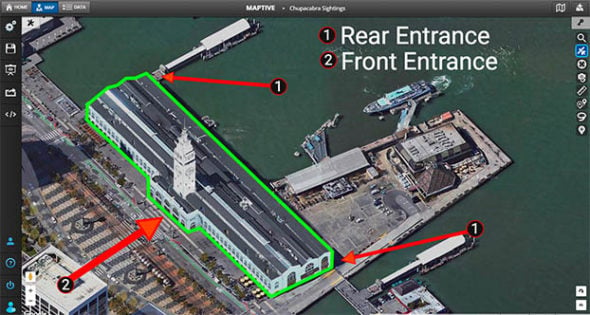 What's more, you fully control what part of your map you would like to display. Specify the area and how zoomed in or out you would like to be. Then, go to your map settings and decide whether you would like to hide certain roads or waterways.
And then there's our map drawing tool. You're going to love this one. You get to put your stamp on your map by adding things like text bubbles, shapes, icons, and labels.
Who Uses GIS Mapping Software?
We're going to let you in on a little secret — a GIS mapping app can be useful to just about anyone. To give you some ideas, here are some of the people who have made excellent use of GIS technology:
Salespeople:
If you are a salesperson, you likely spend a fair amount of your time traveling from one potential customer to the next. Program the locations you need to hit into your map, and Maptive's route planner will make sure you get there as efficiently as possible.
Franchisers:
Using our GIS mapping app's proximity tools, you can easily identify if a new potential location of a franchise is too close to any of the others.
Marketers:
GIS programs are a marketer's dream. With GIS applications, marketers can understand patterns based on various factors, from average income in a particular area to the density of a certain demographic. As a result, they can quickly identify where to focus their efforts.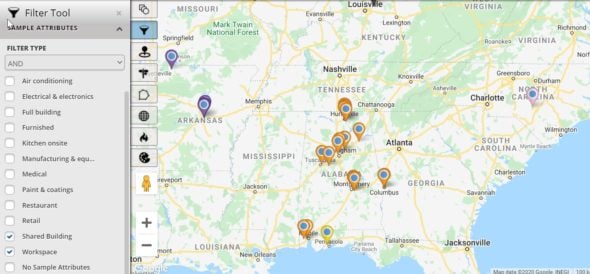 Real Estate Agents:
While we're on the topic of housing and development, many real estate agents are already using mapping software to help them quickly identify market trends, understand demographics, and see the distance between locations.
City Planners and Developers:
Urban planners make use of GIS software to make informed decisions on important issues that affect the lives of all a city's inhabitants.
Public Health Workers:
GIS software allows those who create and administer public health policy to identify threats to public health quickly. By tracking and analyzing data – such as the number of infected people in an area – public health officials can determine the next steps for policy creation.
Academics:
Whether our maps are used in the social sciences to understand human behavior, in the biological sciences to understand plant and animal density in a particular region, or in the geography department, faculties in every school should have access to mapping software.
Ready to try Maptive?
Sign up for a free trial below: