The competitive landscape for franchise businesses is more crowded than ever before. With over 773,603 franchise establishments in the United States alone (2019). Having the right tools for geospatial planning is more important than ever before.  The right data can mean the difference between a successful franchise launch and a failed one. For franchise owners,  effective mapping software plays an important role in developing a successful franchise plan. Franchise mapping software allows you to improve your site selection by allowing you to map out and visualize franchise territories, competitors, and other relevant business data in ways you weren't able to before.
Franchise territory mapping solutions like Maptive help businesses gain the insights they need to be able to make informed decisions.
Read on to learn more about some of the advanced mapping tools that Maptive offers that are useful for franchise owners.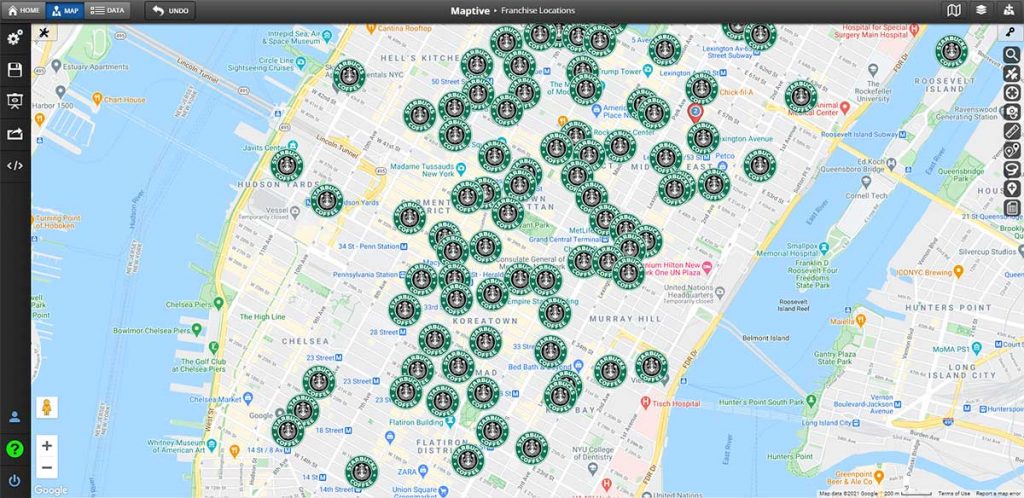 Franchise Site Selection
To set your stores up for success, you need to position them in locations where they'll thrive. Maptive makes it easy to find the ideal sites for franchises so your business can reach its goals.
Upload critical location data from a spreadsheet in seconds. Review the locations of your existing stores, competitors, and customers to determine where there's the highest demand for new franchises. You can also enter the locations of your suppliers to help choose the optimal spots for new franchises.
Maptive comes with a wide array of demographic information, including population, age, income, education, labor, and more. Use this data to establish stores near your ideal customers.
Franchise Territory Mapping Software
Territories allow you to track your business results in different regions, letting you see where you're succeeding where you need to improve. Maptive offers two various tools for creating franchise territory maps:
Boundary Tool:

Create sales territories based on established geographical boundaries, including zip codes, counties, and states.

Drawing Tool:

Draw custom territorial boundaries based on your business's needs and your franchise locations' distribution.
Once you establish your territories, track your sales activity, revenue, customers, and other important KPIs within each region.
Demographic Data
Before you create your marketing plan, you need to understand your customers. Demographic mapping comes included with Maptive and gives you access to ten different data points:
Population

Age

Race

Housing

Income

Education

Labor

Citizenship Status

Transportation

Gender
Use these insights to learn more about your customer base and target them with ads that will resonate with their unique needs and desires. 
Are you looking to target specific demographics? Find the location of certain customer types and serve them with relevant ads to improve your marketing effectiveness.
Drive-Time Radii
Franchisees often share employees to get the most out of their workforce. But to do this, you need a reliable way to determine who can work where.
Once you upload all your franchise and employee locations, use the drive-time radius tool to see which stores are within driving distance of each staff member. That way, if one of your locations is short-staffed, you can quickly find someone nearby to assist them.
Map Customization
Maptive offers many different customization options that allow you to personalize your map exactly how you want it:
Change the color and shape of your map pins.

Choose from 15 different base maps.

Insert images into your map.
Our user-friendly interface means changes are quick and easy to make, ensuring your map is always ready for your next presentation.
Sharing Options
To make the most of your insights, it's essential to have a way to share your maps between team members. Maptive is cloud-based, meaning that your maps are available anywhere on any device. In addition, we offer multiple sharing options:
Save your map as an image

Export your data to a CSV file

Embed your map on a website

Create and share a link to your map
Use these features to share your maps across all your franchise operations and ensure everyone in your business has the data they need.
Security
When you use Maptive, you can rest assured that your data and privacy will always be protected. 
We'll never share your data with anyone.

If your support request requires us to access your map or data, we'll always ask your permission first.

Maptive is licensed with Google's enterprise-level mapping services. All our data is secured using 256-bit SSL encryption.

We host our website and customer data on RackSpace, which is consistently ranked as one of the top five hosting providers worldwide.
Try Maptive for Free
Want to see if our franchise mapping software is right for your business? Sign up for a free trial today and gain full access to our online mapping platform and territory software for ten days.