Territory Mapping Software
Maptive's sales mapping software allows you to create a map in just a couple steps. Simply take a list of your existing or potential customers, save it as an excel file, and load it into our system. Maptive will take your data and create a map of all your customers in seconds. Once your data is mapped there are hundreds of tools and setting that you can use to customize your map however you want.
What can I do with Sales Territory Mapping?
Below is a list of some of the most popular mapping tools used by sales professionals, but feel free to view all our features or ask us a question using the button at the bottom right hand corner of the screen.
Optimized Route Planning for Sales Reps.

Using the directions tools you can find the most efficient route between all the stops that need to be done in a day. You can create and save routes for all your sales people or share a map with all of the customers they are responsible for, and have them optimize their own route.

Sales Territory Mapping. With Maptive it is easy to draw a sales territory right on your map. Drawing territories can help you and your sales people to identify which new leads fall within their territory. Learn more about the Territory Tool
Find Patterns in your Sales Data.

Use your sales territories or other boundaries like zip codes to find information like total or average sales within that area. Use the heat mapping tool to help you identify areas where your product or service sells the best.

Identify New Sales Opportunities.

Maptive provides demographic data about certain geographic boundaries likes US Zip Codes. You can use this data to help you identify some likely traits about who your current customers are and search for other markets that might contain the same type of customers.
Reviews of Maptive
---
---
Why people choose Maptive over other options:
Mapping software that goes beyond just route planning.
Elegant software that's easy to use.
Nothing to download or install to get started.
The reliability of Google Maps.
See Maptive In Action
---
---
Creating Free Sales Maps with Maptive
Imagine you could envision all your sales data in a comprehensive map that prized readability without skimping on detail. Guess what? This is not an "If only" situation. Rather, it's a, "Well now you can!"
Maptive's sales territory mapping software allows you to transform your raw data into a masterpiece of sales topography. For the cost of, well, nothing on our trial plan, your map will spur multiple Eureka moments as hidden insights are called to the surface.
Superior data visualization tools give you more than the ability to see your information in one place. They also offer you the opportunity to compare and contrast your data so you can derive meaning that is difficult to see with the naked eye. The decision to create sales territory mapping visualizations for your business will bolster your sales performance, assist your employees, and help you weigh up new business opportunities.
Yes, we are that proud of our sales territory mapping software — and we can't wait for you to experience it. Why don't you test drive it today?  There is absolutely no risk involved. We have no desire to trap you by prying your credit card details from you in exchange for the promise of a "free" trial.
(But be warned — our maps may indeed ensnare you in another way. Once you've seen how they can help your business, there may be no going back.)
Come with us as we show you how to create sales territory map designs that transform the productivity of your business.
Boost performance with our Sales Territory Mapping Software:
Creating a sales map should be the first step in the evolution of your sales planning. In fact, we would even go so far as to say it should form the backbone of how you conceive of your company's KPIs. Our sales territory mapping software helps you understand in detail which elements of your sales strategy are successful and which require a nudge in the direction of an upward swing.
While limited only by your ingenuity, our sales territory mapping software allows you to:

Gauge the performance of all individuals in your sales team
Understand why certain areas might be performing better than others
Compare two or more sales people in your department
Group territories together for both planning and analysis purposes
Easily access details for each marker via accompanying pop ups
Map out competitor data to see if there is room for your business to expand in a particular area
Get directions for a sales route for your team, clients or investors
Share relevant parts of your map (showing as much or as little information as you deem fit)
Import and Export your map data as an Excel spreadsheet
Create your own markers. Like cute cat heads. Or your grandma's smiling face.
Maptive's Sales Territory Mapping Software — The Group Scoop:
Did you know that, before they were everyone's favorite beach toy, frisbees were pie containers constructed for the sole purpose of holding the delicious creations of Frisbee Pies? Although not immediately obvious, the link between the evolution of the frisbee and that of our sales territory mapping software is stronger than you might think.
Like the trajectory of the frisbee pie container, using Google Maps to plot sales territories was not the original purpose of the platform — but as it turns out, with the help of Maptive, it has proven to be an exemplary employment of this outstanding software. Powered by the robust capabilities of Google Maps, our sales territory mapping software is just one way in which mapping technology has evolved to suit the needs of the contemporary business landscape.
At its most basic, our sales territory mapping software allows you to organize your data by category through the use of our grouping tool. Here is a sneak peak into its most well-worn applications.
Grouping By Salesperson:
If you would like to view your data by salesperson, you simply follow these steps:
Input the relevant details about the individuals in your team, either by uploading an Excel spreadsheet or by adding markers directly onto your map.
Select the Grouping Tool in the map tools area on the left side of your screen
Choose the option to group your data by salesperson
Each of your sales people will be individually color coded, either with our default markers or alternatives that you upload or select yourself.
Choose to view your whole team at once by selecting "Show All Groups" or have a look at each person individually
And there you go! A highly customizable sales rep territory map that is easy to read and manipulate according to your specific needs.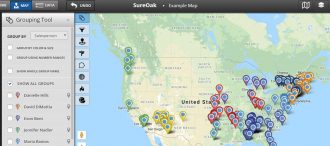 Through visualizing your data in this way, you will quickly be able to see areas of high and low density so as to identify points of saturation and opportunities for expansion. Looking at team members individually will allow you to see what sort of geographical load they are covering. You also have the option to compare two or more salespeople to gain insight into their performance.
Grouping By Sales:
Similarly, you can use the grouping tool to better understand your numerical sales data.
Again, you would input your data via your chosen method.
Select "Group by Sales" in the sidebar.
Select "Group Using Numeric Ranges"
Decide whether you would like to view all sales brackets or see whether one particular sales bracket is more prevalent in specific areas.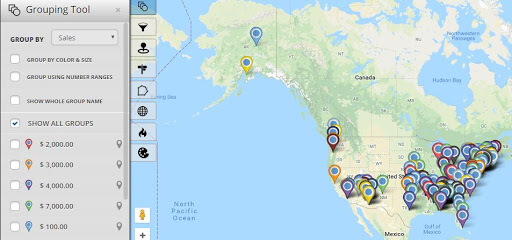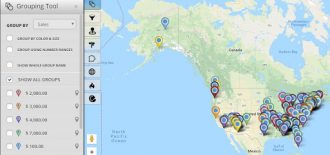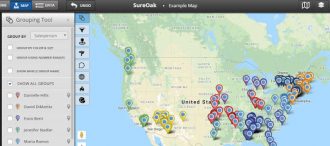 It's not hard to see how useful this could be. A portal to epiphanies about your sales patterns, all the hard work is done for you by our sales territory mapping software. Your job is to decide what to do with all this new insight you have been given.
Our Sales Territory Mapping Software (and its special tools)
Would you believe us if we told you that the grouping tool was only the beginning? Well, it's true. Using our sales territory mapping software allows you to get highly specific with the data you analyze. In just a few clicks you can zoom in to specific areas of interest in order to extrapolate key metrics about your sales performance.
It's time to get up close and personal with two of our favorites — the territory tool and the boundary tool.
Territory Tool:
The territory tool allows you to create one or more polygons to demarcate different sales territories. The result is that, within seconds, you will be looking at an aesthetically pleasing rendition of your sales data.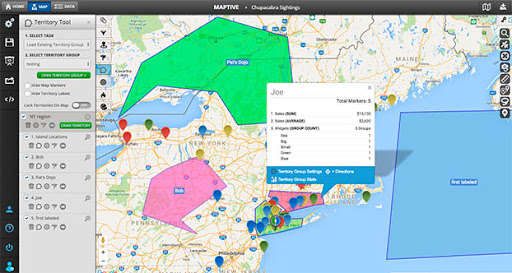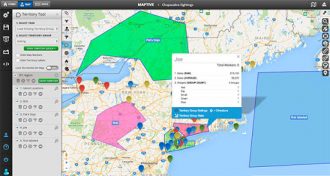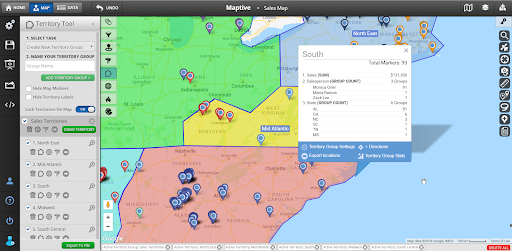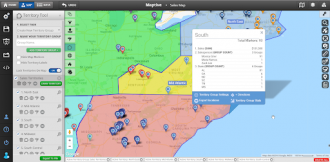 But this is not simply an art project. If you use the territory tool to create sales territory map designs, you will be given a window into relevant information and metrics that will help you steer the direction of your company's future.
Each territory comes with an associated pop-up that summarizes the facts and figures of the related area. This may include anything from the number of your locations that fall within a specific region or the total amount of sales in the area to how many salespeople are operating in a particular location.
In a neatly wrapped package, your data will show you new meanings hiding below the surface. You have the option to automatically calculate all quantifiable data so as to discover, among other things, sales averages, total area sales, highest and lowest values with the territory, and how many people you have allocated to the region.
What's more, you are in full control of the look and feel of your map. You can change fill and boundary colours, switch up the markers and play with the opacity of the area's fill. To further personalize your sales rep territory map, you can change the name of an area and, when you're done mining it for insights, delete it completely.
You have the option to export the locations identified within a specific territory and even add directions from one point to another to give out to your team or clients.
We're not done yet. Let's head over to our boundary tool to show you how Maptive's sales territory mapping software is the gift that keeps on giving.
Boundary Tool:
Think of it this way:
map containing your data + boundary tool = major insight
By adding geographical boundaries to the sales territory map you created, you can easily spot trends, identify where you have room to expand and understand where you might be running into trouble. It's like organizing your child's bedroom. There's simply no way you would know where that squeaking sound was coming from unless you discovered Marvin the Magical Mouse under a pile of clothes.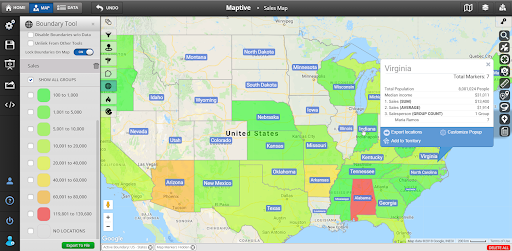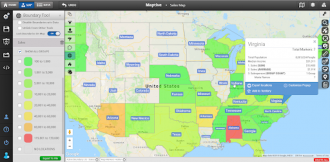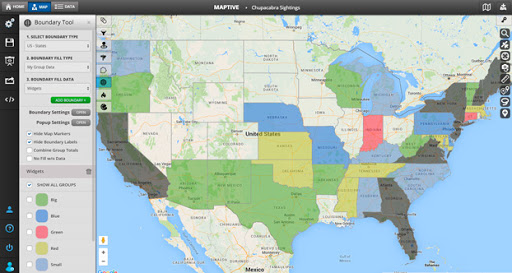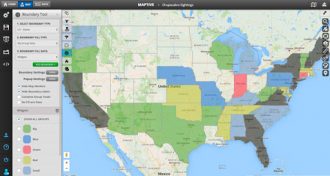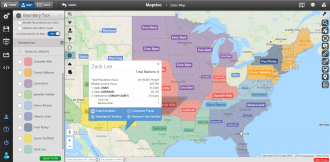 Hold on, Marvin the Magical Mouse. We're not done with you yet.
Let's pretend for a moment that your company sells, among other toys, box sets of Marvin the Magical Mouse. You are a global operation. By using the boundary tool, you can quickly aggregate your sales data per country. But it doesn't stop there. You can then shade different sales brackets in contrasting colours. There you have it — an easy way to see your data without having to put in the slog work.
You have the option to either use existing geographical boundaries such as countries, zip codes, states or cities, or create your own.
Our sales territory mapping software prides itself on flexibility, so no decision you make is set in stone. Add to existing boundaries, or delete and draw new ones as new data emerges.
This is your map. You do with it as you will.
Create Sales Territory Map Customizations that Work for You
We created our sales territory mapping software with you in mind. We prize freedom and the ability to customize our product to suit your needs.
Want to make our sales territory mapping abilities your own? We can't wait to see what you do with it.
Start mapping now!
Just follow these simple steps:
---
Copy & Paste OR Drag & Drop
your data set here.
OR you can Upload My File
Important: Remember to include column headers in your data set. (like the example)

Double Click then Copy & Paste
OR
Drag and drop
your data here
Date Security: Your data is transferred using encrypted https